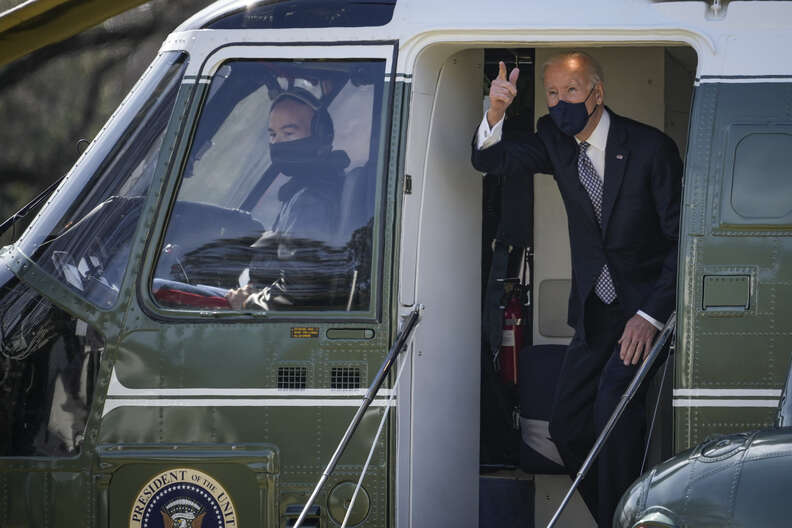 Each week, the NowThis Politics team rounds up the biggest news of the Biden administration, from Cabinet confirmations to executive actions and policies related to the pandemic, economic relief, and more.
Watch our video playlist, starting with the most recent week:
Week 12: Biden announced a plan to withdraw troops from Afghanistan, spoke with Russian president Vladimir Putin, and attended a memorial for a fallen officer.
Week 11: Biden celebrated 150 million vaccine shots administered — the U.S. became the first country to reach that milestone; pushed for his "once-in-a-generation" $2 trillion American Jobs Plan, and announced six executive actions to curb gun violence.
Week 10: President Biden announced the $2 trillion American Jobs Plan, extended several economic initiatives to keep Americans afloat during the pandemic, and delivered the first-ever presidential proclamation for Transgender Day of Visibility.
Week 9: Biden held his first formal press conference, called on the Senate to pass two background check bills related to gun reform, and tapped Vice President Kamala Harris to lead the administration's border response.
Week 8: Biden had his first major primetime interview as president on ABC News, and he and VP Harris traveled to Georgia following the deadly March 16 shootings at three spas that reinvigorated a national conversation about anti-Asian violence.
Week 7: Between meeting his modest goal of 100 million vaccinations weeks ahead of schedule and dangling the tantalizing prospect of an in-person July 4th celebration, Biden signed the American Rescue Plan into law as well as executive orders protecting voter rights and promoting gender equity.
Week 6: Biden pushed forward the American Rescue Plan, his first big signature piece of legislation; he voiced support for labor organizing efforts as Amazon workers vote on whether to unionize in Alabama, and got the phrase "Neanderthal thinking" trending on Twitter.
Week 5: "This nation will know joy again" — Biden acknowledged the grim milestone of 500,000 COVID-19-related deaths, reopened a Trump-era detention center for migrant children, and ordered his first known military strike, against Iranian-backed forces in Syria.
Week 4: Biden approved a request for federal aid in response to the severe winter storm in Texas and rejoined the Paris Climate Agreement.
Week 3: Biden kicked off the week with a Super Bowl appearance and ended it by announcing 200 million more vaccine doses on the way.
Week 2: President Biden ended U.S. support for the Saudi-led war in Yemen, called for the passage of his COVID-19 relief package, and more.
Week 1: The newly inaugurated president wasted no time getting to work on COVID-19, the climate crisis, health care, and the economy.