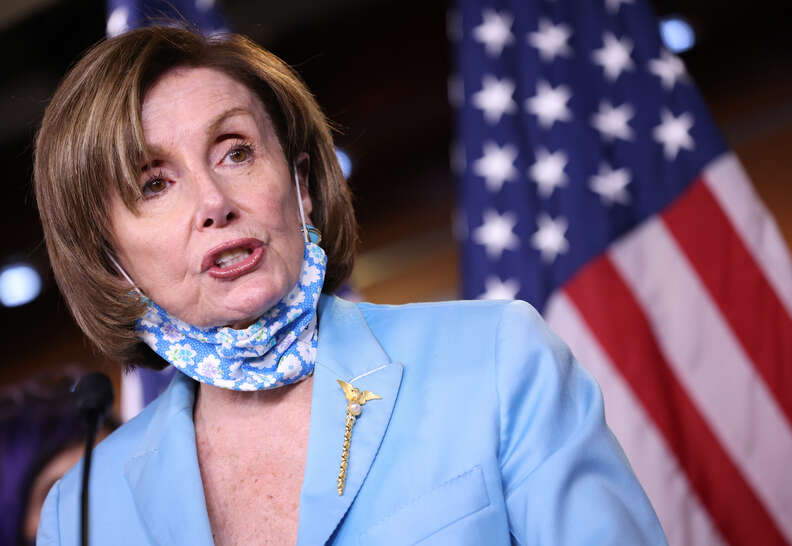 House Speaker Nancy Pelosi (D-CA) and House Minority Leader Kevin McCarthy (R-CA) criticized each other this week about a reinstated mask mandate, with Pelosi calling McCarthy "a moron."
On Tuesday, the Centers for Disease Control and Prevention walked back its mask-wearing guidance and recommended that vaccinated people begin wearing facial coverings in indoor spaces again. The agency said in May that vaccinated Americans could ditch their masks as more people got the shot, but with the recent surge of the highly transmittable Delta variant, mask-wearing is back on the table.
"This is not a decision that the CDC made lightly," CDC Director Dr. Rochelle Walensky said, "It is not a welcome piece of news that masking is going to be part of people's lives who have already been vaccinated."
The attending physician for Congress, Dr. Brian Monahan reissued a mask mandate Tuesday night for the House of Representatives, according to multiple reports. The Senate is reportedly not mandated to follow the masking rule.
Republican leaders including McCarthy lambasted the CDC for going back and forth on its mask guidance. In a series of tweets on Tuesday, McCarthy said the decision to restore mask rules was not "based on science, but a decision conjured up by liberal government officials who want to continue to live in a perpetual pandemic state."
The House leader also said the Biden administration is "casting doubt" on the "safe and effective" COVID-19 vaccine and "contradicting why vaccines exist."
Reporters asked Pelosi on Wednesday what her thoughts were on a mask mandate within Congress, to which she said "we honor" the attending physician's decision. When asked for comment on McCarthy saying the mandate wasn't about science, Pelosi said: "He's such a moron."
"If she's so brilliant, can she tell me where the science in the building changes between the House and the Senate?" McCarthy said in response.
In a follow-up tweet from Pelosi's chief of staff Drew Hammill, he said the audio was "poor quality" and couldn't verify her exact words but added, "I can confirm that the Speaker believes that saying a mask requirement is 'not a decision based on science' is moronic."
House Republicans including Reps. Lauren Boebert (R-CO), Chip Roy (R-TX), and Byron Donalds (R-FL) refused to wear masks on the floor during a morning vote on Wednesday, reigniting a contentious issue between both parties.
"This institution is a sham. And we should adjourn and shut this place down," Roy said during the House meeting.
Boebert, who has vocalized her disdain for masking in the past, tweeted on Wednesday: "We might as well start calling this a Perma-demic. Permanent masking. Permanent state of emergency. Permanent control."
The masking debate stems back to the early days of the COVID-19 pandemic when health officials recommended people wear facial coverings to slow the spread of the virus — which has led to at least 611,000 deaths in the U.S. Many GOP leaders have held onto the belief that mask-wearing infringes on freedom, and have largely pushed back on vaccinations or disclosing their vaccination status.
Leading infectious disease expert Dr. Anthony Fauci recently broke down why vaccinated people are being asked to wear masks again, saying that the Delta variant can be transmitted even by people who have gotten the shot, unlike the previous Alpha virus.
"We were dealing with the Alpha virus back a few months ago. As I told you, it was a virus that if a person had a breakthrough infection, very, very unlikely that that person would transmit it. That's changed," he said "What's happened now with the Delta variant, you have a virus that spreads much more efficiently from person to person."