How Coronavirus Is Affecting The 2020 Primary
Five states have postponed their primaries so far, while others are pressing for expanded absentee and mail-in voting.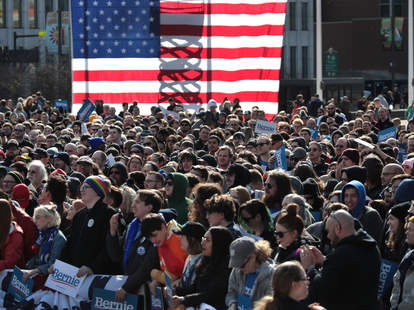 UPDATE—MARCH 17, 2020:
The Ohio Supreme Court has ruled in favor of the governor postponing the primary election in a last-minute ruling. That primary is now scheduled for June 2.
Here's the latest:
5 states have now delayed primaries due to #COVID19 concerns. Latest count:

Ohio moved from March 17 to June 2

Georgia moved from March 24 to May 19

Louisiana moved from April 4 to June 20

Maryland moved from April 28 to June 2

Kentucky moved from May 19 to June 23

— Sarah Ewall-Wice (@EwallWice) March 17, 2020
UPDATE—MARCH 16, 2020:
Ohio Gov. Mike DeWine is seeking to postpone the state's presidential primary tomorrow because of the pandemic. His suggestion is to postpone in-person voting until June 2 and allow absentee voting to take place between now and then. Arizona, Florida, and Illinois are scheduled to move forward with their primaries tomorrow. 
Over the last week, Louisiana and Georgia became the first states to officially postpone their primaries because of coronavirus. Louisiana's, scheduled for April 4, is now scheduled to be in June. Georgia's presidential primary, which was scheduled for March 24, has been pushed back to May 19, the same day as an already-scheduled election for Senate and other races. 

MARCH 10, 2020:
The first Democratic presidential candidate rallies to be canceled because of coronavirus fears were scheduled for tonight in Cleveland, Ohio. Just this afternoon, the Bernie Sanders campaign issued a statement canceling its rally "out of concern for public health and safety" and at the guidance of Ohio state officials. 
"[They] communicated concern about holding large, indoor events during the coronavirus outbreak… All future Bernie 2020 events will be evaluated on a case by case basis," the statement read. The Biden campaign then also canceled its rally in Cleveland, citing similar concerns. Given that the Democratic primary race is down to two major contenders — both septuagenarians who are squarely in the most vulnerable demographic for COVID-19 — this was inevitable (and probably should have happened sooner!). At a Biden rally yesterday, campaign staffers were handing out hand sanitizer to attendees and journalists on their way in. So far, the Trump campaign has not issued any similar statements.
Washington state, which votes today, March 10, is dealing with the biggest outbreak in the country so far. It's also one of just a few states to hold elections entirely by mail. The state's vote-by-mail process has a record of increasing voter turnout, and in situations like this, it also frees people of being in contact with others in order to go vote. On the other hand, licking those envelopes might be an issue. Real guidance issued by election officials: "Whether healthy or sick, please don't lick."
As recommended by @WADeptHealth, please use alternative methods to seal your ballot return envelopes, such as a wet sponge or cloth.

Washington's Presidential Primary is March 10. Use a ballot drop box to return your ballot by 8 p.m. Election Day. #waelex pic.twitter.com/UOk8Ld4Z3m

— WA Secretary of State (@secstatewa) March 3, 2020
The officials who are handling these ballots are wearing latex gloves, and counties also use scanning machines. But to be clear, USPS said in a statement to ABC News: "both the surgeon general and the director of the National Institute for Allergies and Infectious Diseases have indicated that there is currently no evidence that the coronavirus can spread through the mail."
Here are other ways coronavirus is affecting the 2020 primary:
In Missouri, election officials wiped down ballot boxes and made hand sanitizer available. Michigan officials did the same thing and also asked poll workers to keep latex gloves at sites, too.
In Idaho, the secretary of state quickly moved to ensure all employees have laptops in case they need to work remotely.
On Super Tuesday, election officials in Texas told us about poll workers who were canceling their shifts day-of because of fears of the virus. There were similar reports in California.
When it comes to turnout, it's hard to quantify the impact. In the time between Super Tuesday (March 3) and what some are calling Super Tuesday II (March 10), the number of confirmed cases in the U.S. went up significantly, and much more information was readily available about how to fight the disease — including the idea of "social distancing" and staying 6 feet away from people as much as possible (especially if you or they are sick). Still, in North Dakota, which has in-person caucuses instead of traditional ballot voting, state officials say"at this time we do not expect it to depress turnout." North Dakota is just one of the remaining 14 states that currently have no confirmed cases, as of Tuesday evening.
The virus sheds light on "America's already dismal election infrastructure,"as WIRED puts it, and is another opportunity for the candidates to lay out effective policy proposals as solutions (both to boost public health and to draw contrasts with President Trump).
Even without the virus, the primary race is already dealing with a certain level of volatility: Because of Washington's vote-by-mail status and early voting in Michigan, many voters had already cast ballots for candidates who have since dropped out of the race. At least in the case of Michigan, voters had until 4 pm yesterday to retrieve their ballots and cast a new vote.