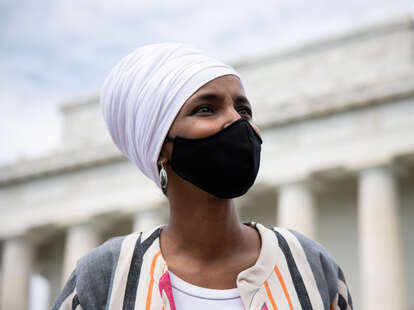 Representative Ilhan Omar (D-MN) stands in front of the Lincoln Memorial on the National Mall during the civil rights march organized by Al Sharpton calling attention to systemic racism and police violence after the May police killing of George Floyd in Minnesota, in Washington, D.C., on August 28, 2020, amid the coronavirus pandemic.

| Reuters
Representative Ilhan Omar (D-MN) stands in front of the Lincoln Memorial on the National Mall during the civil rights march organized by Al Sharpton calling attention to systemic racism and police violence after the May police killing of George Floyd in Minnesota, in Washington, D.C., on August 28, 2020, amid the coronavirus pandemic.

| Reuters
Rep. Ilhan Omar on Tuesday hit back at President Trump, who once again falsely suggested that she's not American and said she is "telling us how to run our country" while he was at a campaign rally in Pennsylvania.
"Firstly, this is my country & I am a member of the House that impeached you," Omar wrote on Twitter. "Secondly, I fled civil war when I was 8. An 8-year-old doesn't run a country even though you run our country like one."
Omar, who was born in Somalia, followed up with a "Mean Girls" reference in response to the president's "cult-like" rallies, with the cheeky gif of character Regina George saying, "Why are you so obsessed with me?"
During the rally in Pennsylvania, which is a key battleground state, Trump turned his monologue toward the Democratic congresswoman.
"How about Omar of Minnesota?" the president said to a large crowd outside of Pittsburgh, most of whom weren't practicing social distancing according to footage from the event. "We're going to win the state of Minnesota because of her, they say."
He continued: "She's telling us how to run our country. How did you do where you came from? How is your country doing?"
Omar is a U.S. citizen, which is a requirement for serving in Congress. She was also one of the first two Muslim women ever elected to Congress in 2018, along with Rep. Rashida Tlaib. They are part of a group of Congresswomen of color popularly known as "The Squad," which also include Rep. Ayanna Pressley and Rep. Alexandria Ocasio-Cortez.
The president has previously leveled a racist attack at the group, all of whom are American citizens, telling them to, "go back to their countries." Omar in particular has fielded attacks from the president and other Republicans.
During the rally, the president also glorified aggression against journalists, referencing a reporter who was thrown aside by police "like he was a little bag of popcorn" while covering a protest live in Minneapolis. While the Trump did not mention a name in that case, he appeared to reference Omar Jiminez, who along with his crew was arrested while reporting in May, as other journalists were tear-gassed.
The president also called police aggression against journalists "a beautiful sight."