"I'm Speaking": Kamala Harris Calling Out Mike Pence's Manterrupting Is Painfully Relatable
Several times over the course of the 90-minute vice presidential debate, Mike Pence spoke over Sen. Harris and the debate moderator Susan Page. Women noticed.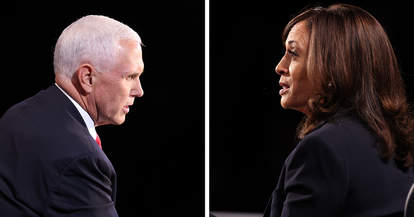 At the first and only vice presidential debate of 2020, Vice President Mike Pence repeatedly interrupted or spoke over Sen. Kamala Harris, prompting her to calmly respond several times: "Mr. Vice President, I'm speaking."
At one point in the debate Wednesday night, moderator Susan Page of USA Today appeared to lose her patience with the vice president, saying, "I'm sorry, vice president, but you've had more time than she has."
When Pence tried to continue going over time again, Page said heatedly, "I did not create the rules for tonight. Your campaigns agreed to the rules for tonight's debate with the Commission of Presidential Debates. I am here to enforce them, which involves moving from one topic to another, giving roughly equal time to both of you, which is what I'm trying very hard to do."
Harris is the first Black woman and first South Asian American to be selected as VP on a major party ticket, and the first of both to appear at a VP debate. She is only the third woman to ever appear at a nationally televised vice presidential debate, following Democrat Geraldine Ferraro in 1984 and Republican Sarah Palin in 2008.
Women all over social media tweeted about how relatable the situation was, praising Harris for her simple but effective response and how she handled it:
Many men noticed the dynamics as well:
Harris repeatedly tried to stop Pence from cutting her off, each time politely and with a smile (double standards, remember?). Some viewers contrasted those responses with one of the more memorable lines to come out of last week's first presidential debate, when Joe Biden said to President Trump, "Will you shut up, man?"
The New York Times reported that after Harris repeated "I'm speaking," before the debate was even over, the phrase was already "all over merchandise being sold on the online marketplace Etsy. Variations of it showed up on T-shirts, mugs, face masks and laptop decals."