In 2015 Speech, Bloomberg Defended Racial Profiling And Stop-And-Frisk
'The way you get the guns out of the kids' hands is to throw them up against the walls and frisk them.'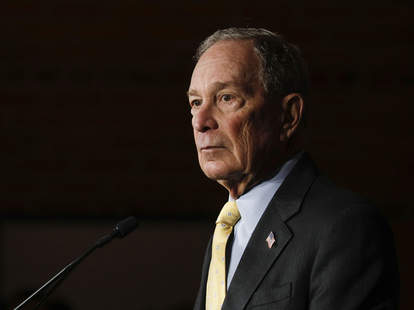 An audio recording has been released of presidential candidate Michael Bloomberg defending the controversial stop-and-frisk policy during his time as mayor of New York.

The audio was posted on Monday by activist Benjamin Dixon and was initially retweeted by President Trump, who called Bloomberg "a total racist." Trump later deleted the tweet.
In the audio clip, Bloomberg says, "95% of your murders—murderers and murder victims fit one M.O. You can just take the description, Xerox it and pass it out to all the cops. They are male minorities 15 to 25."

Bloomberg goes on to encourage putting cops "where the crime is, which means in minority neighborhoods." He also defends the controversial stop-and-frisk policy, saying, "The way you get the guns out of the kids' hands is to throw them up against the walls and frisk them."

In a statement, Bloomberg said that "stop and frisk" was a policy he inherited from former New York mayor Rudy Giuliani and that he significantly cut it back.

"I should've done it faster and sooner. I regret that and I have apologized—and I have taken responsibility for taking too long to understand the impact it had on black and Latino communities," he explained.
Though Bloomberg claimed he cut back on the policy, data provided by the New York Civil Liberties Union shows that the number of stops actually increased during his tenure as mayor—by "more than seven-fold." Stop-and-frisk was also found by a federal court to have "systemically violated the civil rights of tens of thousands of mostly black and Hispanic men in New York," and was described as "indirect racial profiling" by the judge.
Dixon said he found the audio on YouTube and it was a recording of a speech Bloomberg gave at the Aspen Institute in 2015. A report in the Aspen Times that year also said that Bloomberg's staff asked to withhold distributing the speech.