Jimmy Kimmel Calls Nikki Haley Out As a Hypocrite After Her Criticism of VP Harris
Republican Nikki Haley said Vice President Kamala Harris is "unfit" for wishing people an enjoyable, long Memorial Day weekend.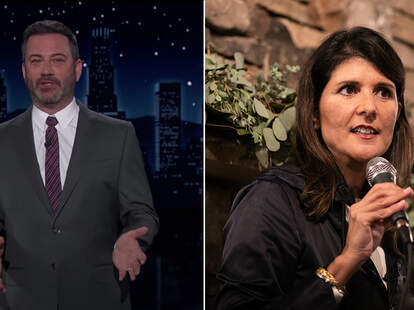 Jimmy Kimmel exposed Nikki Haley's hypocrisy after the former UN ambassador criticized Vice President Kamala Harris for tweeting, "Enjoy the long weekend" ahead of Memorial Day.
"Conservatives really cranked up the fake outrage knob up to 11 after this tweet," the host of "Jimmy Kimmel Live!" said during his show Tuesday night.
Haley, who served as UN Ambassador from 2017 to 2018 under the Trump administration, retweeted the vice president on Sunday, writing, "Unprofessional and unfit."
"This is the same Nikki Haley who said nothing when Trump said he prefers war heroes who don't get captured — that was OK, no comment there," Kimmel said. "But tweeting 'Enjoy the long weekend' makes you unfit."
Kimmel was referring to an interview in 2015 when former President Donald Trump questioned Republican Sen. John McCain's status as a war hero.
"He's a war hero because he was captured," Trump said. "I like people who weren't captured."
The former president was also reportedly irked that flags had been lowered to half-mast to honor Sen. McCain, also a former presidential candidate, who died in 2018.
The Atlantic also reported in 2020 that Trump had privately referred to fallen troops as "losers" and "suckers." Trump called the story a "hoax" at the time and refused to apologize for any previous comments he's made on the record that demeaned veterans.
Haley, who has been considered a potential future GOP presidential candidate, said in April that she would support Trump if the former president sought a second term in the 2024 election.
"I would not run if President Trump ran, and I would talk to him about it," the former UN ambassador said according to the Associated Press.
Should she run, people on Twitter joked that "unprofessional and unfit" could be her campaign slogan.