Joe Biden Accepts Nomination With Poignant Speech About Finding Purpose In Loss
"America's history tells us that it has been in our darkest moments that we've made our greatest progress … And in this dark moment, I believe we are poised to make great progress again. That we can find the light once more."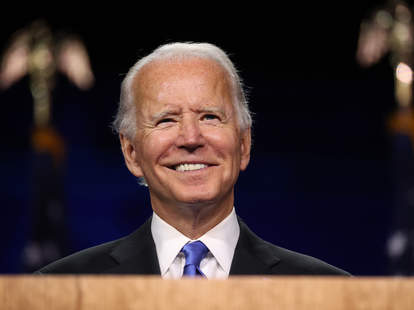 Joe Biden officially accepted the Democratic nomination for president on the final night of the Democratic National Convention, delivering a poignant speech about the country's losses under President Trump — and how his own losses have prepared him to tackle them.
"It's with great honor and humility that I accept this nomination for president of the United States," Biden said from Wilmington, DE on Thursday. "It's time for us, for we the people to come together."
During his affecting speech, Biden brought up the many crises that the country is currently facing, including the COVID-19 pandemic, the disastrous economy, racial injustice, and climate crisis — and how the outcome of the election will affect how the country is impacted by them.
"All elections are important. But we know in our bones this one is more consequential," he said. "America is at an inflection point. A time of real peril, but of extraordinary possibilities."
While speaking about the losses the country is facing under Trump's leadership, Biden pointed to the great losses he's experienced in his life, from the loss of his first wife and daughter in a car wreck to the loss of his son Beau, who died from a brain tumor.
"I've learned two things," he said. "First, your loved ones may have left this earth, but they never leave your heart. They will always be with you. And second, I found the best way through pain and loss and grief is to find purpose."
He also shared the moment he knew he had to run for president, recalling the 2017 white supremacist rally in Charlottesville, VA, after which Trump said there were "very fine people on both sides."
"It was a wake up call for us as a country, and for me, a call to action," he said. "At that moment, I knew I'd have to run."
He also described the aggressive action he would take against many issues Trump has floundered on.
"America will not turn a blind eye to Russian bounties on the heads of American soldiers. Nor will I put up with foreign interference in our most sacred democratic exercise: voting," he said. "I will stand always for our values of human rights and dignity. And I will work in common purpose for a more secure, peaceful, and prosperous world."
Biden also talked about when he met with 6-year old Gianna Floyd, the daughter of George Floyd, a Black man who died at the hands of Minneapolis police officers. Biden said Gianna told him that "Daddy changed the world."
"Her words burrowed deep into my heart. Maybe George Floyd's murder was the breaking point. Maybe John Lewis' passing [was] inspiration," he said. "America's history tells us that it has been in our darkest moments that we've made our greatest progress. That we've found the light. And in this dark moment, I believe we are poised to make great progress again. That we can find the light once more."