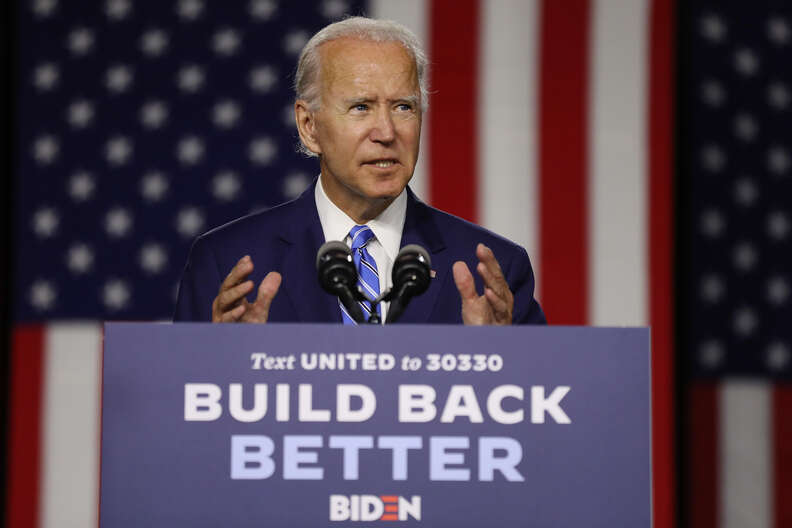 Democratic presidential candidate Joe Biden unveiled a $2 trillion clean energy plan on Tuesday focused on addressing the threat of climate change and creating jobs for American workers. It's a significantly higher investment than Biden has supported in the past, and progressives and environmental justice advocates are praising the plan as a major step forward.
"There's no more consequential challenge that we must meet in the next decade than the onrushing climate crisis," the presumptive Democratic nominee said in a speech Tuesday at the Chase Center in Wilmington, Delaware. "Left unchecked, it is literally an existential threat to the health of our planet and to our very survival. That's not up for dispute, Mr. President," he said, addressing Trump.
Biden elaborated: "Science tells us we have nine years before the damage is irreversible. So, my time table for results is my first four years as president."
Biden said the U.S. can create "millions of high paying union jobs by building a modern infrastructure and a clean energy future" with his "Build Back Better" plan.
"These are the most critical investments we can make for the long-term health and vitality of both the American economy and the physical health and safety of the American people. Even if we weren't facing a pandemic and an economic crisis, we should be making these investments anyway," Biden said.
The former vice president pledged that those investments include $2 trillion over four years if he is elected, in infrastructure projects dedicated to improving the sustainability of roads, buildings, and public transit, as well as investments in agriculture, conservation, the auto industry, and the power sector.
"Transforming the American electrical sector to produce power without producing carbon pollution and electrifying an increased share of our economy will be the greatest spurring of job creation and economic competitiveness in the 21st century," Biden said in his speech. "That's why we're going to achieve a carbon pollution free electric sector by the year 2035. We need to get to work on it right away."
Progressives hailed the plan as a significant improvement on Biden's previous proposals, crediting the work of the Biden-Sanders task force set up on climate with representatives from both campaigns, including Rep. Alexandria Ocasio-Cortez (D-NY) and the youth activist leaders of the Sunrise Movement.
"No doubt: the #GreenNewDeal movement made this possible," the Sunrise Movement tweeted, adding that "there's more to do."
"It's no secret that we've been critical of Vice President Biden's plans and commitments in the past," the youth group said in a statement. "Today, he's responded to many of those criticisms, dramatically increasing the scale and urgency of investments, filling in details on how he'd achieve environmental justice and create good union jobs, and promising immediate action .... on day 1, in his first 100 days, in his first term, in the next decade — not just some far off goals."
Biden specifically addressed environmental justice in the Tuesday speech as well as job creation.
"As we do this work, we need to be mindful of the historical wrongs and the damage that American industries have done in the 20th century, inflicting environmental harm on the poor and vulnerable communities, so often Black, and Brown, and Native American communities," he said.
Biden also addressed the problem of environmental racism, a day before the Trump administration gutted the National Environmental Policy Act (NEPA), which advocates say is an "unnecessary, dangerous step in the wrong direction."
Biden specifically cited disproportionate air and water pollution in minority communities as part of the reason "why there's such incredible rates of childhood asthma in black and brown communities, why black Americans are almost three times more likely to die of asthma related causes than white Americans."
"It's cancer alley in St. James Parish of Louisiana. It's the cancer-causing clusters along Route 9 right here in Delaware. And that's why today I'm also releasing a State of the Environment justice policies that build on my existing plan," he said.
Washington Gov. Jay Inslee, once a 2020 Democratic presidential candidate, ran his campaign with a focus on climate change and often drew attention to the racial disparities in environmental health. Sunrise Movement organizers say Biden's new plan is even more ambitious in some ways than what Inslee proposed.
Meanwhile, Trump's final move to weaken NEPA "will perpetuate environmental racism," according to League of Conservation Voters President Gene Karpinski.
"This move undermines communities' ability to have a voice in major construction projects in their own backyards — especially low-income and communities of color that are often targeted by the fossil fuel industry and other heavy industry," Karpinski said in a statement Wednesday.
"This is an area of incredible opportunity for economic growth for our country. But we have to make sure that the first people who benefit from this are the people who were most basically hurt by it historically in the last century by the structural disparities that exist," Biden said, announcing a commitment of 40% of all investments going to frontline communities.
Related: AOC, Bernie And Other Progressive All-Stars Will Advise Biden On Key Policy Issues
Environmental justice advocates also pointed to the significant increase in Biden's new plan. When President Obama and VP Biden first took office in 2009, they invested $90 billion in clean energy, "the largest investment in clean energy in the history" of the U.S., according to Biden. Now, the number Biden is willing to spend is $2 trillion.
"When Donald Trump thinks about climate change, the only word he can muster is hoax," Biden said. "When I think about climate change, the word I think of is jobs."

He continued: "When Donald Trump thinks about renewable energy, he sees windmills somehow causing cancer. When I think about these windmills, I see American manufacturing, American workers racing to dominate the global market. … When Donald Trump talks about improving efficiency by retrofitting lighting systems with LED bulbs, you remember what he said? He said he doesn't like LED because, 'the light is no good. I always look orange.'"
Biden described a "civilian climate corp to heal our public lands, to make us less vulnerable to wildfires and floods" that would "create new markets for our family farmers and our ranchers." The concept is similar to the Civilian Conservative Corps proposed by Sen. Elizabeth Warren (D-MA) when she ran for president, which would enlist tens of thousands of Americans to work in "climate resiliency" projects.
"Look, these aren't pie in the sky dreams," Biden concluded. "These are actionable policies that we can get to work on right away. ... So let's not waste any more time. Let's get to work now."
Watch the full speech below.