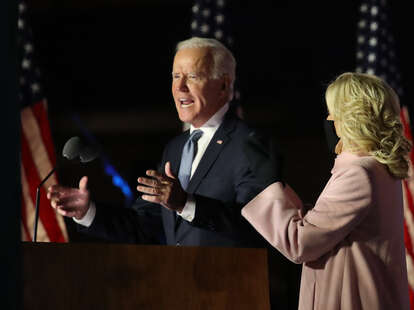 Joe Biden delivered a short speech in Wilmington, Delaware, at about 12:40 am, as votes in the 2020 election were still being counted and neither candidate had reached the key threshold of 270 electoral votes. The Democratic presidential candidate urged supporters to "keep the faith" and "be patient" as votes continue to be counted past Election Night.
Biden said that he felt confident about winning many of the remaining states whose final results haven't yet been projected, including Arizona, Michigan, Wisconsin and Pennsylvania. "It ain't over until every vote is counted, until every ballot is counted," he told a drive-in crowd of supporters who were honking their car horns. A political reporter for the Philadelphia Inquirer tweeted earlier in the evening that Pennsylvania still had 2.2 million mail-in ballots to be counted. The count will continue Wednesday.
Biden reiterated that it is neither his nor President Trump's place to claim victory but rather the American people's. He also said that he is optimistic about the outcome of the election.
"Every time I'd walk out of my grandpa's house up in Scranton, he'd yell 'Joey, keep the faith' and my grandma would say, "No, Joey, spread it!'"
Biden's speech follows a close, contentious campaign against Trump. He and his advisors urged supporters to remain calm; state election officials kept trying to manage the expectations of people regarding a timeline for results, saying in advance of Nov. 3 that an accurate tally of the millions of mail-in ballots cast would take time and not to expect results from key states until Wednesday.
After Biden's speech, Trump tweeted that he too would be speaking late Tuesday night while baselessly claiming "A big WIN!" As of 1:15 am eastern time, Biden has 223 electoral votes while Trump has 213.