After Another Joe Biden Sweep, Bernie Sanders To "Assess Campaign"
The former Vice President has continued to solidify his lead in the Democratic presidential primary.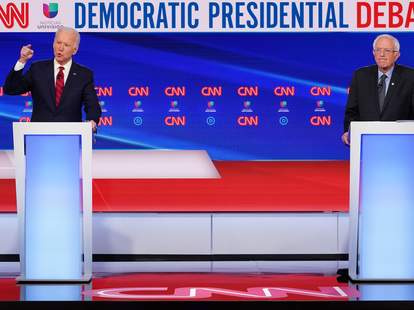 Former Vice President Joe Biden swept primaries in Florida, Illinois, and Arizona on March 17, leaving Sen. Bernie Sanders' potential path to the Democratic presidential nominee looking all but impossible.
As of March 18, Biden has 1,153 total delegates, while Sanders has 861 delegates, according to the AP tracker. Biden's latest wins again solidified his stunning comeback that took hold on Super Tuesday.
As the coronavirus pandemic continues to create a massive public health risk, slam businesses, and alter everyday life in the U.S., states including Louisiana, Georgia, Kentucky, Maryland, and Ohio have postponed their primaries. In the most recent debate, which aired without an audience, the septuagenarian candidates tapped elbows and discussed how they'd handle the outbreak if elected.
The coronavirus outbreak has caused other unexpected disruptions in this primary race, as both candidates have canceled in-person rallies and allowed staff to work from home.
While Biden on Tuesday attracted the votes of women, voters over 45, moderates, and conservatives, his largest voting gap included voters under 30, according to the AP. That demographic continues to vote overwhelmingly in favor of Sanders. Biden did perform better with Latinx voters in Florida, Illinois, and Arizona than he did in earlier states with large Latinx populations, including California and Texas.
In a speech Tuesday night in Florida, Biden offered thoughtful remarks on the ongoing pandemic, comparing the response effort to "fighting a war."
"Sen. Sanders and I may disagree on tactics, but we share a common vision," Biden said. "For the need to provide affordable health care for all Americans, reduce income inequality that has risen so drastically, to tackling the existential threat of climate change."
Biden added: "My hopes are high because I believe in times of crisis, Americans have always stepped up."
Sanders campaign manager Faiz Shakir said today in an email to supporters that after the most recent losses, the Vermont senator "is going to be having conversations with supporters to assess his campaign. In the immediate term, however, he is focused on the government response to the coronavirus outbreak and ensuring that we take care of working people and the most vulnerable." Sanders used his Tuesday night address to discuss his plan for addressing the pandemic (watch below).
Shakir also noted that "the next primary contest is at least three weeks away" (after Georgia pushed theirs back from March 24 to May), so a decision on suspending his campaign may not come immediately.
 
Biden also made a direct appeal to Sanders voters, saying, "I hear you. I know what's at stake. I know what we have to do. Our goal as a campaign and my goal is as a candidate for president is to unify this party and then unify the nation."
Watch Biden's remarks: