Julia Louis-Dreyfus Dunked On Trump All Night Long At The DNC
"Donald Trump will call me in a tweet tomorrow, a washed-up horse-face no-talent has-been with low ratings. Well, with all due respect sir, it takes one to know one."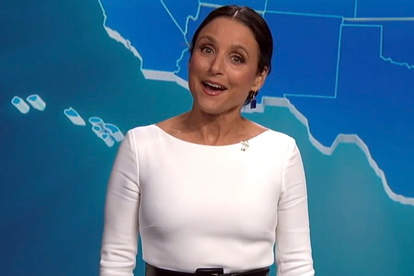 Award-winning actor Julia Louis-Dreyfus, who spent years playing a fictional vice president (and eventual president) who simply could not get it together, hosted the final night of the Democratic National Convention — and spent it comedically eviscerating Donald Trump.
Read her most standout dunks and watch a roundup below. (But first, just a really good "Veep" gif.) 
Julia Louis-Dreyfus aka Vice President Selina Meyer.

| HBO
"Joe Biden goes to church so regularly that he doesn't need tear gas and a bunch of federalized troops to help him get there."
"When Donald Trump spoke at his inauguration about American carnage, I assumed that was something he was against. Not a campaign promise."
"Right now, you can text vote to 30330 to learn about all of your voting options and make the best plan for how to vote in your community, wherever you are. An easy way to remember 30330 is that's the year Donald Trump will finally release his tax returns."
"30330. It's actually not that hard to remember. Watch: Person, woman, man, camera, TV, 30330. Anyone can do it."
"30330. That would be the president's golf score if he didn't cheat."
"These last few nights have been going so well, we decided to add a fifth night where we will just show Michelle Obama's speech on a loop."
"Tonight, I couldn't be prouder to be a loyal union member, a passionate climate activist, and a patriotic Democrat. Or as Donald Trump will call me in a tweet tomorrow, a washed-up horse-face no-talent has-been with low ratings. Well, with all due respect sir, it takes one to know one."
"If we all vote, there is nothing Facebook, Fox News, and Vladimir Putin can do to stop us."
"I first met Joe Biden when I was doing my show 'Veep.' I played the vice president, and he was, in fact, the vice president, and we hit it off immediately. Soon after, I was asked to be on the cover of a magazine. Remember those? And I was so excited. I was like, "What's it going to be? People or Vogue or Rolling Stone? Well, it turns out it was for Arrive, the official onboard magazine of Amtrak, which nobody ever reads even though it's free. And the day it came out, my phone rang, and it was the vice president telling me he loved the cover and the whole article, and that it was one of the best issues of Arrive he had ever read. And that is just one of the many reasons that I wanted to be here tonight for Joe. And to remind you that Joe Biden not only knows how to read, but he reads everything."
"A couple of years ago, I was diagnosed with cancer. And I was absolutely terrified. One of the first people who called me was Joe. His real warmth and kindness on that call, man, I gotta say, it made me cry. Our current president made me cry, too, but it's never had anything to do with his warmth or kindness."
"This year, we're going to elect a president who's honest, experienced, and intelligent. A president who believes in the rule of law, who will restore dignity and normalcy to the White House and the soul of this nation. And boy, won't that be something?"