Kamala Harris Celebrates Her Immigrant Roots While Admonishing Racist Rhetoric
"Let's be clear — there is no vaccine for racism."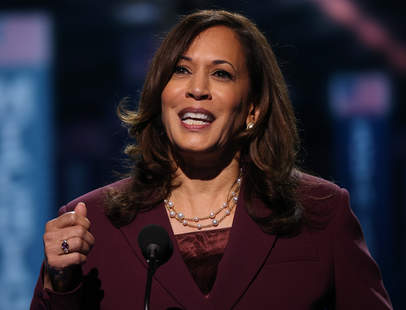 While accepting the Democratic vice presidential nomination during the third night of the Democratic National Convention, Kamala Harris recognized overlooked icons in the women's suffrage movement, celebrated her mother, and underscored the systematic racism in the country that still needs to be corrected.
Delivering her address from Wilmington, DE on Wednesday night, Harris first took a moment to acknowledge the week as the 100th anniversary of the passage of the 19th amendment — but also recognized the often omitted women who played an integral part in expanding voting rights in the U.S., including Mary Church Terrell, Fannie Lou Hamer, and Diane Nash.
She then went on to recognize another woman for whom she holds gratitude — her mother, Shyamala Gopalan Harris. After her mother and father, who is from Jamaica, met and married, Harris said she got a "stroller's-eye view" of people getting into what the late Rep. John Lewis called "good trouble" in Oakland and Berkeley, CA. After her parents split up, she said her mother raised her and her sister mostly on her own and taught them to be proud of their heritage.
"She raised us to be proud, strong Black women. And she raised us to know and be proud of our Indian heritage," Harris. "She taught us to put family first — the family you're born into and the family you choose."
After announcing her formal acceptance of the VP nomination, Harris said she would remain committed to the values her mother taught her and was committed to a country "where all are welcome, no matter what we look like, where we come from, or who we love."
But Harris said those American virtues are threatened under President Trump's leadership.
"We are a nation that's grieving. Grieving the loss of life, the loss of jobs, the loss of opportunities, the loss of normalcy. And yes, the loss of certainty," she said.
She also pointed out that the COVID-19 outbreak in the country has disproportionately affected people of color. She pointedly reminded the virtual audience that the nation's history of systemic racism has yet to be solved.
"This virus has no eyes, and yet it knows exactly how we see each other — and how we treat each other," she said. "And let's be clear — there is no vaccine for racism. We've gotta do the work."
Harris noted some of those who have been killed at the hands of police, including George Floyd and Breonna Taylor, noting that Americans need a leader that will unite them to fight for equal justice — and that Democratic presidential nominee Joe Biden is that person.
"Joe will be a president who turns our challenges into purpose," she said. "Joe and I believe that we can build that beloved community, one that is strong and decent, just and kind. One in which we all can see ourselves."
Finally, Harris acknowledged the efforts and activism happening around the U.S. in an attempt to fix the many issues currently plaguing the country.
"I'm so inspired by a new generation of leadership. You are pushing us to realize the ideals of our nation, pushing us to live the values we share: decency and fairness, justice and love," she said. "You are the patriots who remind us that to love our country is to fight for the ideals of our country. In this election, we have a chance to change the course of history. We're all in this fight. You, me, and Joe — together. What an awesome responsibility. What an awesome privilege."