Killing The Filibuster Could Be America's One Shot To Protect Voting Rights
The historic For the People Act, which protects voting rights across the country, passed the House without one Republican vote. Now it faces the obstacle of a Senate filibuster and activists say it's time to abolish it.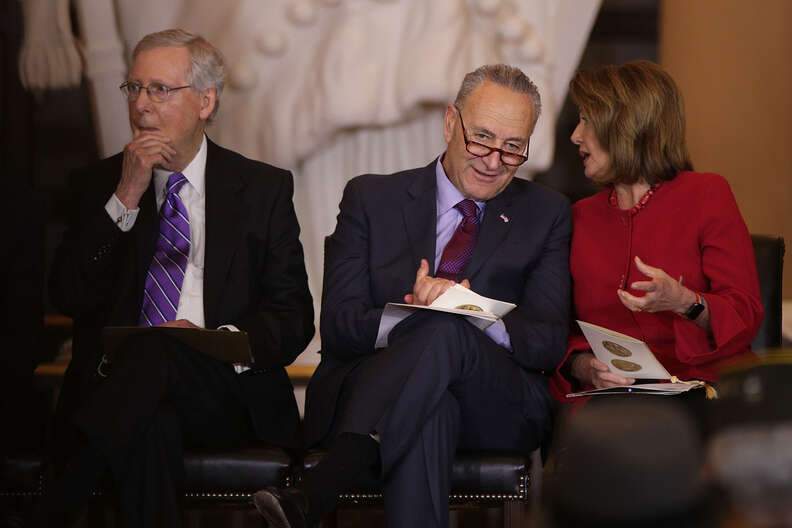 The House of Representatives passed a historic voting rights bill Wednesday night in a 220-210 vote — without any Republican support, and with one Democrat breaking with his caucus. H. R. 1, also known as the For the People Act, would be the biggest expansion of voting rights since the 1960s if enacted into law. It includes sweeping reforms like automatic voter registration, the elimination of the elimination of partisan gerrymandering, and limiting money in politics. While Rep. Bennie Thompson (D-MS) co-sponsored the bill, he ultimately voted against it, saying his constituents opposed the redistricting and campaign finance reform sections.
Pro-democracy organizers, legal experts, and advocates say passing the bill into law is the most important action Congress can take right now to cement protection for voting rights across the country, which are under major threat from Republican-led state legislatures after the 2020 election saw historic turnout.
The bill's passage on Wednesday night came after the House canceled its Thursday session out of security concerns tied to a potential right-wing militia attack at the U.S. Capitol on March 4. Also Wednesday, the House passed the George Floyd Justice in Policing Act, which if enacted into law, would make it easier to hold members of law enforcement accountable for misconduct by limiting protections such as qualified immunity.
Protecting voting rights will likely require Democrats abolishing the filibuster in the Senate, which progressives and pro-democracy advocates have repeatedly called for. With a 50-50 split in the Senate (and Vice President Kamala Harris' tie-breaking vote that gives Dems a simple majority), abolishing the filibuster would expedite the voting rights agenda. Current Senate filibuster rules require 60 votes to move a bill forward, which Republicans often use to stall Democratic legislation despite being in the minority. With so much at stake, more moderate Democrats including Sen. Amy Klobuchar (D-MN) have come out in favor of killing the filibuster. She told Mother Jones: "I have favored filibuster reform for a long time and now especially for this critical election bill."
The pro-democracy agenda likely faces more unified Republican opposition in the Senate. Minority Leader Mitch McConnell (R-KY) has already signaled his lack of support for the voting rights bill.
"In this country, if the people who win elections want to hold onto power, they need to perform well, pass sound policies and earn the support of the voters again," McConnell said, according to the New York Times. Apparently unironically, he continued: "House Democrats do not get to take their razor-thin majority — which voters just shrunk — and use it to steamroll states and localities to try and prevent themselves from losing even more seats next time." House Democrats maintained their majority control of the lower chamber in November 2020, and gained simple majority control of the Senate in January 2021. Republicans no longer control any legislative or executive branch of federal government following the popular and Electoral College votes in 2020.
More than a month after President Joe Biden took office, former President Donald Trump and many of his allies in elected office continue to promote the "Big Lie": that Trump actually won the election and Democrats somehow "stole it," a baseless claim that has been disproven countless times.
As they promote the Big Lie, Republicans are moving forward with an alarming number of bills to make it harder to vote across the country. According to a February 19 report from the Brennan Center for Justice, a liberal nonpartisan law and policy group, 253 bills to restrict voting access have been introduced in 43 states already in 2021. The Brennan Center says the influx of anti-voting rights bills come in direct backlash to historic voter turnout seen in the 2020 elections, and is "well over four times the number of bills to restrict voting access as compared to roughly this time last year."
Biden White House Supports For The People Act
In a statement Thursday morning, after passage of H. R. 1 Wednesday night, President Biden praised House Speaker Nancy Pelosi and her fellow lawmakers for passing the bill "in the wake of an unprecedented assault on our democracy; a coordinated attempt to ignore, undermine, and undo the will of the American people never before seen in our history; and a new wave of aggressive attacks on voting rights taking place in states across the country."
He continued: "The right to vote is sacred and fundamental — it is the right from which all of our other rights as Americans spring. This landmark legislation is urgently needed to protect that right, to safeguard the integrity of our elections, and to repair and strengthen our democracy."
Biden said he looks forward to working with Congress as it "refine[s] and advance[s] this important bill."
Republicans Are Using Trump's "Big Lie" To Try Restricting Voting Rights
The Brennan Center also wrote that the restrictive proposals are "grounded in a rash of baseless and racist allegations of voter fraud and election irregularities," some of which were once again amplified by Trump and other Republicans at the Feb. 26-28 Conservative Political Action Conference (CPAC) in Florida.
CPAC is an annual gathering of conservatives that features everything from high-profile GOP speakers like Trump and Sen. Ted Cruz (R-TX) to transphobic panels about protecting the "nuclear family." On Sunday, Trump took the stage to close out the conference — his first public speech since leaving office and since the Senate acquitted him in his second impeachment trial, this time on the charge of inciting the January 6 insurrection at the Capitol.
According to reporter Aaron Rupar at Vox, Trump told the Big Lie five different ways during the CPAC speech, including when he said, "I may even decide to beat [Democrats] for a third time," which earned him a standing ovation from the CPAC crowd. (Trump has lost the popular vote twice, and Biden handily defeated him in the Electoral College in 2020.)
Trump also claimed "had we had a fair election, the results would've been much different," once again called the election "rigged," and attacked the Supreme Court for not having "the guts or the courage to make the right decision" and overthrow the legitimate election results for him. Rupar noted that the crowd chanted back, "You won! You won!"
The former president also clearly laid out the Republican playbook for voter suppression and intimidation. The playbook isn't a new one, as evidenced by the GOP's past redistricting and absurdly gerrymandered districts, but arguably more people than ever before are paying attention. At the same time, GOP efforts to counter growing interest in voting rights are escalating proportionately, bolstered by their own lies as reason to support restrictions.
"Another one of the most urgent issues facing the Republican Party is that of ensuring fair, honest, and secure elections. We must pass comprehensive election reforms, and we must do it now," Trump said. Greg Sargent at The Washington Post wrote that "by 'election reforms,' Trump actually meant a redoubled commitment to making it harder to vote. We know this, because he said so: He went on to declare that Democrats had used the 'China virus' as an 'excuse' to make vote-by-mail easier."
In an election that saw the highest voter turnout since 1900, 81.2 million Americans voted for Biden, the highest number of votes earned by a presidential candidate in U.S. history, while 74.2 million Americans voted for Trump. The former president continued at CPAC: "We can never let that happen again. We need election integrity and election reform immediately. Republicans should be the party of honest elections."
This kind of rhetoric has been parroted down to state and local levels of the GOP, including by the Georgia Senate GOP caucus, which released a statement last week that said, "Many of our citizens have expressed a lack of faith and integrity in our current election systems. We have heard these concerns voiced by many, and addressing these concerns has been at the forefront of our legislative efforts this year to promote the good of this state."
Voting rights reporter Ari Berman wrote that "this has become the standard line for Republicans, who peddled a bogus election narrative to their constituents, then used that as a pretext to make it more difficult to vote." Of the 253 bills introduced to make it harder to vote, a number of them have been in Georgia, which Berman calls "ground zero for the GOP's escalating war on voting."
Thanks to the efforts of the Brennan Center, reporters like Berman, and state Democrats, these attempts at restricting voting are not going unnoticed. Nor is the flimsy justification Republicans are trying to prop up in state legislatures.
"Every last one of these election bills are about the election didn't turn out the way you wanted and you want to perpetuate the lie that Trump told you," Georgia state Senator David Lucas (D) said in an impassioned, tearful floor speech on February 23. Berman noted that Lucas "grew up in the Jim Crow-era and was one of the first Black lawmakers elected to the Georgia legislature since Reconstruction," lending extra emotional resonance to the remarks.
In a statement to the Post, Sen. Jeff Merkley (D-OR) said, "The Big Lie about 2020 is built on an ugly truth: Trump and the Republican Party have turned their backs on our constitutional vision of government of, by, and for the people."
He continued: "You heard it from Trump himself. We've got to get the For the People Act signed into law ASAP so the next elections are decided by the will of the voters, not rigged by corrupt politicians."
The Brennan Center noted that some state lawmakers are "seizing on an energized electorate and persistent interest in democracy reform" to also introduce bills that would expand voting rights. The Feb. 19 report tallied more than 541 bills to do so in 37 states (and 125 of them are in New York and New Jersey). But the fastest and most expansive way to ensure that Americans' voting rights are protected is by federal law, to supersede the state-by-state battles.
Natalie Daher contributed to this report.