LeBron James Is Launching A Voting Rights Group With Other Basketball Stars
James' announcement came a day after he called out Georgia's chaotic primary. The messy primary led to renewed calls of voter suppression that many claimed disproportionately impacted "under-resourced communities" and Black voters.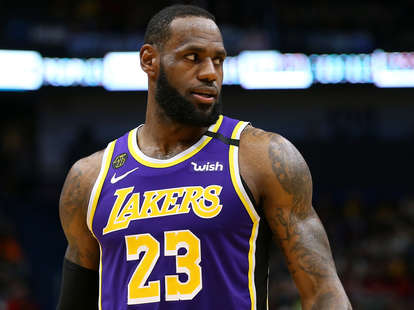 Getty Images
Getty Images
NBA celebrity LeBron James, along with other prominent athletes, are launching a new organization to protect and empower Black voters.
James announced the effort, called More Than a Vote, during a New York Times interview on Wednesday.
"Because of everything that's going on, people are finally starting to listen to us — we feel like we're finally getting a foot in the door," he told The Times. "How long is up to us. We don't know. But we feel like we're getting some ears and some attention, and this is the time for us to finally make a difference."
James, along with NBA player Trae Young, WNBA player Skylar Diggins-Smith, and former NBA player Jalen Rose, want to help people register to vote, but also aim to go beyond "traditional celebrity get-out-the-vote efforts." James has also recruited comedian Kevin Hart for the effort and is talking to several musicians,The Times reported.
"Yes, we want you to go out and vote, but we're also going to give you the tutorial," James said. "We're going to give you the background of how to vote and what they're trying to do, the other side, to stop you from voting."
The group will reportedly be categorized as a 501(c)(4) nonprofit organization, which means it won't advocate specifically for political candidates. It will also work to reduce apathy among Black voters and ensure that the drop off of young Black voters during the 2016 U.S. elections doesn't happen again.
"If people my age see that I'm going out and I'm voting and I'm talking, maybe the next 21-year-old will," said Young, who plays for the Atlanta Hawks.
James' announcement came a day after he called out Georgia's chaotic primary that took place on Tuesday and renewed claims of voter suppression in the state. Voters encountered hours of waiting and long lines at polling locations as well as broken voting machines, which many claimed impacted mostly "under-resourced communities" and Black voters.
"Everyone talking about 'how do we fix this?' They say 'go out and vote?' What about asking if how we vote is also structurally racist?," he wrote on Twitter.
James has also tweeted in support of the largely peaceful protests happening around the country against police brutality and the death of George Floyd.
During The Times interview, James, a four-time NBA MVP who also founded a school in Ohio, said that he hopes to one day be remembered for the work he did off of the basketball court.
"Hopefully, someday down the line, people will recognize me not only for the way I approached the game of basketball, but the way I approached life as an African-American man," he said.