LGBTQ+ Governors Give Messages For Pride Month As Trump Ignores It (Again)
Two of the nation's 50 governors are openly LGBTQ+, Gov. Kate Brown of Oregon and Gov. Jared Polis of Colorado. They spoke to NowThis about the importance of celebrating Pride (safely, during a pandemic) as President Trump failed once again to recognize it.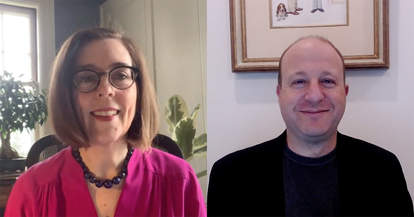 When Oregon voters elected Kate Brown as their governor in November 2016, the state made history: Brown, who is bisexual, was the first openly LGBTQ+ governor elected in United States history.
Then, in 2018, Colorado voters made history by electing Jared Polis. Polis became the first openly gay man elected governor.
Brown and Polis, both Democrats, gave special Pride 2020 messages in interviews with NowThis, as the nation celebrates a Pride month like no other.
"Happy Pride Month—I wish we could all be celebrating it together," Gov. Brown said. "I love going to the Pride parades here in Oregon, but that's not going to happen this year, so I want to encourage folks to honor our history and to recommit to justice and equality. I think it's so important that we continue to partner with our communities of color to work to eradicate racism. I think it's really key that the most successful movements have been movements where we have partnered together."
Brown spoke to NowThis in early June, as Black Lives Matter protests in the wake of George Floyd's death were taking off globally—including in Oregon. When asked about the intersection between anti-racism protests and Pride Month and LGBTQ+ equality, Brown said, "As a child of the feminist movement, it's all interconnected. In this day and age, at this time, what is key is that we put the voices of the African-American community, our Black community, our Latinx community, our Indigenous community — that we center these voices."
Brown also had a message for young people who might be struggling: "In terms of my experiences, for the LGBTQ youth out there: I see you, I hear you," she said. "I know it's really, really challenging. I just want to encourage you to be your full self, to continue to live in the world, and to reach out for help if you need it. There is help available."
"I think it's so incredibly important that we work toward a world full of justice and equality for all," she continued.
In a separate interview with NowThis, Gov. Polis had a similar message about pandemic-era Pride: "We're not celebrating it physically together in marches and parades and parties, as we usually do," he acknowledged. "But I know we're going out of our way to reach out virtually to our friends, to gather in virtual and new ways and find that fellowship that we normally find—knowing that Pride will be back in person, bigger and better in future years, when there's a cure, a vaccine. But it's important right now to stay safe and celebrate our visibility and pride in new and innovative ways."
Polis was elected in 2018 as the first openly gay governor. Former New Jersey Gov. Jim McGreevey was technically the first openly gay man to serve as governor, as he came out while in office before resigning due to scandal.
Polis spoke to NowThis just a few days after a landmark Supreme Court decision in favor of civil rights protections for gay and transgender workers. He said the decision was "very exciting" and noted that Colorado already had those protections in place at the state level.
"It was wonderful to see our gay and lesbian and transgender brothers and sisters all over the nation have the extension of protection from discrimination," Polis said. It's "just so important in this time, and really welcome news to LGBTQ community members as well as their family and loved ones," he continued.
President Trump failed to acknowledge LGBTQ+ Pride month this year, which occurs every June, for the third time. Trump recognized Pride month last June via a tweet but not in a presidential proclamation as Barack Obama did all 8 years of his presidency.
Bill Clinton established Pride month as president in June 1999. Republican President George W. Bush did not recognize June as Pride month during his time in office and it was only after President Obama was elected that the White House celebrated Pride month every June again.
Related: "Transgender Women Are Women": Daniel Radcliffe Responds To J.K. Rowling's Transphobic Tweets
If you or someone you know are struggling or need help, organizations like The Trevor Project have 24/7 counselors available: please call the TrevorLifeline at 1-866-488-7386, text START to 678-678, or visit their online chat service.