Who Is Mark Esper? Listen to Who Is, The Podcast
"Who Is?" is an original podcast by NowThis that explores the backstories of some of the most powerful people in the U.S. Watch our full video "Who Is?" video series on our website.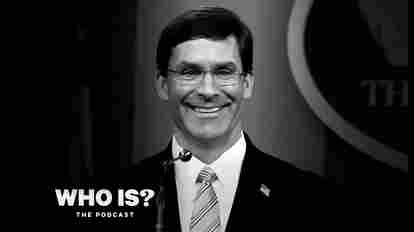 "Who Is?" is an original podcast by NowThis that explores the backstories of some of the most powerful people in the U.S.
Over the course of 16 episodes, the podcast will look at top leaders in Washington, Trump's inner circle, the field of presidential hopefuls, and major political donors. The podcast is hosted by NowThis correspondent Sean Morrow.
Be sure to watch our "Who Is?" video series right here, and subscribe to the podcast at the link here, on the iHeartRadio app or wherever you get your podcasts.
Who Is Mark Esper?
In the United States, war is big business. The Department of Defense, led by Secretary Mark Esper since 2019, has a budget of $738 billion this year. And while many of those dollars pay for those who serve in the armed forces and the maintenance of a nuclear arsenal, a significant portion of that budget will go to the military-industrial complex, which President Dwight D. Eisenhower warned Americans about in his farewell address in 1961, and which, prior to his appointment, Secretary Esper represented in Washington as a lobbyist. With the question of war in the air after the United States — in a targeted drone strike on Iraqi soil approved by President Donald Trump — assassinated the second most powerful man in Iran, Qasem Soleimani, who stands to profit? On this episode of Who Is, Sean Morrow dives deep into Secretary of Defense Mark Esper and the military-industrial complex.
GUESTS: Kate Brannen, Editorial Director of Just Security; Jack Detsch, Pentagon Correspondent of Al-Monitor; Aaron Mehta, Deputy Editor and Senior Pentagon Correspondent of Defense News.
Who Is Nancy Pelosi?
Nancy Pelosi is the first woman to lead the House of Representatives — and third in line to the presidency. She's passed landmark legislation like the Affordable Care Act, has been the legislative partner (or adversary) of three presidents, and is playing a decisive role in the impeachment of President Trump. All that, and she didn't even hold elected office until she was 47 — after she had raised five children. Whatever your politics, this is Nancy Pelosi's moment, so in this episode, former politicians and professors join us to talk about her journey, her power, and her influence. 
GUESTS: John Lawrence, former Pelosi Chief of Staff, Visiting Professor at the University of California's Washington Center, author of "The Class of '74: Congress after Watergate and the Roots of Partisanship"; Paul Kane, Senior Congressional Correspondent and Columnist at the Washington Post; Stephanie L. Young, former White House Senior Public Engagement Advisor in the Office of Public Engagement.
Who Is Fox News?
Fox News has evolved over the years to become the infamous beacon of conservative media—but how was it created? Founded by media savant Roger Ailes and Australian billionaire Rupert Murdoch, what we know as Fox News is the result of a decades-long conservative effort, and has become a defining force in American politics and presidential elections. On this episode, we explore Fox News' backstory with the help of several scholars who study conservative media and movements.
GUESTS: A.J. Bauer, Assistant Professor of Media, Culture, and Communication at New York University; Reece Peck, Assistant Professor at the City University of New York, Staten Island; Khadijah White, Assistant Professor of Journalism and Media Studies at Rutgers University; Caroline Heldman, Professor of Politics at Occidental College.
Who Is Bernie Sanders?

Sen. Bernie Sanders is America's most prominent self-described democratic socialist, and he's running for president--as a democrat. Born in Brooklyn, Sanders arrived in Vermont via Chicago, where he was first elected Mayor of Burlington in 1981 by a margin of 10 votes. And from the climate crisis to income inequality to his Medicare For All plan, Sanders has been a consistent progressive voice ever since, as mayor, congressman, and finally, senator. But has Sanders had a measurable impact on our democracy? Does he know how to 'play the game'? On this episode, host of Who Is, Sean Morrow, talks to the Vermonters who know "Bernie" best, including another former candidate for president: former Vermont governor Howard Dean.
GUESTS: Howard Dean, 2004 Democratic Candidate for President, former Chairman of the Democratic National Committee (2005-2009), Governor of Vermont (1991-2003); Alan Abbey, Director of Internet and Media at the Shalom Hartman Institute in Jerusalem, Israel; Bob Kinzel, of Vermont Public Radio Dave Levinthal, editor-at-large at the Center for Public Integrity.
Who Is Joe Biden?

Former Vice President Joe Biden has been in politics for like, ever. Elected to the Senate nearly fifty years ago in 1973, Biden was Obama's Vice President and is now running for president himself (and not for the first time). He's been praised for his public service, criticized for his record on race, and noticed for his sunglass selection. On this episode, host of Who Is Sean Morrow unpacks Biden's long career, for the stories you need to know about Uncle Joe.
GUESTS: Ryan Grim, The Intercept; Natasha Korecki, Politico.
Who Is Elizabeth Warren?
Sen. Elizabeth Warren is running for president. A mother who had her first child at 22, Warren vaulted from Oklahoma to the halls of Harvard and on to the Senate. On this episode of Who Is, host Sean Morrow takes you beyond the 2020 hype for the stories that you need to know about the woman who wants to take on President Trump.
GUESTS: Sheelah Kolhatkar, The New Yorker; James Pindell, the Boston Globe; Alex Thompson, Politico.
Who Is John Roberts?
Who Is the most powerful person in America? Perhaps Chief Justice of the Supreme Court John Roberts. Appointed for life, Justice Roberts could cast the decisive vote—defining the law of the land—when it comes to issues like abortion, gun control, LGBTQ rights, and things you don't even realize touch your everyday life. Presidents and Senate power breakers might get the press, but for the power behind the throne, look for the man in the black robe.
GUESTS: Amy Howe, Howe on the Court and host of podcast SCOTUSTalk, co-founder of SCOTUSblog; Dahlia Lithwick, Slate, and the Amicus podcast; Mark Joseph Stern, Slate, and author of "American Justice 2019: The Roberts Court Arrives."
Who Is Betsy DeVos, and Who Is Erik Prince? 

Billionaire and Secretary of Education Betsy DeVos and Erik Prince, founder of Blackwater are siblings whose decisions have shaped America's youth and defense systems. Are they genius strategists like the Lannisters, or bungling buffoons like the Bluths? On this episode of Who Is, find out how these powerful siblings obtained the positions they have (hint: money), and what the privatization of public education and the privatization of the military have in common.
GUESTS: Katherine Gallagher, attorney at the Center for Constitutional Rights, who represented Iraqis wounded and families of Iraqis killed by Blackwater in Baghdad.
Who Is Mitch McConnell?

Who Is Senate Majority Leader Mitch McConnell? Host of Who Is Sean Morrow flew to Kentucky to find out, where he interviewed the people who have covered McConnell from his home state for decades. Is Mitch McConnell a political genius or just somebody willing to play outside the rules?
GUESTS: Phillip Bailey, Louisville Courier-Journal; John Cheves, Lexington Herald-Leader; Al Cross, Director of the Institute for Rural Journalism and Community Issues at the University of Kentucky; Alec MacGillis, ProPublica; Alex Pareene, The New Republic.