Donald Trump's Niece Said He Has Used The N-Word & Anti-Semitic Slurs
President Trump's niece, Mary, has been on tour for her explosive book that chronicles Donald's upbringing and influences.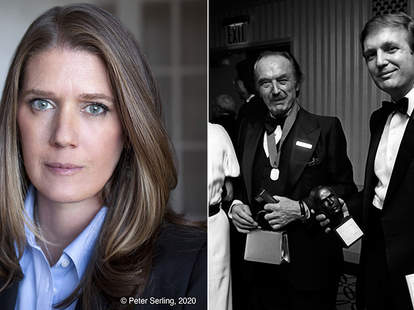 President Trump's niece, Mary, has published a damning tell-all book about her family that essentially draws a line connecting the president's dysfunctional upbringing to the current state of the country — deeply tainted by inhumane immigration policies and threats to democracy. In interviews promoting her book "Too Much and Never Enough: How My Family Created the World's Most Dangerous Man," Mary Trump has said this week that she has heard the president use the n-word and anti-Semitic slurs.
In an interview with MSNBC's Rachel Maddow on Thursday, the 55-year-old clinical psychologist and businesswoman shared explosive firsthand allegations of racist language she's heard from her uncle — a sitting president who's vying for a second term and stoking racist sentiments in the wake of nationwide protests against police brutality. In its first day on sale on Tuesday, Mary Trump's book sold nearly 1 million copies and broke a record for publisher Simon & Schuster, CNN reported.
Based on interviews and reports about the book, the 240-page memoir is rich with anecdotes that one can only access at the family dinner table. The president's niece, who is estranged from her family over an inheritance dispute, has pinned Donald's worldview and hunger for power to his father, Fred Trump, a New York City real estate developer who died in 1999. 
During the Maddow interview, Mary Trump corroborated comments she made the previous day to the Washington Post about her family's history. When Maddow asked if she ever heard Donald say the "n-word," Mary responded, "Of course I did." 
She added: "And I don't think that should surprise anybody given how virulently racist he is today."
"And anti-Semitic slurs, specifically?" Maddow also asked, to which Mary Trump replied: "Yes."
 
The White House has repeatedly denied the allegations in Mary Trump's book. In a statement displayed onscreen Thursday, Sarah Matthews, deputy White House press secretary, said: "This is a book of falsehoods, plain and simple. The President doesn't use those words."
Mary Trump supported Hillary Clinton over her uncle in 2016 and has said that she will vote for presumptive Democratic nominee Joe Biden in the presidential election this year, though she initially supported Sen. Elizabeth Warren (D-MA) during the Democratic primaries.
"This is beyond partisanship. This is so beyond party. We need to be thinking about this as Americans," Mary Trump said on MSNBC. "We need to be thinking about this as who we want to be as a people going forward."
She added: "Continuing along this path, which is exactly what would happen if Donald were to be elected again in 2020, would — I absolutely believe — be the end of the American experiment."
During the Post interview, Mary Trump also attributed the president's behavior to "political cynicism." She rebutted notions that the president's daughter and senior adviser Ivanka Trump or her husband Jared Kushner serve as moderating forces to the president's actions.
 
"I think [Ivanka]'s the one who disproves that on an almost-daily basis," Mary Trump told the Post. "She doesn't do anything. She spouts bromides on social media, but either she tries to have an impact and fails, or just isn't interested in having an impact. I can't think of one thing she's done to show that she's moderate or a moderating influence."
Mary Trump, who is gay, also recounted that "homophobia was never an issue [growing up] because nobody ever talked about gay people, well, until my grandmother called Elton John 'a slur,'" according to The Post.
Her father, Fred Trump Jr., was the president's oldest sibling. He worked as a pilot and died of alcoholism in 1981 while Mary was a teen. The Post has reported that Fred Jr.'s death was a hard moment for Donald, who "was said to have dealt with his brother harshly as he pushed him into the family real estate business" though Fred Jr. wanted to focus on aviation.
The president's younger brother, Robert Trump, filed a lawsuit to attempt blocking the publication of his niece's book, citing a 2001 nondisclosure agreement that Mary Trump signed connected to a financial settlement after her grandfather's death.
 
Judge Hal Greenwald on Monday cleared a path for the book's publication, deciding that Mary signed the NDA at a time when Trump family members "were not elected officials or TV personalities."  
 
Greenwald wrote: "In the vernacular of First year law students, 'Con. Law trumps Contracts.'"