Todd Gloria, San Diego
San Diego might become the largest city in the U.S. to elect an openly gay man as mayor if voters choose Todd Gloria in November.
Gloria, a Democrat and state assembly member, has focused his campaign on shifting the city to 100% renewable energy by 2035 and addressing homelessness by building permanent supportive housing instead of temporary shelters.
Gloria's campaign is also focused on lowering rents by increasing the supply of housing near public transit. He has described himself as California's first "Native American-Filipino-Latino-LGBT assemblyman."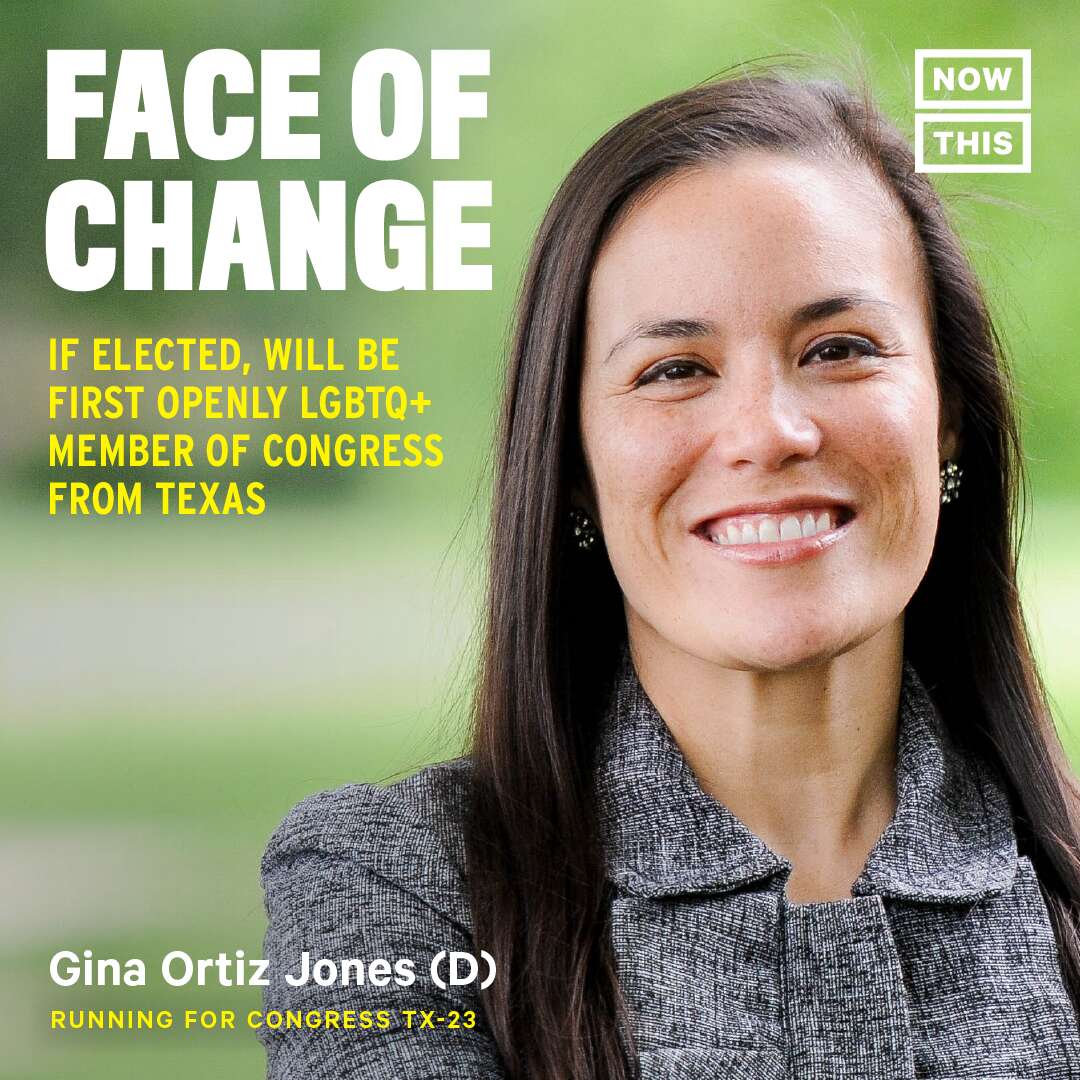 Gina Ortiz Jones, TX

Gina Ortiz Jones came just 926 votes short of making history in 2018 as the first LGTBQ+ person, the first Iraq War vet, and the first Filipina American to represent Texas in the U.S. House Of Representatives.
She's running again in 2020 to flip her GOP-held district, which stretches from El Paso to San Antonio. Jones is a first-generation American who served in the Air Force in Iraq and as an intelligence officer under Pres. Obama. She grew up relying on subsidized housing and reduced lunch programs, and emphasizes that these are investments, not handouts.
"I am running very simply to protect the opportunities that allowed me to grow up healthy, get an education, and serve our country," she says.
Keke Williams, TX

HD54 is a target district to flip the Texas House, Democrats only need 9 to gain a majority (76). In 2018, Dems flipped 12, many insiders predict Democrats could pick up as many as 15 this cycle. Beto O'Rouke received 49.6% of the vote in HD54 in 2018.
Williams would be the first female veteran to serve in the Texas Legislature. Fort Hood is in HD54 and Keke has been front and center from the beginning working directly with the family of Venessa Guillen and other missing soldiers.
There have been multiple high profile cases of fatal police brutality and Williams has worked with victims' families who are seeking justice including Javier Ambler.
Her Opponent is a one-term veterinarian by trade. He is anti-choice, and decriminalization of cannabis, pro-gun, and anti-immigration.
Brittney Rodas, PA

Brittney Rodas is a 25-year-old policy analyst who is running to flip a critical swing district in Pennsylvania, where Democrats are just nine seats away from gaining control of the state House.
Rodas has focused her campaign on affordable health care access; her father died last year after being denied prescription drug benefits because he made $7 over the Medicaid limit.
"When he died," she said, "I felt like the system had failed him."
Rodas is facing a GOP state rep who made national headlines after he tested positive for COVID but concealed the test results from Democratic lawmakers who he'd interacted with."
Tricia Zunker, WI

Tricia Zunker is running to flip Wisconsin's 7th Congressional District—a district that hasn't sent a Democrat to Congress since 2011 and that Pres. Trump won with 58% of the vote in 2016.
She is a proud member of the Ho-Chunk Nation and a first-generation college grad-turned-attorney who has been serving as an associate justice of the Ho-Chunk Supreme Court since 2013. As her grandmother once told her, "Education is the one thing they can never take away from you."
Zunker serves as president of the Wausau School Board and teaches remotely for various Wisconsin institutions. Her platform includes expanding funding for public education and making early childhood education accessible for all Wisconsinites. Zunker also supports affordable and accessible health care, criminal justice reform, protecting the environment, and providing equal opportunity for the working people of Wisconsin. If elected, she would become only the third Native American woman ever elected to U.S. Congress.
Brendan Johnson MI

In the battleground state of Michigan, Democrats need to gain just four seats in 2020 to win control of the statehouse. Brendan Johnson, a former U.S. State Dept analyst, is running to flip his GOP-held district in the Rochester area. Johnson is hoping to continue a wave of recently elected officials who reflect Michigan's diversity as a young member of the LGBTQ+ community.
His campaign has focused on increasing funding for public schools, combating the PFAS chemicals and lead pipes that polluted local drinking water, and as a COVID-19 survivor, prioritizing recovery efforts for local businesses and students. In 2018, multiple races in the district were decided by under 200 votes.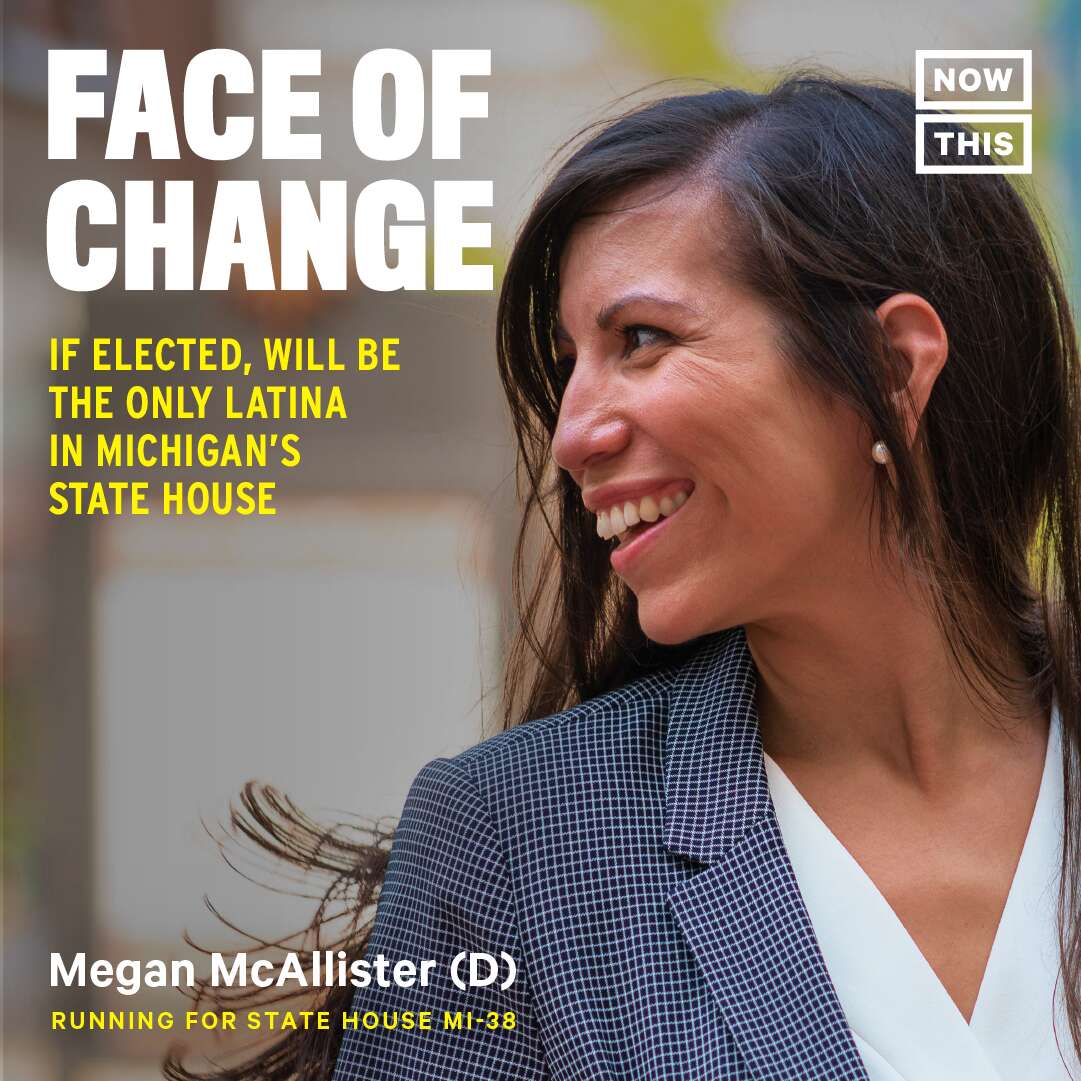 Megan McCallister MI

Megan McCallister is a first-time candidate who'd be the first millennial and Latinx person to ever win her seat in District 38. She says she decided to run for office after seeing the inequities in mental health services while pursuing her master's degree in art therapy and counseling.
As a small business owner and a mom of two Afro-Latinx children, McAllister said she's determined to address systemic injustices and bring desperately needed diverse backgrounds to the state legislature. Her district went for Trump 49-46 in 2016, but backed Democratic Gov. Gretchen Whitmer 52-46 in 2018.

Julie Slomski, PA

Julie is a first-time candidate with 7 years of state government experience. She started her career in public service as a Chief of Staff in the PA House of Representatives, and most recently spent 5 years as the Northwest Regional Director for Governor Tom Wolf. She is running to fight for access to quality healthcare, expand educational opportunities and protect workers in a changing economy.
Her opponent is an incumbent who is anti-choice, pro-gun, and votes with the Republican caucus in Harrisburg with 97% of the time. Dan Laughlin recently voted to evict tenants in the middle of the pandemic, blocked access to reproductive care, and voted against funding for workplace cleaning for essential workers. (See graphic attached).
This district is a bell-weather for the Commonwealth of Pennsylvania, as it encompasses the majority of Erie County. Trump won Erie County +2 in 2016, and this was the first time the county went red since the mid-1980s. Julie being able to flip this seat would give the Democrats control of the Senate, and would flip the balance of power in Harrisburg. Currently there are 4 races in the top tier of flippable seats, and SD-49 is the number 2 race in the commonwealth.
This seat was previously held by a Republican woman, but Julie would be the first Democratic woman Erie County has sent to the State Senate.
Kim Jackson GA

An Episcopal priest from the rural South, Kim Jackson has committed her life to fighting for social issues. She became involved in her faith community to speak to "issues of justice and injustice in the public square" and heads a church with a congregation mostly made up of people who are experiencing homelessness.
Jackson was formally recognized by the Georgia House of Representatives in 2018 for her "tireless efforts on behalf of the disenfranchised, disenchanted, and dispossessed." Throughout the COVID-19 pandemic, she has provided churchgoers with information regarding the virus, shared updated safety protocols, and distributed masks and hand sanitizer. Jackson is not only focusing her campaign on the population of Georgians experiencing homelessness, but she is also an advocate for public education, criminal justice reform, ending the death penalty, and promoting LGBTQ+ equality.
"Politics belong in the pulpit," says Jackson. "They're a part of our lives. As people of faith, we have to be engaged in politics; it's the partisan piece that has to be avoided."
Mauree Turner, OK

Mauree Turner is a queer, Black, Muslim woman looking to represent an historically Democratic Oklahoma district. If elected, she would be the first Muslim to serve in the state legislature.
Turner is currently the regional field director for the Campaign for Smart Justice, an ACLU campaign focusing on criminal justice reform, and has dedicated her life to fighting for equality and civil liberties for underrepresented communities. Turner's top campaign priorities include an overhaul of the criminal justice system, stronger public education, an integrated health care system, and more inclusive representation. She is running a grassroots, community-based campaign in Oklahoma and was recently endorsed by Rep. Ilhan Omar (D-MN) and Run for Something, which has helped hundreds of diverse millennials and Gen Zers run for local office.

Ricky Hurtado, NC

Ricky Hurtado, a child of immigrants and first-gen college grad with a master's from Princeton, is in a race that could decide whether Democrats flip North Carolina's state House. Hurtado is hoping to win a GOP-held district that was decided by fewer than 300 votes in 2018. If successful, he'll be the first Latino state legislator ever elected in NC, a state with nearly 1 million Latinx residents.
The stakes are high in 2020. Democrats will take control of the state House by winning just 6 seats. And whoever is elected this year will help oversee NC's redistricting process in 2021, redrawing state electoral maps for the next decade.
Hurtado is now a lecturer at UNC-Chapel Hill and co-founder and co-executive director of LatinxEd, a nonprofit that helps Latinx students through school and into higher ed. His campaign has focused on public education investments, environmental justice, and expanding Medicaid.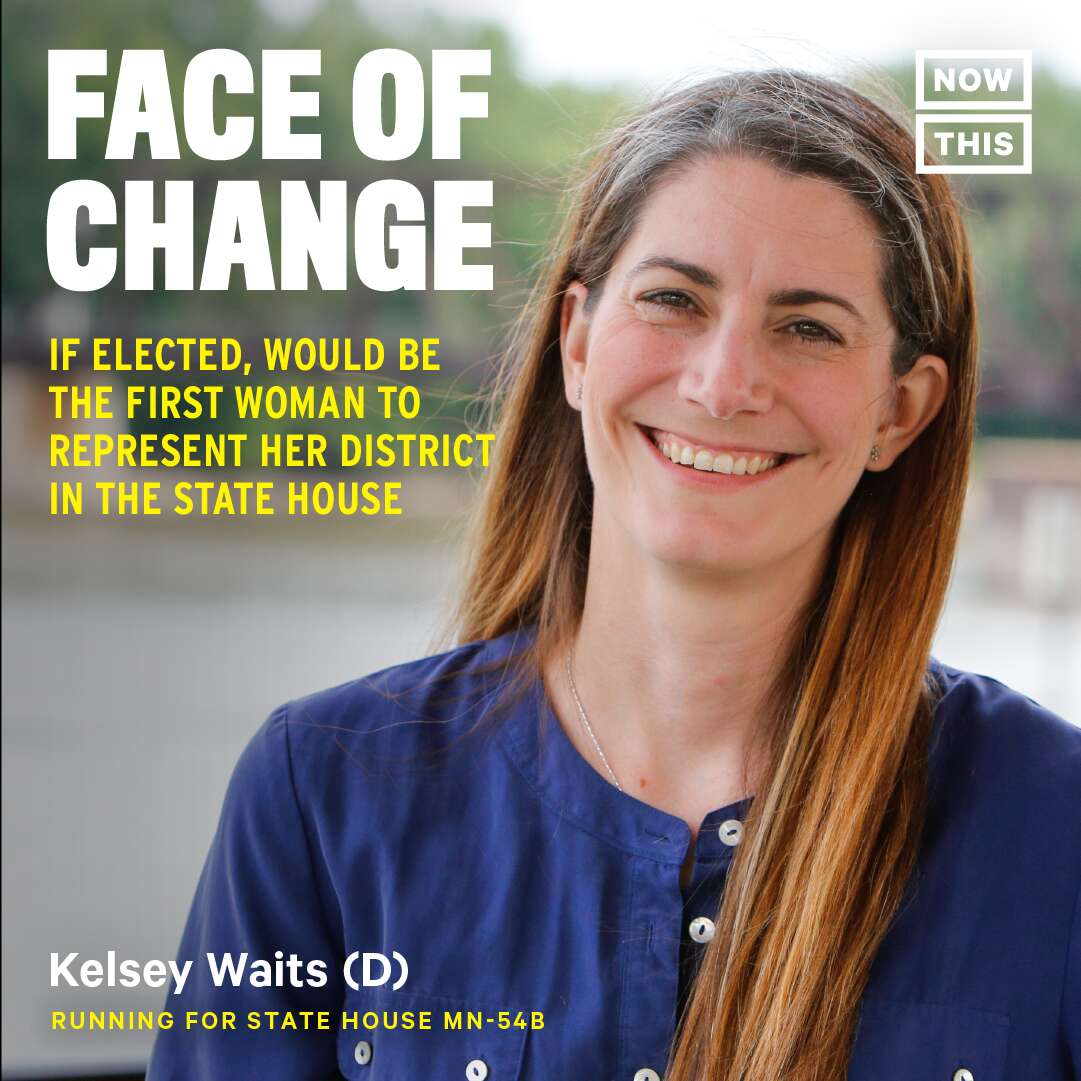 Kelsey Waits, MN

Kelsey Waits, a beekeeper, military spouse, and former statistician, is running to be the first woman to represent an historically red Minnesota district. She was raised by a single mother who suffered from multiple sclerosis, and her family had to sell their house to cover medical bills.
She remembers her mother telling her, "Remember where you came from. Remember how you got here. Pay it forward." Waits has paid it forward by serving her community as a Chair of the Hastings School Board, as well as being involved in local and state-level politics. Her top campaign priorities include access to clean water, affordable and available health care, and fully funded equitable education. She's endorsed by Run for Something, which has helped hundreds of diverse millennials and Gen Zers run for local office.
Franccesca Cesti Browne, FL

Community leader Franccesca Cesti Browne who emigrated from Peru at age 8, is working to flip a battleground state House district in Florida. The seat was decided by fewer than 600 votes in 2018. Whoever is elected this year will help oversee Florida's redistricting process in 2021, redrawing the state's electoral maps for the next decade.
Cesti-Browne, a first-generation college grad, is currently a finance and operations director at Georgetown University. She said her campaign is focused on increasing public education funding and expanding Medicaid. Florida, where Republicans control the governorship and both state legislatures, is one of the few states still refusing federal Obamacare funds that would give 800,000+ low-income residents access to Medicaid.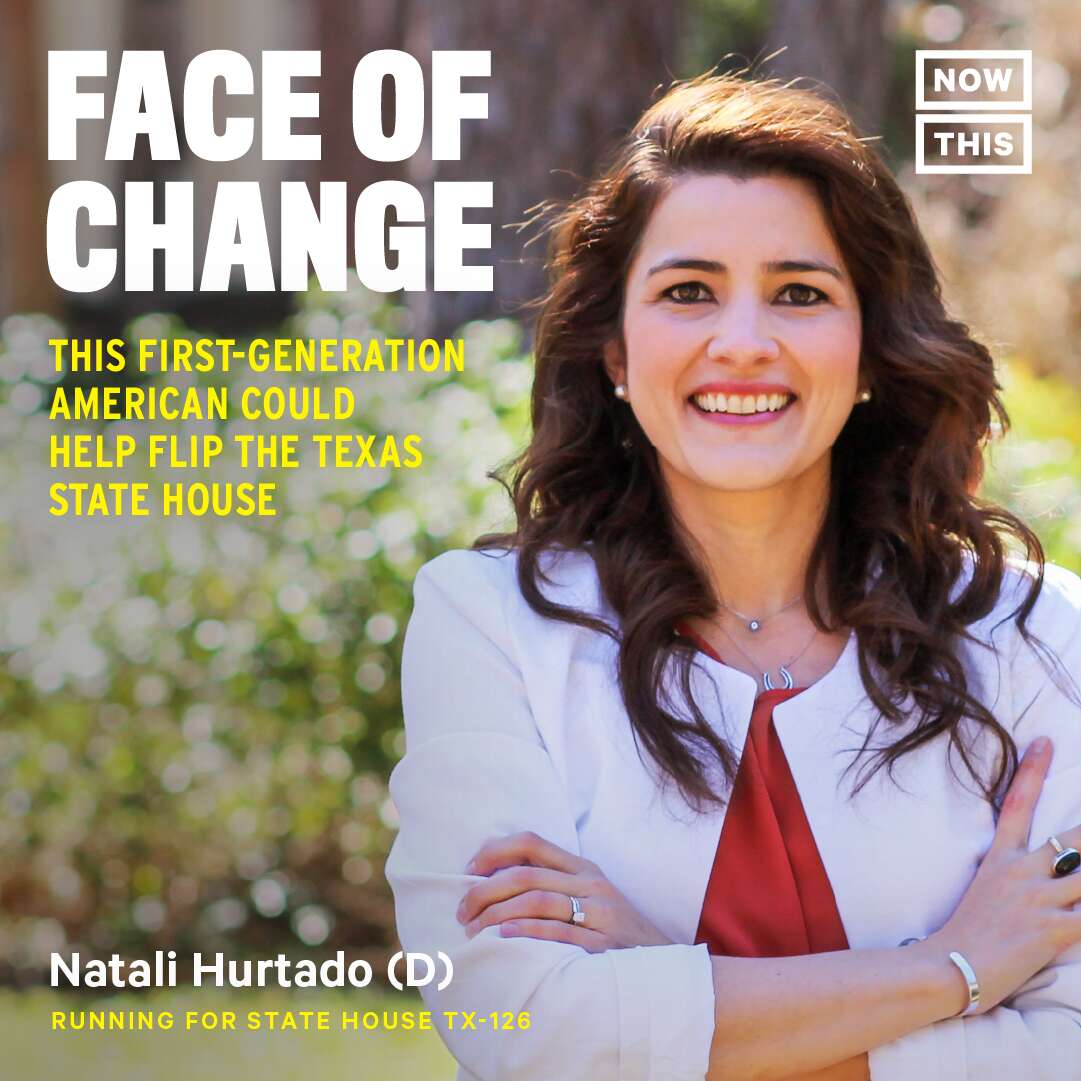 Natali Hurtado, TX

Lifelong Texan Natali Hurtado is part of a wave of candidates trying to flip Texas' state House in 2020 and expand Medicaid coverage to hundreds of thousands of Texans. The daughter of immigrants, Hurtado relied on public services like Medicaid and food stamps as she worked her way through school, eventually graduating with two bachelor's degrees and a master's in public policy and administration.
Upon graduation, she tried to give back to the community that had assisted her, working for the city of Houston and then her local U.S. representative, Gene Green. Texas currently has the highest uninsured rate of any state, and it's one of a minority of Republican-led states that haven't expanded Medicaid under the Affordable Care Act. Roughly 1.2 million uninsured Texans would be eligible for coverage under Medicaid expansion.
Akilah Bacy, TX

Texas' state House is on the verge of flipping blue in 2020, and lifelong Texan & attorney Akilah Bacy is running to win a seat that Democrats lost by just 47 votes in 2018. Dubbed "Brass Balls" Bacy by her co-workers, Bacy served as an assistant DA for Harris County, TX, the third most populous county in the U.S., before shifting to employment discrimination law.
On the side, she volunteers as an ESL teacher and as a lawyer for immigrants tangling with ICE. She's campaigning on providing equitable education, expanding Medicaid, and increasing the minimum wage. If elected, she would be the first woman and first Black representative to represent her district in the state legislature. She's been endorsed by Pres. Barack Obama, Moms Demand Action, Run for Something, and the Lone Star Chapter of the Sierra Club.
Sarah DeMerchant, TX

Texas native Sarah DeMerchant is trying to help Democrats flip Texas' state House for the first time in almost 20 years by capturing a Fort Bend seat that she nearly won in 2018.
DeMerchant got involved in civic activism after personally experiencing pay inequality as a software executive and deciding to do something about it. She helped create technology that companies use to identify and correct wage gaps; the app was awarded the Grand Prize and Women Innovation Mobile award from the Obama administration's Labor Dept. DeMerchant said she now hopes to use public policy to tackle the wage gap, improve health care access and public education, and address racial inequalities in the justice system.
Democrats need to win 9 seats to flip the state House this year; they won 12 seats in 2018. Critically, whoever is elected in 2020 will help draw Texas's election maps for the next decade.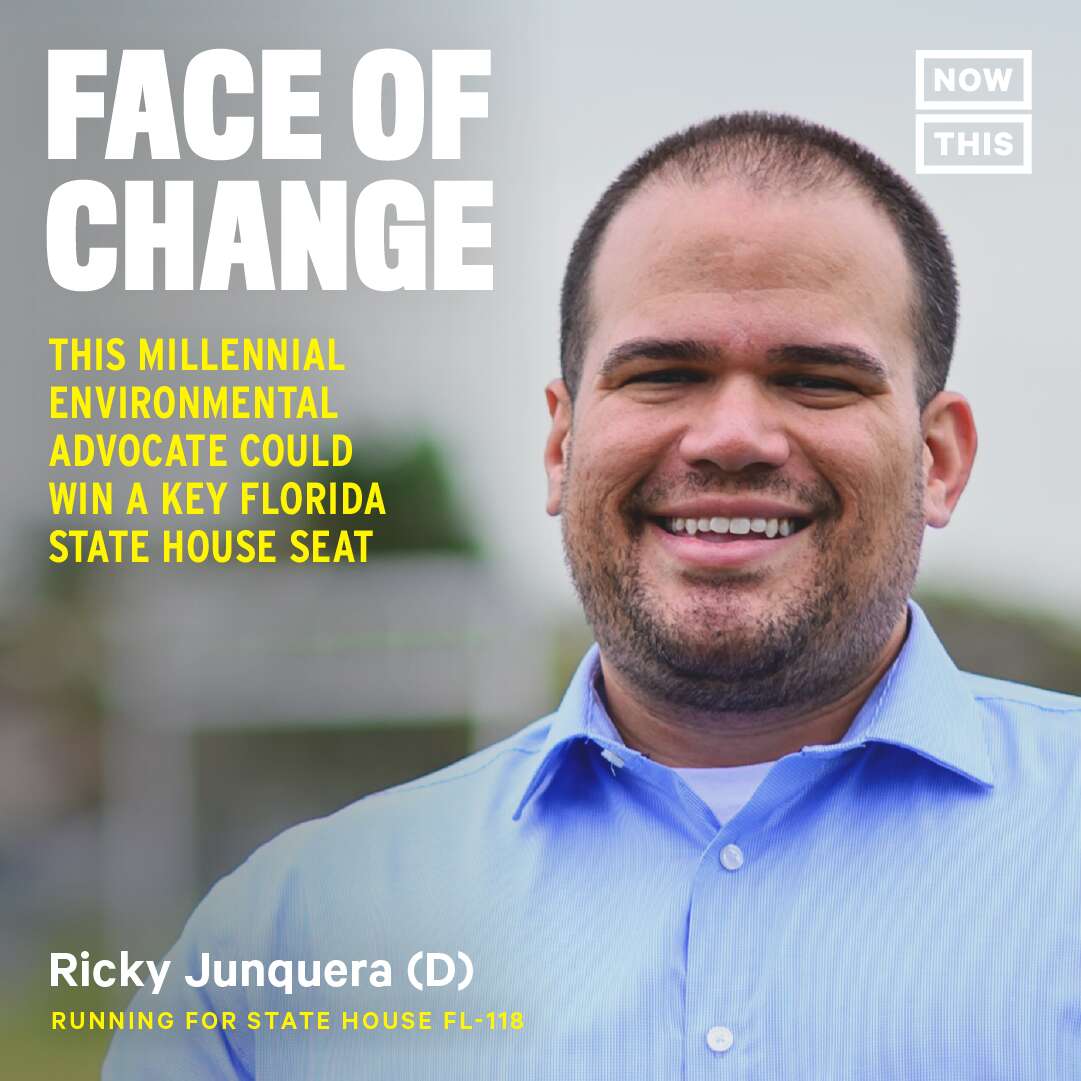 Ricky Junquera, FL

Ricky Junquera is a Cuban American environmentalist looking to win a key swing district in South Florida. A product of the Miami-Dade County public school system, he worked three jobs to become the first in his family to go to college. Junquera served as the regional press secretary for the Sierra Club for the past 5 years, where he said he's helped to shut down coal plants across the country, stop anti-renewables legislation, and amplify local voices in underserved and BIPOC neighborhoods.
He's also running to expand health care access in Florida, one of the few states still refusing federal Obamacare funds that would give 800,000+ low-income Floridians access to Medicaid. Junquera faces GOP State Rep. Anthony Rodriguez, who spearheaded legislation that allows tax dollars to be spent at private religious schools.
Elizabeth Beck, TX

Elizabeth Beck is a single mom, former Army sergeant, and employment lawyer trying to help flip Texas' state House blue for the first time since 2001. She's a first-time candidate who has focused on increasing voter registration in her Tarrant County district, where residents are increasingly young and Latinx. (Texas just set a voter registration record with 1.5 million newly registered voters since 2016.)
Beck grew up in poverty, with a mom who struggled with addiction, and joined the U.S. Army Reserve after high school before being deployed to Iraq for a year. Upon returning, she earned her bachelor's and master's degrees and then went to law school. She says expanding Medicaid in Texas is a top priority.
"When people lose their jobs, they lose access to health care," she said. "Then you layer a pandemic on top of that, and we've got a real crisis in this state, where we're already starting with a deficit ... One in five uninsured children in our nation lives in Texas."
Her opponent, state Rep. Craig Goldman, is under fire after his company filed an eviction against an apartment tenant in April, potentially violating the federal freeze on evictions during the COVID-19 pandemic.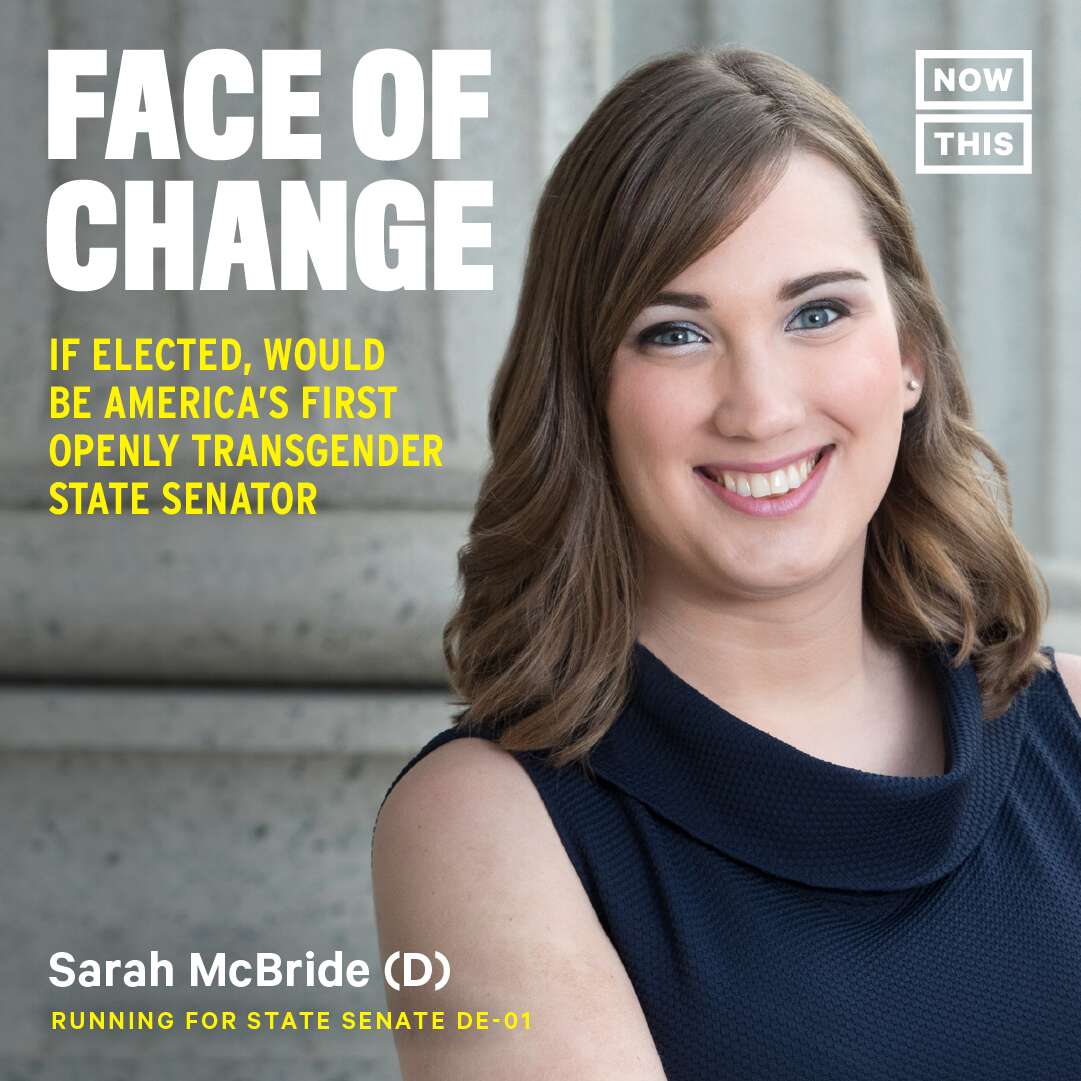 Sarah McBride, DE

Lifelong Delawarean Sarah McBride is running to represent her hometown district in the state Senate. She has been a progressive advocate for her community for decades and has served with former Gov. Jack Markell, former Attorney General Beau Biden, and within the Obama administration.
McBride is one of the youngest to receive the Order of the First State honor for her work advancing equality efforts and advocating for the state's landmark non-discrimination legislation. She was the first openly transgender person to address the Democratic National Convention and currently serves as the national press secretary for the Human Rights Campaign.
McBride's platform includes increasing the minimum wage, expanding early education opportunities, passing gun control legislation, and investing to combat the opioid epidemic. She is endorsed by Emily's List, the Human Rights Campaign, the LGBTQ Victory Fund, as well as retiring state Sen. Harris McDowell, whose seat she is looking to replace. If elected, McBride would be the first openly transgender state senator in the country.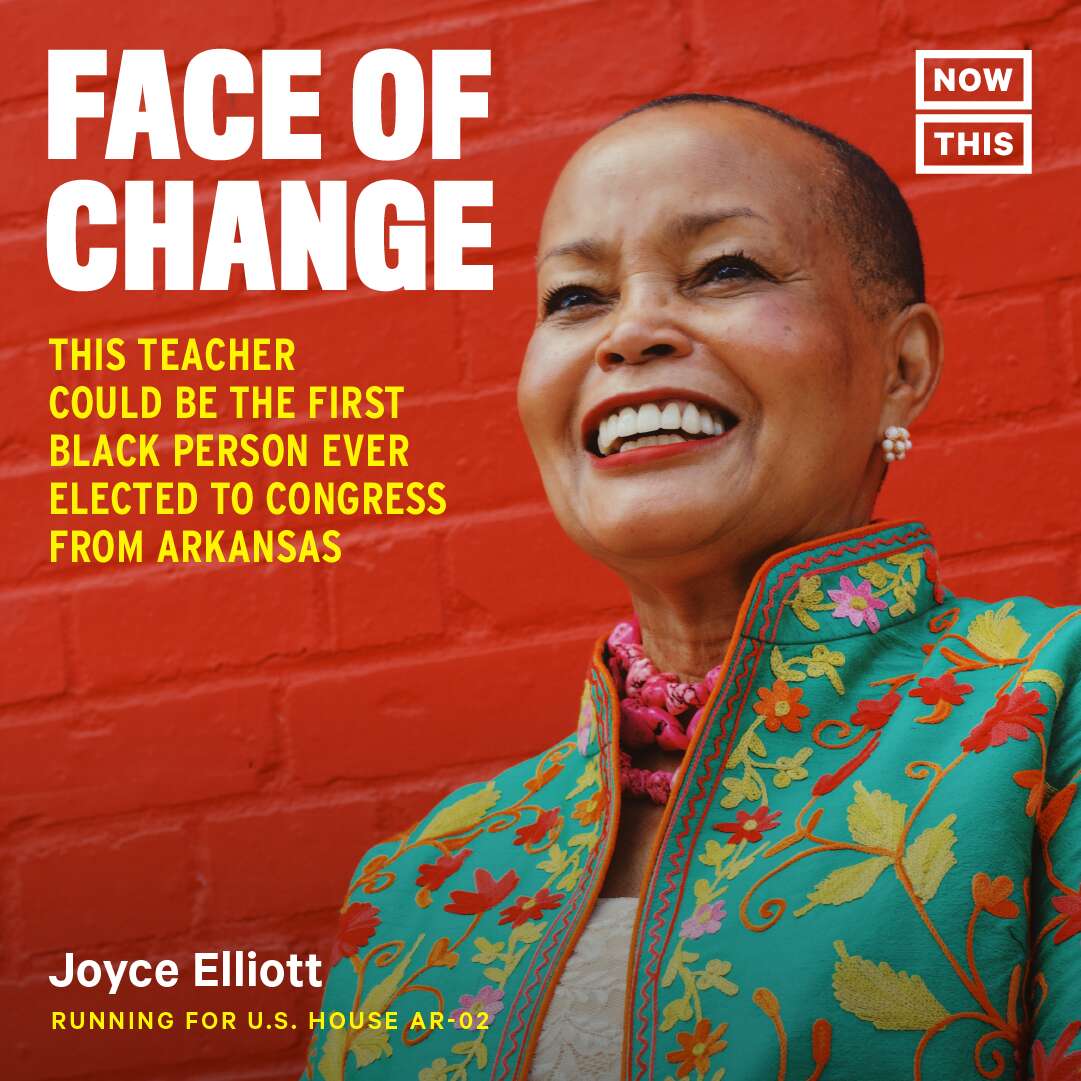 Joyce Elliott, AK

Current state Senator Joyce Elliott is running to become the first Black person ever elected to Congress from Arkansas. Growing up in rural Arkansas, Elliott was the second Black student to graduate from her high school. She went on to work as a public school teacher for 30 years. Her experience helped her appreciate the need for strong education, accessible health care, and affordable child care, and prompted her to enter politics.
She served in the Arkansas state legislature as both the vice chair of the Education Committee and chair of the Arkansas Legislative Black Caucus. Earlier this month, she was endorsed by former Pres. Barack Obama.
"My campaign is about connecting the political to the personal, showing the kitchen-table consequences of decisions made by our representatives in the Capitol," says Elliott. "Arkansans need to know they can elect a representative who's walked a mile in their shoes and will advocate for them in the policy-making process."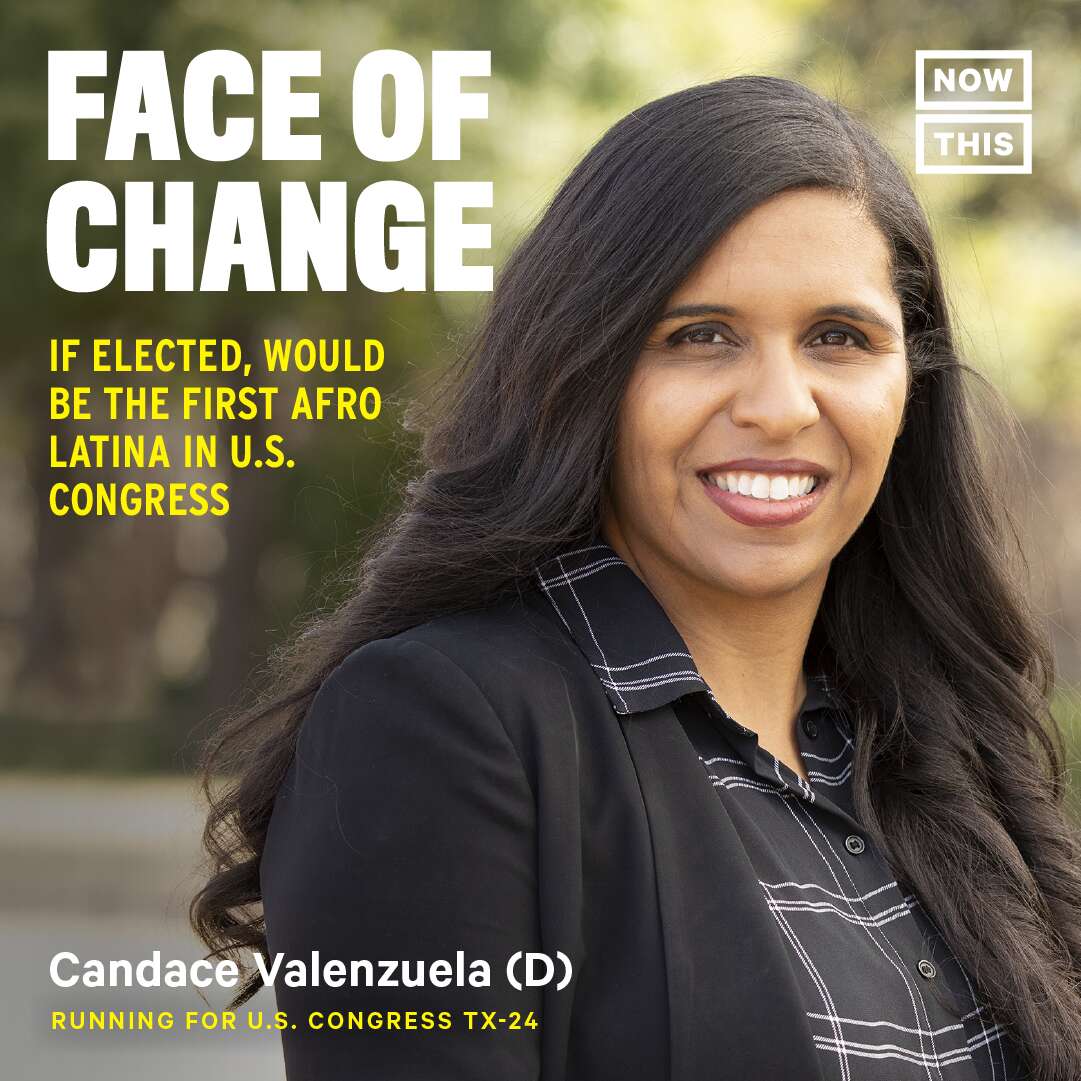 Candace Valenzuela, TX

Candace Valenzuela, who grew up experiencing homelessness and "living in a kiddie pool outside of a Texas gas station," might become America's first Afro Latina member of Congress. She's part of a wave of Democratic candidates trying to turn Texas blue in 2020.
An educator and elected school board member, Valenzuela "is often seen holding her eldest son's hand and carrying her newborn on her chest when she's chatting with prospective voters," according to a profile in Teen Vogue. She's running to replace a retiring 16-year GOP incumbent. Her district, which spans the suburbs between Fort Worth and Dallas, is rated one of the 10 most flippable in Texas and is home to one of America's most diverse ZIP codes.
"It feels as though every aspect of this country is under attack, everything that we care about is under attack," she said. "And I'm working hard to represent the folks that are most vulnerable, the folks that were like my family."
Her campaign has focused in part on increasing health care and housing access, economic relief amid the pandemic, and police accountability and criminal justice reform.
Michelle De La Isla, KS

Mayor Michelle De La Isla of Topeka, Kansas, is running to flip her home district in the U.S. House of Representatives—a seat that hasn't been filled by a Democrat in a decade.
De La Isla is the first Latina to serve as the state capital's mayor and only the second woman ever to hold the title. After experiencing homelessness at a young age and becoming a single mother, she taught for Upward Bound, a federally funded education program aimed at serving low-opportunity communities, then served on the Topeka City Council for five years before being elected mayor.
De La Isla is focusing her campaign on accessible and affordable health care, specifically protecting federal funding for Medicaid expansion, as well as combating the climate crisis, strengthening public education, and providing sustainable solutions for agricultural problems.
"I think that the magic of having been mayor is the fact that our state and our nation right now is in this fight about red and blue and what's wrong and right—I don't see that," says De La Isla. "I see people and I see their needs."