Michael Bloomberg Made the "Freudian Slip" of a Billionaire at Debate
"I bought— I, I got them."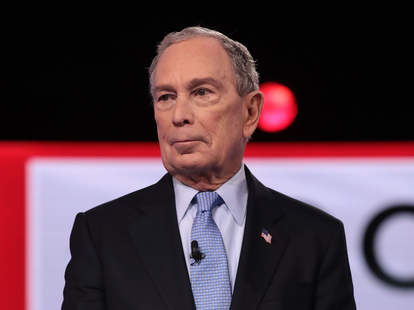 The 2020 presidential candidate pool's wealthiest man nearly said he "bought" the Democratic Congress during his second debate Tuesday night.
The billionaire and former NYC Mayor Michael Bloomberg defended his spending on political campaigns — which has drawn criticism from competitors including Sen. Elizabeth Warren (D-MA), who came ready to roast him again — by pointing to his contributions to 21 Democrats who took back the House of Representatives during the 2018 U.S. midterm elections.

"All of the new Democrats that came in, put Nancy Pelosi in charge, and gave the Congress the ability to control this President—I bought— I, I got them."
Earlier in the debate, Warren also skewered Bloomberg's past support of Republicans when asked to back up her characterization of the former mayor as the "riskiest" Democratic candidate. Warren cited Bloomberg's past donations for Sen. Lindsey Graham (R-SC), "anti-choice, right" wing Sen. Pat Toomey (R-PA), and her own 2012 opponent, former Sen. Scott Brown (R-MA). (CNN recently reported on old audio from 2016 in which Bloomberg called Warren and the rising progressive movement "scary".)
Bloomberg, who is a former three-term mayor in New York and never lost an election, defended his record in an "overwhelmingly Democratic progressive city." He will not be on the ballot for the South Carolina primary on Saturday.
People watching were quick to call out Bloomberg's slip.