Michael Bloomberg Reportedly Won't Rule Out Spending $1 Billion to Beat Trump
The presidential candidate is willing to pay to attempt taking down Trump — even if he doesn't get the Democratic nomination.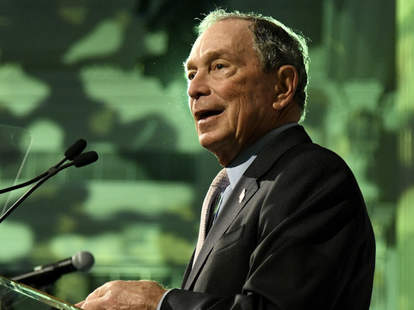 Michael Bloomberg said he won't rule out spending $1 billion of his own money to beat Trump — even if he doesn't get the 2020 nomination.
 
The presidential candidate and former New York City mayor told the New York Times on Saturday that he wouldn't rule out spending sizable sums  — even if the Democratic nomination goes to candidates Elizabeth Warren or Bernie Sanders, whose policy stances are more progressive.
Bloomberg stressed that it would "hopefully not" cost that much to take down the current president.h
 
"It depends whether the candidate needs help; if they're doing very well, they need less. If they're not, they'll need more," he explained during a campaign visit to Texas. 
 
He also said that he didn't plan to fund any negative ads against his Democratic competitors. 
"I really don't agree with them," he said, referring to Sanders and Warren, "but I'd still support them, yes, because compared to Donald Trump that's easy."
 
Bloomberg, who is worth around $58.4 billion, joined the Democratic presidential race on November 24, later than most of his competitors. Despite his late start, he has reportedly already surpassed $200 million in advertising for his campaign efforts. He even recently shelled out at least $10 million for a 60-second Super Bowl ad spot. The covetable ad will get air time on the same high-profile night as Trump's re-election campaign, which also purchased a Super Bowl ad. 
Bloomberg technically had the poll numbers to participate in the Des Moines debate, but since he is using his own money in the campaign, he failed to reach the 225,000 unique donors requirement needed to participate.