Mondaire Jones Hopes To Be The First Black Openly Gay Member of Congress
"I don't come from money. I'm Black, I'm gay, and so I don't see people like me in office very often."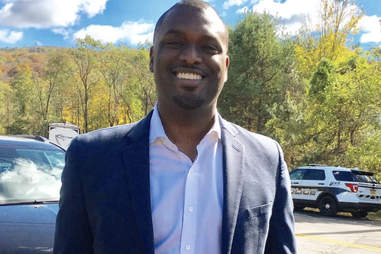 Facebook
A 32-year-old New Yorker is hoping the 2020 Democratic primaries will make him the first Black openly gay member of Congress.
 
Mondaire Jones is running to represent New York's 17th Congressional District, where he was raised, and says he saw firsthand how Congress failed to help working families succeed.
 
Jones was born to a single mother who worked multiple jobs to make ends meet, and raised by his grandparents who grew up in the Jim Crow-era South. After college, he served on the Obama Administration in the Office of Legal Policy at the Department of Justice, and also attended Harvard Law school, where he says he represented many defendants who could not afford counsel in criminal proceedings.
 
He also founded Rising Leaders, Inc., a New York-based nonprofit that helps teach leadership skills to underserved middle school-aged children.
 
"I don't come from money. I'm Black, I'm gay, and so I don't see people like me in office very often," he said in a video about his campaign. "Every day we wake up and it feels like the world is on fire…and the response of Democrats in 2019 cannot be to compromise our values for the sake of compromise. We have got to be fighting tooth-and-nail for the things we say we believe in, like a Green New Deal, Medicare For All, and criminal justice reform."
 
New York's Democratic primaries will be held June 23, 2020.