Harris & Pelosi Make History As First Women Duo To Flank President During Joint Address
"It's about time."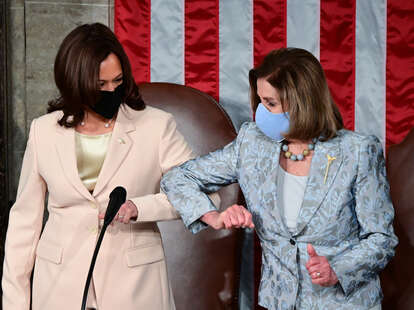 "Madam Speaker, Madam Vice President," so began President Joe Biden's first address to Congress. Never before has the president delivered a speech to a joint session of Congress while flanked by two women.
"No president has ever said those words from this podium, and it's about time," President Biden said during his address Wednesday as he marked nearly 100 days in office.
During the address, Biden recognized his policy achievements, including passing a historic COVID-19 relief package and introducing substantial proposals on infrastructure, child care, and education, and urged Congress to pass legislation on gun reform, immigration, and police reform.
During his nearly one-hour address, the two most powerful women in U.S. politics sat behind the president, both wearing masks.
Nancy Pelosi made history in 2007 when she became the first woman Speaker of the House. Speaker Pelosi said it was "pretty exciting" to make history at the April 28 address.
"It's about time," Speaker Pelosi told MSNBC's Andrea Mitchell. "I made history when I was the first Speaker to be standing behind President Bush, and he made note of that. Now, this is just, just so exciting."
Kamala Harris is the first Black person, first South Asian person, and first woman to be elected vice president of the United States. She and Speaker Pelosi shared a friendly elbow bump — creating a widely shared image — while standing behind the podium ahead of President Biden's address. When asked by reporters about the significance of their representation, Harris called it "normal."
On Wednesday, Rep. Barbara Lee (D-CA) said this moment was "long overdue."
"Like so many women, I feel pride in this moment and seeing this representation," Rep. Lee said.
Rep. Brenda Lawrence (D-MI) told USA Today the significance of seeing two women behind the podium "is nothing short of HERstoric."
"As the young Black girl who grew up on the eastside of Detroit who now walks the halls of Congress built by slaves, this history is not lost on me," Rep. Lawrence said. "Women, especially Black women, have made groundbreaking strides over the past couple of years. The soul and moral compass of our nation rests on the shoulders of women. As we work together to build back better, we must make sure to build back better with women front and center."
In the Washington Post, columnist Christine Emba recognized that the image of two women — including one who vied to be president — flanking a powerful man is far more palatable for American society than an all-powerful woman.
Emba wrote: "It also feels darkly symbolic that the story of female political progress has culminated (so far) in the image of two accomplished, top-of-their-game women standing behind a collegial White man, your archetypal average Joe."
On social media, people widely celebrated the moment, and one person called it "a great day to be an American woman."