Navy Secretary Richard Spencer Forced To Resign Over Clash With Trump
The feud was sparked over Trump pardoning several soldiers convicted of war crimes.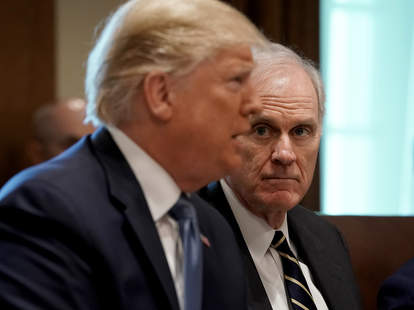 After going head to head with President Trump over a controversial Navy SEAL case, Richard Spencer was ousted as secretary of the Navy. In a candid letter on his way out, he rebuked Trump for what he says is a betrayal of "the rule of law" and "the key principle of good order and discipline."
 
"Unfortunately, it has become apparent that in this respect, I no longer share the same understanding with the Commander in Chief who appointed me, in regards to the key principle of good order and discipline," he wrote. "I cannot in good conscience obey an order that I believe violates the sacred oath I took in the presence of my family, my flag and my faith to support and defend the Constitution of the United States."
 
Spencer and Trump butted heads on an issue regarding Navy SEAL Eddie Gallagher, who was demoted after he was convicted of posing for a photo with the corpse of a teenage ISIS fighter in Iraq. Against Spencer's and other top Navy leaders' advice, Trump reversed Gallagher's demotion. Trump also pardoned an Army soldier who was convicted of war crimes and another Army soldier who was facing murder charges next year.
The Navy will NOT be taking away Warfighter and Navy Seal Eddie Gallagher's Trident Pin. This case was handled very badly from the beginning. Get back to business!

— Donald J. Trump (@realDonaldTrump) November 21, 2019
Spencer became frustrated with Trump offering pardons and going above the Navy's normal disciplinary review process. After clashing with the president and Defense Secretary Mark Esper, Spencer was forced out.
 
Since Richard's letter was published, many are asking for more details regarding his termination, including Virginia Sen. Tim Kaine.
 
"We have many unanswered questions about Secretary Spencer's departure," he said. "The Senate Armed Services Committee must fully investigate what happened to ensure accountability."