Need A Good Binge While Stuck Inside? Listen to "Who Is? The Podcast"
This original podcast takes a deep-dive into many of the powerful people deciding how our country is handling the coronavirus pandemic.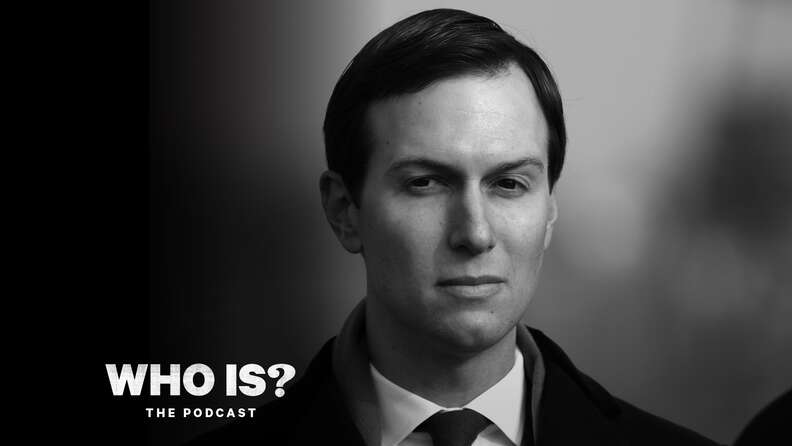 NowThis
NowThis
Bans, bailouts, and emergency isolation measures have taken over the day-to-day lives of just about every American. Since many will be hunkering down inside for the foreseeable future, one good way to pass the time is binge-listen to "Who Is? The Podcast" to learn more about some of the powerful people making decisions for the country in response to the current COVID-19 pandemic.
This original podcast by NowThis explores the backstories of some of the most powerful people in the U.S. Learning more about them might give you some more insight into how they are responding to the crisis and why.
Be sure to also watch our "Who Is?" video series right here for even more episodes and info.
Who is Charles Koch?
A billionaire among billionaires, Charles Koch is one of the most powerful men in the world. By all accounts a brilliant businessman, Charles inherited his father's company when Lyndon B. Johnson was in the White House, and, over decades, has transformed privately held Koch Industries into a massive multinational conglomerate with annual revenues of well over a hundred billion dollars. Since the 1970s, he's not only reinvested that money in his company, but funneled it into American politics, financing ideas, organizations, and politicians, which together present a carefully engineered attempt to dismantle the regulatory state, and perhaps government itself. And he's been very successful: Charles Koch, more than anyone else, may epitomize the pervasive influence of money on American democracy. On the final episode of the first season of Who Is, Sean Morrow explores the biography of Charles Koch, and the history of the Koch Network, for a look at how the very, very wealthy seek to control the political process, and what the rest of us can do about it.
GUESTS: Amy Goodman, Host and Executive Producer of Democracy Now!; Alexander Hertel-Fernandez, Assistant Professor of International and Public Affairs at Columbia University. His most recent book is State Capture: How Conservative Activists, Big Businesses, and Wealthy Donors Reshaped the American States -- and the Nation; Christopher Leonard, Author of Kochland: The Secret History of Koch Industries and Corporate Power in America.
Who is Mike Pence?
Vice President Mike Pence, who has described himself as "a Christian, a conservative, and a Republican, in that order," for decades, was born a Catholic Democrat, but rose to prominence as an Evangelical conservative. Once elected to Congress, his friendly attitude toward big business attracted the attention of billionaire donors like Charles Koch. But as Governor of Indiana, Pence became infamous for how his faith informed his politics, from praying for an answer to an HIV outbreak in Scott County, to advocating for a religious freedom policy that enabled business owners to discriminate against LGBTQ+ people. Then came Donald Trump. On the penultimate episode of the first season of Who Is, Sean Morrow turns to Pence biographer Tom LoBianco, to try to understand the man who could be the next President of the United States.
GUESTS: Tom LoBianco, Reporter and Author of Piety & Power: Mike Pence and the Taking of the White House; Sarah Posner, a Reporting Fellow at Type Investigations, where she covers the religious right, white nationalism, and more. Her latest book, Unholy: Why White Evangelicals Worship at the Altar of Donald Trump, is out on May 26, 2020; Laura Ungar, a Midwest Editor and Correspondent at Kaiser Health News. Ungar recently returned to Austin, Indiana, for a look at how the city has recovered, and to evaluate the challenges faced by those living in rural America, for Kaiser Health News and NPR. Her extensive coverage of Austin may be found at https://www.courier-journal.com/.
Who is Tom Cotton?
Arkansas is one of America's poorest states. Today, it's also one of its reddest, and the politicians it sends to Washington, like its star senator, Tom Cotton, aim to cut the government assistance programs that many Arkansans depend on. But the state was once solidly democratic, and elected charismatic democratic politicians like former President Bill Clinton, for decades. In the second of three episodes exploring the contemporary Republican Party, and the future of the party after Trump, Sean Morrow digs into the forces that brought Sen. Cotton to power, including deep pocketed donors like Charles Koch, and untangles the complexities of white identity politics and the nationalization of Southern beliefs and attitudes.
GUESTS: Ernie Dumas, Journalist and Author of The Education of Ernie Dumas; Tamika Edwards, Executive Director of the Social Justice Institute at Philander Smith College; Angie Maxwell, Director of the Diane Blair Center of Southern Politics and Society and an Associate Professor of Political Science at the University of Arkansas
Who is Mike Pompeo?
As Democrats nationwide consider who their party will nominate to challenge President Trump in November, Republicans look ahead -- to 2024. Secretary of State Mike Pompeo, after a meteoric rise through Kansas politics to leading the CIA and the State Department, is widely believed to be preparing to run for higher office. A businessman; a veteran; and a committed Christian, Pompeo represents one possible future for the Republican Party. He's also an object example of how conservatives, by and large, have accommodated themselves to Trump. On this episode of Who Is, Sean Morrow inspects the complex and contradictory beliefs and impulses of the man who rode the Tea Party to Congress and Benghazi to fame.
GUESTS: Lara Jakes, a Diplomatic Correspondent based in the Washington bureau of The New York Times; Dion Lefler, Government and Politics Reporter at The Wichita Eagle; Tom Shine, Director of News and Public Affairs at Wichita Public Radio, KMUW; Nahal Toosi, Foreign Affairs Reporter for Politico
Who is Stephen Miller?
Who is Stephen Miller? One of three Senior Advisors to the President--along with Jared Kushner and Ivanka Trump--Miller is arguably the person who has had the greatest impact on the most people. Policy that Miller has devised, and, thanks to a conservative-leaning Supreme Court, by in large been able to enact, has changed how immigration works in the United States. But that's not all: as one of President Trump's favorite speechwriters, Miller has crafted much of the language that brings "Make America Great Again" to life. On this episode of Who Is, Sean Morrow explores how a Jewish kid from liberal Santa Monica became an immigration hardliner, and dives deep into the history of immigration--and immigration control--in the United States.
GUESTS: Marisa Franco, director and co-founder of Mijente, a political, digital, and grassroots hub for Latinx organizing and movement building; Dr. Kelly Lytle Hernandez, Professor of History, African American Studies, and Urban Planning at UCLA, and the author of Migra! A History of the U.S. Border Patrol; Nick Miroff, immigration enforcement and Department of Homeland Security reporter at the Washington Post; Laurie Winer, co-founder and editor of the LA Review of Books
Who Is Jared Kushner?
Jared Kushner, husband of Ivanka Trump, is probably the most powerful person in the United States who we know the least about. The grandchild of immigrants who escaped the Holocaust, Kushner is the beneficiary of his family's meteoric rise, and the quintessential rich kid: before his donation-based admission to Harvard, Kushner hobnobbed with politicians and managed segments of his family's vast real estate holdings. In graduate school, he bought a newspaper--and ran it into the ground--and a billion-dollar Manhattan office tower--which, until the election of President Donald Trump, nearly bankrupted the family business. But once his father-in-law is elected president, Kushner finds himself--or maneuvers his way into--the middle of everything, whether it's building the wall, devising a solution to the Israel-Palestine imbroglio, or negotiating a trade deal with China.
GUESTS: Andrea Bernstein, co-host of the Trump Inc. podcast from WNYC and ProPublica, and author of American Oligarchs: The Kushners, the Trumps, and the Marriage of Money and Power Daniel Golden, Senior Editor at ProPublica and author of The Price of Admission: How America's Ruling Class Buys Its Way into Elite Colleges—and Who Gets Left Outside the Gates Vanessa Grigoriadis, host of Tabloid: The Making of Ivanka Trump and author of Blurred Lines: Rethinking Sex, Power and Consent on Campus
Who Is Mohammad bin Salman?
How did Saudi Arabia get away with the brutal murder of Washington Post journalist Jamal Khashoggi, the kidnapping and alleged torture of Lebanese Prime Minister Saad Hariri, and even 9/11? How does it get away with war in Yemen and human rights violations at home? Oil, and the wealth that oil has brought about. On the first international episode of Who Is, Sean Morrow explores the 34-year-old trillionaire in charge of Saudi Arabia, Mohammad bin Salman, and the story of a monarchy that is using its wealth to secure its global legitimacy--and expand its influence--through investments in Silicon Valley notables like Twitter, Uber, and Slack. Featuring Agnès Callamard, the United Nations Special Rapporteur on Extra-Judicial Executions, who investigated Khashoggi's 2018 killing.
GUESTS: Hala Aldosari, Robert E. Wilhelm Fellow at the MIT Center for International Studies; Agnès Callamard, United Nations Special Rapporteur on Extra-Judicial Executions and Director, Global Freedom of Expression, Columbia University; Steven A. Cook, Eni Enrico Mattei Senior Fellow for Middle East and Africa Studies at the Council on Foreign Relations. His latest book is False Dawn: Protest, Democracy, and Violence in the New Middle East
Who Is Mark Esper?
In the United States, war is big business. The Department of Defense, led by Secretary Mark Esper since 2019, has a budget of $738 billion this year. And while many of those dollars pay for those who serve in the armed forces and the maintenance of a nuclear arsenal, a significant portion of that budget will go to the military-industrial complex, which President Dwight D. Eisenhower warned Americans about in his farewell address in 1961, and which, prior to his appointment, Secretary Esper represented in Washington as a lobbyist. With the question of war in the air after the United States — in a targeted drone strike on Iraqi soil approved by President Donald Trump — assassinated the second most powerful man in Iran, Qasem Soleimani, who stands to profit? On this episode of Who Is, Sean Morrow dives deep into Secretary of Defense Mark Esper and the military-industrial complex.
GUESTS: Kate Brannen, Editorial Director of Just Security; Jack Detsch, Pentagon Correspondent of Al-Monitor; Aaron Mehta, Deputy Editor and Senior Pentagon Correspondent of Defense News.
Who Is Nancy Pelosi?
Nancy Pelosi is the first woman to lead the House of Representatives — and third in line to the presidency. She's passed landmark legislation like the Affordable Care Act, has been the legislative partner (or adversary) of three presidents, and is playing a decisive role in the impeachment of President Trump. All that, and she didn't even hold elected office until she was 47 — after she had raised five children. Whatever your politics, this is Nancy Pelosi's moment, so in this episode, former politicians and professors join us to talk about her journey, her power, and her influence.
GUESTS: John Lawrence, former Pelosi Chief of Staff, Visiting Professor at the University of California's Washington Center, author of "The Class of '74: Congress after Watergate and the Roots of Partisanship"; Paul Kane, Senior Congressional Correspondent and Columnist at the Washington Post; Stephanie L. Young, former White House Senior Public Engagement Advisor in the Office of Public Engagement.
Who Is Fox News?
Fox News has evolved over the years to become the infamous beacon of conservative media—but how was it created? Founded by media savant Roger Ailes and Australian billionaire Rupert Murdoch, what we know as Fox News is the result of a decades-long conservative effort, and has become a defining force in American politics and presidential elections. On this episode, we explore Fox News' backstory with the help of several scholars who study conservative media and movements.
GUESTS: A.J. Bauer, Assistant Professor of Media, Culture, and Communication at New York University; Reece Peck, Assistant Professor at the City University of New York, Staten Island; Khadijah White, Assistant Professor of Journalism and Media Studies at Rutgers University; Caroline Heldman, Professor of Politics at Occidental College.
Who Is Bernie Sanders?

Sen. Bernie Sanders is America's most prominent self-described democratic socialist, and he's running for president--as a democrat. Born in Brooklyn, Sanders arrived in Vermont via Chicago, where he was first elected Mayor of Burlington in 1981 by a margin of 10 votes. And from the climate crisis to income inequality to his Medicare For All plan, Sanders has been a consistent progressive voice ever since, as mayor, congressman, and finally, senator. But has Sanders had a measurable impact on our democracy? Does he know how to 'play the game'? On this episode, host of Who Is, Sean Morrow, talks to the Vermonters who know "Bernie" best, including another former candidate for president: former Vermont governor Howard Dean.
GUESTS: Howard Dean, 2004 Democratic Candidate for President, former Chairman of the Democratic National Committee (2005-2009), Governor of Vermont (1991-2003); Alan Abbey, Director of Internet and Media at the Shalom Hartman Institute in Jerusalem, Israel; Bob Kinzel, of Vermont Public Radio Dave Levinthal, editor-at-large at the Center for Public Integrity.
Who Is Joe Biden?

Former Vice President Joe Biden has been in politics for like, ever. Elected to the Senate nearly fifty years ago in 1973, Biden was Obama's Vice President and is now running for president himself (and not for the first time). He's been praised for his public service, criticized for his record on race, and noticed for his sunglass selection. On this episode, host of Who Is Sean Morrow unpacks Biden's long career, for the stories you need to know about Uncle Joe.
GUESTS: Ryan Grim, The Intercept; Natasha Korecki, Politico.
Who Is Elizabeth Warren?
Sen. Elizabeth Warren is running for president. A mother who had her first child at 22, Warren vaulted from Oklahoma to the halls of Harvard and on to the Senate. On this episode of Who Is, host Sean Morrow takes you beyond the 2020 hype for the stories that you need to know about the woman who wants to take on President Trump.
GUESTS: Sheelah Kolhatkar, The New Yorker; James Pindell, the Boston Globe; Alex Thompson, Politico.
Who Is John Roberts?
Who Is the most powerful person in America? Perhaps Chief Justice of the Supreme Court John Roberts. Appointed for life, Justice Roberts could cast the decisive vote—defining the law of the land—when it comes to issues like abortion, gun control, LGBTQ rights, and things you don't even realize touch your everyday life. Presidents and Senate power breakers might get the press, but for the power behind the throne, look for the man in the black robe.
GUESTS: Amy Howe, Howe on the Court and host of podcast SCOTUSTalk, co-founder of SCOTUSblog; Dahlia Lithwick, Slate, and the Amicus podcast; Mark Joseph Stern, Slate, and author of "American Justice 2019: The Roberts Court Arrives."
Who Is Betsy DeVos, and Who Is Erik Prince?

Billionaire and Secretary of Education Betsy DeVos and Erik Prince, founder of Blackwater are siblings whose decisions have shaped America's youth and defense systems. Are they genius strategists like the Lannisters, or bungling buffoons like the Bluths? On this episode of Who Is, find out how these powerful siblings obtained the positions they have (hint: money), and what the privatization of public education and the privatization of the military have in common.
GUESTS: Katherine Gallagher, attorney at the Center for Constitutional Rights, who represented Iraqis wounded and families of Iraqis killed by Blackwater in Baghdad.
Who Is Mitch McConnell?

Who Is Senate Majority Leader Mitch McConnell? Host of Who Is Sean Morrow flew to Kentucky to find out, where he interviewed the people who have covered McConnell from his home state for decades. Is Mitch McConnell a political genius or just somebody willing to play outside the rules?
GUESTS: Phillip Bailey, Louisville Courier-Journal; John Cheves, Lexington Herald-Leader; Al Cross, Director of the Institute for Rural Journalism and Community Issues at the University of Kentucky; Alec MacGillis, ProPublica; Alex Pareene, The New Republic.