New Group Aims To Unseat Josh Hawley: "Just Oust Seditious Hacks," Or JOSH PAC
"Josh Hawley led an insurrection against America. We're making sure he never runs again."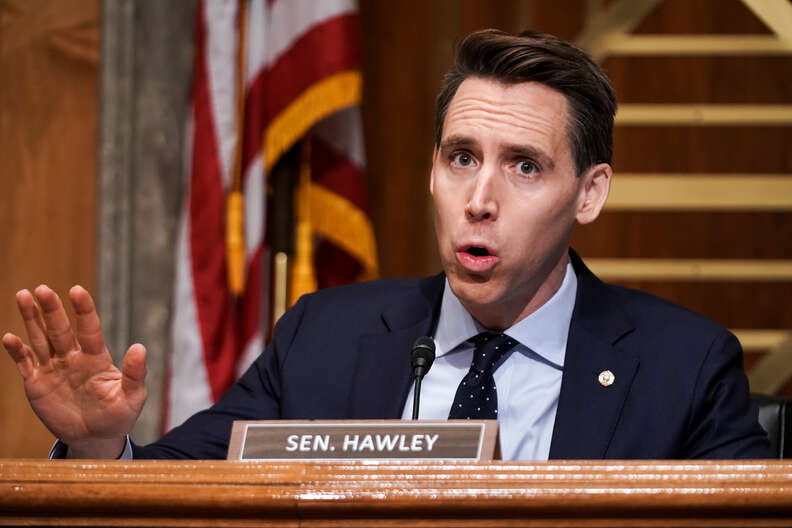 Donald Trump may be out of office, but many of his enablers in Congress who joined his effort to overturn election results are not — and some organizers are focusing their efforts on making sure those lawmakers are held accountable.
Sen. Josh Hawley (R-MO) was the first Republican senator to join the House GOP's efforts to disrupt the Electoral College certification in Congress on January 6. He became a high-profile target of criticism and outrage after he was photographed raising his fist in apparent solidarity with the pro-Trump mob outside the Capitol ahead of a violent insurrection that left five people dead, has traumatized American society, and led to Trump's second impeachment.
Now, a group of Democratic strategists and producers have formed the JOSH PAC, a "backronym" for Just Oust Seditious Hacks.
"He's betting that the same far-right, nationalist mobs that supported Donald Trump will put him in the White House to continue Trump's work. JOSH PAC will run a permanent campaign to stop him now," the group said in a statement.
They released their first ad on January 15, and Politico reported that the PAC had raised $15,000 "in a few hours" the same day.
The ad takes aim at Hawley's encouragement of the insurrectionists, the fact that his home state paper The Kansas City Star has said he has "blood on his hands" after the deadly riot, and that he sent a fundraising message out to supporters while the riot was happening. Sen. Ted Cruz (R-TX), who also led efforts to object to the certification, also fundraised off of his anti-democratic efforts — and representatives like AOC blasted him for it.
The KC Star editorial board wrote that "No one other than President Donald Trump himself is more responsible for Wednesday's coup attempt at the U.S. Capitol than one Joshua David Hawley, the 41-year-old junior senator from Missouri, who put out a fundraising appeal while the siege was underway."
Hawley has tried to downplay his role in the riot as calls mount for his possible expulsion from Congress, based on Senate resolutions or the 14th Amendment, which says no member of Congress or other public and military offices "shall have engaged in insurrection or rebellion against the same, or given aid or comfort to the enemies thereof."
The JOSH PAC isn't buying his alleged explanation for the raised fist:
Thomas Hatfield, a digital creative producer and editor who has worked on Democratic Senate campaigns in the past, is one of the people behind the PAC.
"We're thrilled with the response to our first ad; supporters throughout Missouri and across our nation have been joining our fight to hold Josh Hawley accountable," Hatfield told NowThis. "We look forward to keeping the pressure on him in the years to come."
Hatfield is working on the "Oust Hawley" effort with Travis Mockler and Zoe Gallagher. All three worked for former Missouri Sen. Claire McCaskill (D), who lost her re-election race in 2018 to Hawley by about 140,000 votes.
McCaskill is not involved with the group herself, but supports their efforts. Hawley, a former clerk for Supreme Court Chief Justice John Roberts and rising force of the religious right, is up for re-election to the Senate in 2024. There's much speculation that he'll try to run for the Republican presidential nomination that year as well.
Major donors have dropped Hawley in the days since the insurrection, citing his role in it and potentially pulling tens of millions of dollars away from his future races.
Challenging the election results in Congress requires the support of one senator in order for the legislature to even take it up for consideration — so Hawley's early support for the anti-democratic effort was key. He was followed quickly by Cruz and other Republicans; ultimately, 147 Republicans voted to attempt to overturn the election results, even after the deadly riot happened.
Cruz has also been a popular target for criticism and calls for expulsion. His own communications director resigned over his promotion of Trump's election fraud conspiracies. On the night of the riot, before Congress resumed its work of certifying the Electoral College results, Rep. Ruben Gallego (D-AZ) gave a message to Cruz and Hawley staffers in an interview with NowThis.
The Texas senator didn't help his own cause when he showed up at President Joe Biden's January 20 inauguration in a "come and take it" mask, a flag from the Texas Revolution that has become "a symbol of defiance."
Cruz maintains he is not at fault in any way for the Capitol riot, though he was named directly by insurrectionists in the Capitol in footage captured by reporter Luke Mogelson for The New Yorker.
"I think Cruz would want us to do this," said one man while rooting through evacuated lawmakers' belongings, including documents. "I think we're good."