NSA Denies Tucker Carlson's Claim That The Agency Is Reading His Emails
Just a few weeks ago, Carlson alleged that the FBI was involved in the Capitol riots — a claim which was swiftly debunked.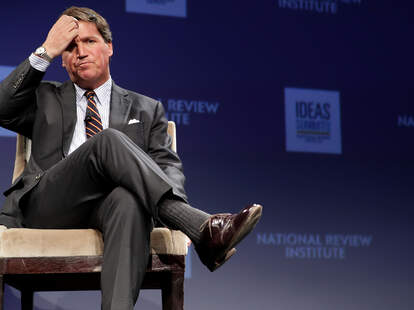 The National Security Agency said it's not spying on Tucker Carlson's emails, but the Fox News host is standing by his allegations.
"Tucker Carlson has never been an intelligence target of the Agency and the NSA has never had any plans to try to take his program off the air," the NSA tweeted right as Carlson's Tuesday night show was beginning.
The agency was responding to allegations Carlson made a night before. Citing a whistleblower, the Fox News host said that the NSA is spying on his "electronic communications" with the aim of booting his show off the air. According to Carlson, the whistleblower conveyed to him information "that could have only come directly from [his] texts and emails."
"The Biden Administration is spying on us," the Fox News host proclaimed.
In its statement, the NSA reiterated that with "limited exceptions," such as an emergency, it is prohibited from collecting information about U.S. citizens.
When asked about Carlson's claim on Monday, White House Press Secretary Jen Psaki pointed reporters to the NSA's mandate.
"The NSA ... is an entity that focuses on foreign threats and individuals who are trying — attempting to do us harm on foreign soil," Psaki said. "So, that is their purview."
On Tuesday, Carlson said both the NSA and White House's statements do not address his claims directly. Carlson went on to say that he had a call with the NSA during which the agency refused to say if the Biden Administration read his emails.
"Orwellian doesn't begin to describe the experience," Carlson said Tuesday.
An NSA spokesperson told NowThis the agency doesn't have any further comment beyond its statement Tuesday.
Several publications have noted that Fox News has not covered its own host's claims on air. Fox News did cover the claims on its website.
As CNN's Oliver Darcy pointed out, The Washington Post, The New York Times, and CNN published several stories after it was revealed that their reporters' phone and email records had been obtained by Trump's Justice Department.
And, Darcy notes, unlike WaPo, NYT, and CNN executives, who denounced the seizure of their reporters' records, Fox News executives have not released a statement about the NSA claim.
When NowThis contacted Fox News for comment, a spokesperson sent a note containing a link to Carlson's Tuesday segment about the NSA statement.
Carlson isn't known for telling the truth — even a federal judge and Fox News' lawyers agree.
The Fox News host peddles in far-right conspiracy theories. Recently, Carlson alleged that the FBI was involved in organizing the January 6 insurrection. The theory, which first surfaced on a right-wing news site, says unindicted co-conspirators named in Capitol riot indictments are government agents. The claim was popular among far-right lawmakers, like Rep. Marjorie Taylor Greene (R-GA), but is based on a faulty understanding of legal terminology.