"We Are Still Deeply Divided": Obama Reacts To 72 Million Trump Voters
"It's very hard for our democracy to function if we are operating on just completely different sets of facts."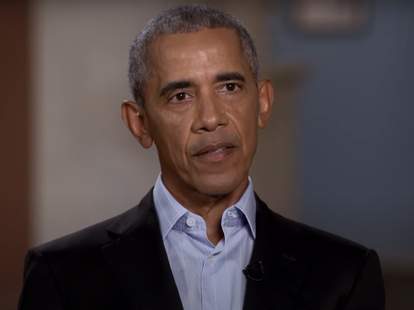 Former President Barack Obama said in a widely publicized interview Sunday that the 2020 presidential election results, where both candidates drew more than 70 million votes, illustrate deep divisions in the United States.
Obama appeared on CBS' "60 Minutes" to discuss his memoir "A Promised Land," which will be released November 17. During the general election, the former president campaigned for President-elect Joe Biden, his former vice president, who defeated incumbent President Donald Trump.
Despite the historic defeat in one of the most contentious elections in history — Biden beat Trump by more than 5.5 million votes and counting, and earned more votes than any presidential candidate in U.S. history — CBS journalist Gayle King noted the fact that "72 million people voted for Donald Trump." She asked Obama, "What does that say to you about the state of this country?"
"Well, what it says is that we are still deeply divided," Obama replied. "The power of that alternative worldview that's presented in the media that those voters consume, it carries a lot of weight."
He added: "It's very hard for our democracy to function if we are operating on just completely different sets of facts."
In another segment, journalist Scott Pelley asked Obama about a passage in his new book where the former president wrote, "Our democracy seems to be teetering on the brink of a crisis."
Obama said, "We have gone through a presidency that disregarded a whole host of basic institutional norms, expectations we had for a president that had been observed by Republicans and Democrats previously."
Obama added that President Trump has accelerated "truth decay," or "the sense that not only do we not have to tell the truth, but the truth doesn't even matter." HuffPost reported that a paper about the phrase, coined by researchers at nonpartisan think tank RAND Corporation, appeared on Obama's 2018 summer reading list.
The former president also told King that while Biden and Vice president-elect Kamala Harris will lead the next administration, it is "disappointing" that Republicans have gotten behind Trump's baseless claims of election fraud.
"There's damage to this," he said. "Because what happens is that the peaceful transfer of power — the notion that any of us who attain an elected office, whether it's dogcatcher or president, are servants of the people. It's a temporary job. We're not above the rules. We're not above the law. That's the essence of our democracy."
Other Democrats, from Rep. Alexandria Ocasio-Cortez (NY) to Rep. Conor Lamb (PA), have remarked on the fact that Trump's base turned out en masse this year — despite his blighted record on the coronavirus and economic recovery. The numbers indicate that supporters of Trump, who has reportedly considered everything from funding a political action committee to running again in 2024, aren't going away.
Based on New York Times exit polling, the majority of Trump's more than 70 million voters were white. Historical exit polling shows that a majority of white voters have only gone for Republican presidential candidates since Lyndon B. Johnson signed the Civil Rights Act into law in 1964.
Ocasio-Cortez told The Times after news outlets called Biden's win, "We need to do a lot of anti-racist, deep canvassing in this country." She added, "no amount of people of color and young people" supporting Democrats can offset repeatedly "losing white shares and just allowing Facebook to radicalize more and more elements of white voters and the white electorate."
That will be part of the next administration's challenge — as well as a test for the entire Democratic party.