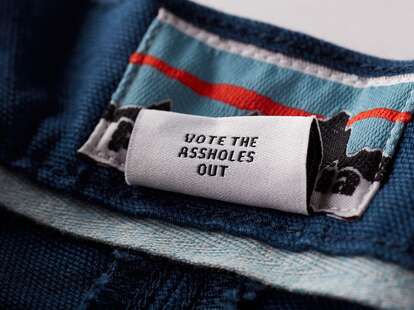 In the interest of preserving the planet, sportswear company Patagonia, known for its social and environmental activism, is selling shorts with a tag that says: "Vote the assholes out."
The tag went viral this week on Twitter, leading many to wonder whether it was real. The text is actually sewn into the brand's Regenerative Organic Stand-Up Shorts for men and women.

The company's founder Yvon Chouinard has for years used the phrase "vote the assholes out," spokesperson Tessa Byars told NowThis. The phrase is aimed at "politicians from any party who deny or disregard the climate crisis and ignore science, not because they aren't aware of it, but because their pockets are lined with money from oil and gas interests."
The brand also has an election website, which says: "We need to elect climate leaders. The 2020 US Senate races will have a significant, long-lasting impact on the strength of our nation's climate policies and the existence of our wild places." The company also gave its employees the day off to vote on Election Day in 2018 and 2016.
While Patagonia hasn't said the tags specifically take aim against the Trump administration, the company has sparred with the president during his time in office. In 2018, Patagonia sued the administration in a bid to protect a national monument in Utah.
RELATED: Trump Admin Appoints Climate Denier To Lead Nation's Climate Research
Trump and his administration have come under fire this week for its disregard of science, as Scientific American made its first-ever presidential endorsement, for Joe Biden, in its 175-year history.
While visiting a burning California this week, where state officials have pointed to the climate crisis' role in wildfires that have spread across the West Coast, the president said: "It'll start getting cooler… You just watch."