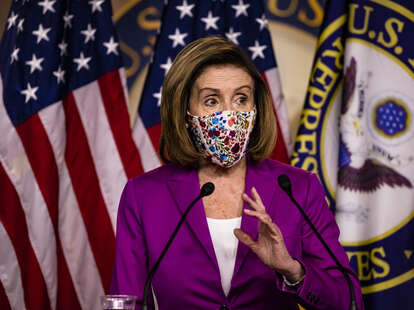 Speaker of the House Nancy Pelosi calls for the removal of President Donald Trump from office either by invocation of the 25th Amendment by Vice President Mike Pence and a majority of the Cabinet members or Impeachment at the U.S. Capitol on January 7, 2021 in Washington, DC.

| Getty Images
Speaker of the House Nancy Pelosi calls for the removal of President Donald Trump from office either by invocation of the 25th Amendment by Vice President Mike Pence and a majority of the Cabinet members or Impeachment at the U.S. Capitol on January 7, 2021 in Washington, DC.

| Getty Images
House Speaker Nancy Pelosi on Thursday joined the calls for Vice President Mike Pence to "immediately" invoke the 25th Amendment to remove President Donald Trump from office, one day after violent mobs of the president's supporters fueled by his unfounded conspiracy theories about election fraud descended on the Capitol.
Pelosi (D-CA) echoed Sen. Chuck Schumer (D-NY), who is now effectively majority leader, in calling for the invocation. Pelosi added that if Pence and the Cabinet don't follow through, "the Congress may be prepared to move forward with impeachment." She said she would hope for an answer by the end of Thursday.
President Trump has less than two weeks left in office.
"The president has committed an unspeakable assault on our nation and our people," Pelosi said in a news conference.
She posed a direct challenge to Trump's Cabinet.
"Attorney General Barr, do you subscribe to the presidency of Donald Trump after the act of sedition he committed yesterday?" she said. "... Ask each member of the Cabinet, 'Do they stand by these actions?'''
The 25th Amendment covers transferring power to the Vice President when the current sitting president is unable to lead because of resignation, death, or inability to discharge the powers and duties of the office. The amendment does not clarify what qualifies as "inability" to lead, but does offer further guidance if the vice president's seat is vacant.
A growing number of lawmakers have called for Pence to move to remove Trump from office. Lawmakers across both parties have blamed Trump for the chaos in Washington, D.C. on Wednesday that traumatized American society and left four people dead, and have attributed the president's continued lying and spreading of disinformation in the months after he lost the election to President-elect Joe Biden as a key part of the problem.
After months of refusing to concede the election, President Trump appeared to finally admit that his term in office was ending early Thursday and claimed to commit to a peaceful transition on January 20, with the statement coming after the chaotic and deadly day in D.C., which eventually ended with Congress certifying Biden's presidential victory overnight.
Lawmakers and leaders worldwide have condemned Trump and the violent mob of his supporters following the Capitol invasion, and after the president posted on Twitter once again alleging voter fraud and urging rioters to "go home" while also calling them "very special," the platform promptly locked his account for 12 hours and threatened to ban him if future posts continue to violate their policy.
Facebook later followed and locked the president's Facebook and Instagram accounts for 24 hours on Wednesday, but on Thursday, CEO Mark Zuckerberg announced the platforms are "extending the block we have placed on his Facebook and Instagram accounts indefinitely and for at least the next two weeks until the peaceful transition of power is complete."
"We believe the risks of allowing the President to continue to use our service during this period are simply too great," Zuckerberg wrote.