Mike Pence Defends White House COVID-19 "Superspreader" Event Held For SCOTUS Nominee
Nearly one dozen Trump associates tested positive for COVID-19 after the event held on Sept. 26 to honor Supreme Court Justice nominee Amy Coney Barrett.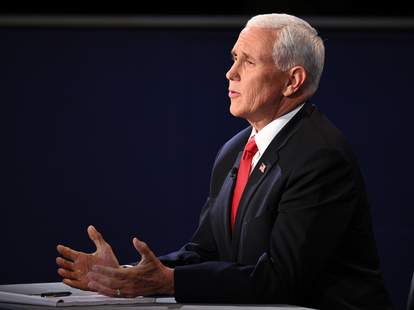 Vice President Mike Pence, during the first and only VP debate on Wednesday, defended an event at the White House Rose Garden last month that has been linked to an outbreak of COVID-19 infections, including of the president himself. In recent days, more than 30 people in the president's orbit have reportedly tested positive for COVID-19.
When Pence was asked about the event on September 26 held in honor of President Trump's Supreme Court Justice nominee Amy Coney Barrett, he noted that the event was hosted outdoors, in accordance with what he said were scientists' COVID-19 guidelines.
He did not mention that the event, where he sat in the front row and where few were seen wearing a mask, also included an indoor gathering. Photographs and video have shown minimal social distancing took place both indoors and outdoors. The White House has declined to contact trace after the event despite the rising number of infections connected to it, the New York Times reported.
"That Rose Garden event, there's been a great deal of speculation about it," Pence said at the debate moderated by USA Today's Susan Page. "My wife Karen and I were there and honored to be there. Many people there were tested for coronavirus, and it was an outdoor event, which all of our scientists regularly and routinely advise."
Nearly one dozen of the event's attendees, including President Trump, First Lady Melania Trump, White House Press Secretary Kayleigh McEnany, Republican Sens. Thom Tillis and Mike Lee, former adviser Kellyanne Conway, and former New Jersey Gov. Chris Christie, have all since tested positive for COVID-19.
When Page asked how Americans should consider following public health protocol with such an event taking place, the VP said "the president and I have great confidence in the American people and their ability to take [public health] information and put it into practice."
"The difference here is, President Trump and I trust the American people to make choices in the best interest of their health," he added, attempting to draw a contrast between them and Biden-Harris. "We're about freedom and respecting the freedom of the American people."
Democratic vice presidential nominee Sen. Kamala Harris rebutted Pence's statement that the Biden campaign is focused on "mandates" that infringe on Americans' freedoms.
"Let's talk about respecting the American people. You respect the American people when you tell them the truth," Harris said. "You respect the American people when you have the courage to be a leader, speaking of those things that you may not want people to hear, but they need to hear so they can protect themselves."
Pence did not answer a separate question from moderator Page about why the U.S. has the highest coronavirus death toll in the world, higher than that of other wealthy countries.