Pfizer Says COVID-19 Vaccine In Development Is 90%+ Effective
The results data was not peer-reviewed, and the vaccine will require further testing.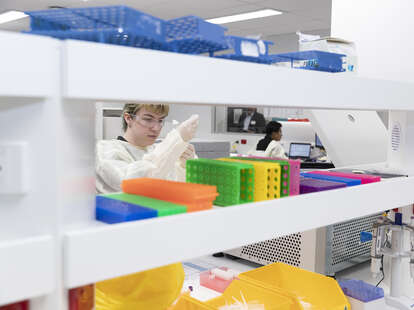 Pharmaceutical company Pfizer announced on Monday that a vaccine in development showed 90% effectiveness in preventing people who had no known prior COVID-19 infection from getting the virus. Out of 43,538 vaccine trial volunteers, 94 were infected with COVID-19 after receiving the two-dose vaccine or placebo.
The announcement comes after President Donald Trump lost his bid for re-election to Democratic opponent Joe Biden, and as COVID-19 cases reach record daily highs in the United States. As of Monday, nearly 10 million people have been infected with COVID-19 in the U.S., including more than 237,000 deaths, according to Johns Hopkins.
Global stock markets surged on Monday morning following the news. Pfizer said it plans to submit the vaccine to the Food and Drug Administration for emergency use authorization later this month. Pfizer said it observed no safety concerns in the study on the vaccine, co-developed with German biotech company BioNTech.
The results data was not peer-reviewed, and the vaccine will require further testing. The Associated Press reported that "revealing such early data is highly unusual."
Dr. Anthony Fauci, the nation's leading infectious disease expert, said the results were "just extraordinary," the AP also reported.
"It's going to have a major impact on everything we do with respect to COVID," Fauci said.
If the vaccine gains approval, Pfizer and BioNTech plan to produce up to 50 million vaccine doses globally in 2020 and up to 1.3 billion doses in 2021.
In a statement, President-elect Biden praised the "brilliant women and men who helped produce this breakthrough," but cautioned that "it will be many more months before there is widespread vaccination in this country." He said the need to wear a mask remains an "urgent reality."
The president praised the vaccine news in a tweet on Monday, though the vaccine was not funded by federal government dollars as part of the Trump administration's Operation Warp Speed, the New York Times reported.
His son Donald Trump Jr. pushed an unsubstantiated theory that the pharmaceutical company intentionally withheld the news.
Trump Jr. tweeted: "The timing of this is pretty amazing. Nothing nefarious about the timing of this at all right?"
Pfizer and BioNTech are among dozens of drugmakers who are scrambling to develop a safe and effective COVID-19 vaccine, as global deaths from the virus have surpassed more than 1.2 million people.