Biden Releases Tax Returns In A Return To "Almost Uninterrupted" Tradition
In 2020, the Bidens earned more than $600,000. VP Harris and the second gentleman earned nearly $1.7 million.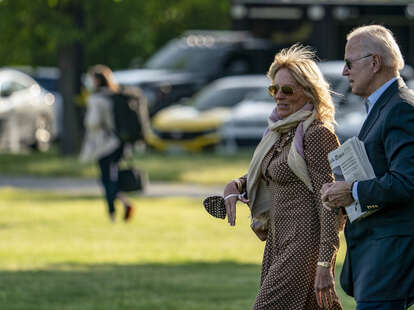 The White House released President Joe Biden's tax returns on Monday — the deadline for people in the U.S. to file their 2020 taxes or request an extension. The move would normally be considered unremarkable, but contrasted with former President Donald Trump notoriously being the only president since the Watergate era to not release his tax returns.
"Today, the President released his 2020 federal income tax return, continuing an almost uninterrupted tradition," the White House said in an apparent slight to the former president.
President Biden and first lady Jill Biden filed jointly in 2020 and reported a federal adjusted gross income of $607,336, according to the filings and paid $157,414 in federal income tax. They donated more than $30,000 to charity. The first couple's adjusted gross income income in 2020 was lower than in 2019, when they earned $985,000, according to tax returns available on the president's campaign website.
The White House released Vice President Kamala Harris and second gentleman Douglas Emhoff's tax returns as well. In 2020, they earned $1,695,225, donated $27,000 to charity, and paid more than $621,000 in federal income tax.
Trump was routinely pressed about refusing to release his tax returns, one of many ways he broke from tradition on the campaign trail and in office. He said he couldn't do so because he was being audited. In September, the New York Times published an explosive report about more than two decades' worth of Trump's tax information and found that in 2016 and 2017, he paid only $750 in federal income taxes.
The Biden campaign used the long-sought-after details to boost support for its candidate, releasing a video comparing how much Trump paid in taxes versus how much significantly lower earners such as teachers, nurses, and firefighters paid. The New York Times report also became a major moment during the only presidential debate in 2020. The Supreme Court ruled in February 2021 that Trump must hand over his tax returns and other financial records to New York prosecutors.