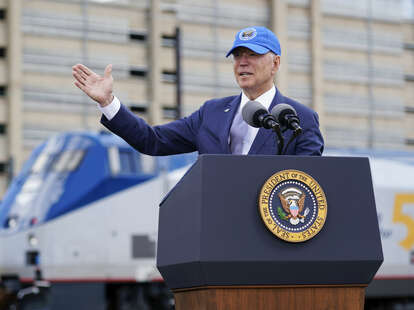 President Joe Biden, who has traveled more than a million miles by rail throughout his political career, visited Philadelphia's 30th Street Station on Friday to celebrate Amtrak's 50th anniversary.
The visit also offered the President an opportunity to explain how his infrastructure plan would improve and expand rail service.
Biden was given the nickname "Amtrak Joe" because he regularly traveled between Washington and his home in Wilmington, Delaware by rail as a U.S. Senator.
"It was the only way I could have been a Senator at all," the President wrote in a piece for Amtrak's magazine "Arrive" in 2010. "I had to be able to get home to spend evenings with my two sons after we lost their mother and sister in an auto accident a month earlier."
Blake Weaver, an Amtrak train conductor who introduced Biden at Friday's event, recounted meeting the then-Senator in 2006.
"Before I had a chance to introduce myself, Mr. Biden stopped what he was working on and invited me to sit down and talk to him for a few minutes," Weaver said. "He always made time for both the passengers and the employees. He also treated everyone like they were family."
During his vice presidency, Biden said he used Amtrak to come home nearly every weekend to visit his mother. He continued using Amtrak until just before his inauguration as President.
Biden said Friday that, to him, Amtrak was more than just a ride home: "Amtrak became my family."
"I've been riding Amtrak for almost as long as there's been an Amtrak. I've come to see that Amtrak doesn't just carry us from one place to another. It opens up enormous possibilities," Biden said.
During his speech, Biden also touted his American Jobs Plan, which he unveiled last month.
The proposal would direct $2T to updating the electric grid, replacing the entire federal fleet with electric vehicles, and improving transportation infrastructure.
The plan includes $85B to improve public transportation and another $80B for repairs on existing rail lines and the creation of new lines.
"Think of it what it'll mean for opportunity if we can connect Milwaukee to Green Bay to Madison; Scranton and Allentown to New York; Indianapolis to Louisville," Biden said. "It's gonna provide jobs, and it will also accommodate jobs, and what this means is towns and cities that have been in danger of being left out and left behind will be back in the game."
Republicans have slammed the cost and the breadth of the American Jobs Plan.
GOP lawmakers have said the President is trying to wedge in too many unrelated programs under the infrastructure umbrella and have countered with a $568B plan.
Of the $568B included in the counter, $20B is earmarked for improvements to rail infrastructure.
President Biden's appearance in Philadelphia was the latest stop in what the White House is calling the "Getting America Back on Track Tour." Press Secretary Jen Psaki said the tour, which kicked off Thursday in Atlanta, will "highlight the successes of the first 100 days" of Biden's presidency.