President Trump And First Lady Melania Trump Have COVID-19
The White House announced Friday evening that Trump would work "for the next few days" from the presidential offices at Walter Reed hospital "out of an abundance of caution, and at the recommendation of his physician and medical experts."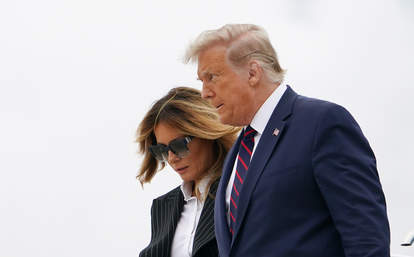 President Donald Trump, who spent months downplaying a virus that has killed more than 200,000 Americans and urging steadfastly that it would "go away," has tested positive for COVID-19, along with First Lady Melania Trump.
Trump announced his diagnosis in Friday's early morning hours on Twitter. The White House confirmed shortly after.
Vice President Mike Pence and Second Lady Karen Pence tested negative, a spokesperson said Friday. Former VP Joe Biden and Jill Biden both tested negative as well, according to Biden's campaign.
The Trump campaign said Friday that "all previously announced campaign events involving the President's participation are in the process of being moved to virtual events or are being temporarily postponed." Later on Friday, the White House announced Trump would work "for the next few days" from the presidential offices at Walter Reed hospital "out of an abundance of caution, and at the recommendation of his physician and medical experts."
During a Friday morning briefing, White House Chief of Staff Mark Meadows said "other people in the White House will certainly have a positive test result" as COVID-19 "continues to go on." Meadows did not wear a mask during his briefing.
The news came after close senior aide Hope Hicks also tested positive, and days after Trump mocked Biden during the first presidential debate for wearing a mask.
"I don't wear masks like him. He could be speaking 200 feet away from people and he'll be wearing the biggest mask you've ever seen," said Trump, who has held massive campaign rallies full of maskless, non-socially-distanced crowds.
Trump on Thursday said before the positive test announcement that "the end of the pandemic is in sight," a claim he's been pushing despite non-stop warnings from health experts and scientists across the globe to take the virus seriously.
House Speaker Nancy Pelosi on Friday called Trump's positive result "tragic, it's very sad, but it also is something that going into crowds, unmasked, and all the rest, was sort of a brazen invitation for this to happen."
"Maybe now that people who see the president of the United States, with all the protection he has... it might be, as you say, a learning experience. More than learning, it has to be something that is acted upon," said Pelosi, who tested negative on Friday.
Since the beginning of the coronavirus pandemic, Trump and his administration have downplayed the severity of the virus, which he calls "the China-virus." In explosive audio released from interviews between President Trump and journalist Bob Woodward, Trump said he knew as early as Feb. 7 how deadly and highly contagious COVID-19 was. In March, Trump said, "I wanted to always play it down."
Also in March, Trump tweeted statistics about the flu as proof that COVID-19 wasn't as deadly.
At an April 3 press briefing, Trump said, "I said it's going away and it is going away." In July, Trump said, "I'll be right eventually. You know, I said, 'It's going to disappear.' I'll say it again. And I'll be right."
A study published Thursday by researchers at Cornell University found that President Donald Trump is the "single largest driver" of coronavirus misinformation. The study analyzed more than 38 million articles about the pandemic in English-language media worldwide. Results from their study found that Trump made up nearly 38% "of the overall misinformation conversation," and is "the single largest driver of misinformation" on COVID-19.

Multiple studies by public health experts have concluded that if the U.S. had started social distancing and emphasizing mask use earlier—even just one week earlier—tens of thousands of lives could have been saved. Though Trump knew in early February of the deadly, highly contagious, airborne nature of COVID-19, he continued to downplay it in public statements and press conferences for months. He refused to appear in public wearing a mask until four months into the pandemic.

Brazilian Pres. Jair Bolsonaro and British PM Boris Johnson are two other major world leaders who have tested positive for COVID-19, though it was much earlier in the pandemic.