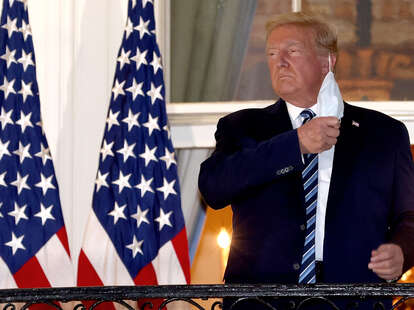 As Americans wait desperately to find out whether they'll get any more financial relief from the government during an economy-tanking pandemic, President Donald Trump on Tuesday said he's calling off COVID-19 economic relief negotiations until after the election on November 3.
The president, who announced last week that he tested positive for COVID-19, returned to the White House on Monday night after he was discharged from Walter Reed Medical Center.
"I have instructed my representatives to stop negotiating until after the election when, immediately after I win, we will pass a major Stimulus Bill that focuses on hardworking Americans and Small Business," the president tweeted on Tuesday.
In an earlier tweet, the president accused House Leader Nancy Pelosi of "not negotiating in good faith." Pelosi rejected an earlier bid from Treasury Secretary Steve Mnuchin, and the two had been in talks on a new COVID-19 relief plan.
"Once again, President Trump showed his true colors: putting himself first at the expense of the country, with the full complicity of the GOP Members of Congress," Pelosi said in a statement on Tuesday. "Walking away from coronavirus talks demonstrates that President Trump is unwilling to crush the virus... he refuses to put money in workers' pockets, unless his name is printed on the check."
The Dow Jones Industrial Average slid by more than 40 points to a "fresh session low," CNBC reported, after Trump made the statement.
In another tweet, the president said he has asked Senate Majority Leader Mitch McConnell to " instead focus full time on approving my outstanding nominee to the United States Supreme Court, Amy Coney Barrett."
Pelosi and Mnuchin have made minimal progress in negotiating a new relief bill in recent months, leaving the financial status of businesses and Americans, many of whom are struggling to afford housing payment and facing historic unemployment, in the crosshairs.
Earlier Tuesday, Federal Reserve Chair Jay Powell said that the economy needed more relief to recover.