President Trump Lied About Ivanka's Job Creation
He claimed she created 14 million jobs, but that's impossible.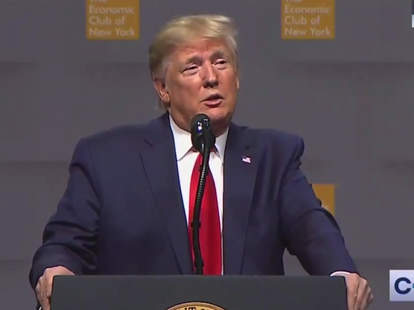 President Trump claimed his daughter Ivanka has created 14 million U.S. jobs — when in reality, that many jobs haven't even been created by the entire American economy since he took office.
 
During a speech at the Economic Club in New York on November 12, Trump credited his daughter with creating an immense amount of jobs in the U.S. as co-chair of the White House American Workforce Policy Advisory Board.
 
"When she started this, two and a half years ago, her goal was 500,000 jobs," Trump said. "She's now created 14 million jobs ... 14 million from 500,000. Fourteen million and going up."
A report by the Washington Post explained that the workforce policy board Ivanka co-chairs helps to create training opportunities for workers at private companies. Through their efforts, 6.5 million training opportunities have been created — which is half of what Trump claimed and doesn't necessarily entail that jobs are being created.
 
Back in February, Trump also touted Ivanka creating millions of jobs while speaking to U.S. governors, saying, "My daughter has created millions of jobs. I don't know if anyone knows that, but she's created millions of jobs."
 
The U.S. Economy has created fewer than 6 million jobs since Trump has taken office, which is also less than what Obama created when he was in office.