Pro-Trump Lawyer Says "Reasonable People" Would Not Believe Election Fraud Claims, According to Court Docs
The defense team for Sidney Powell, who is accused of defaming voting tech companies, is arguing that her claims were so outlandish that "no reasonable person" would believe them as fact anyway.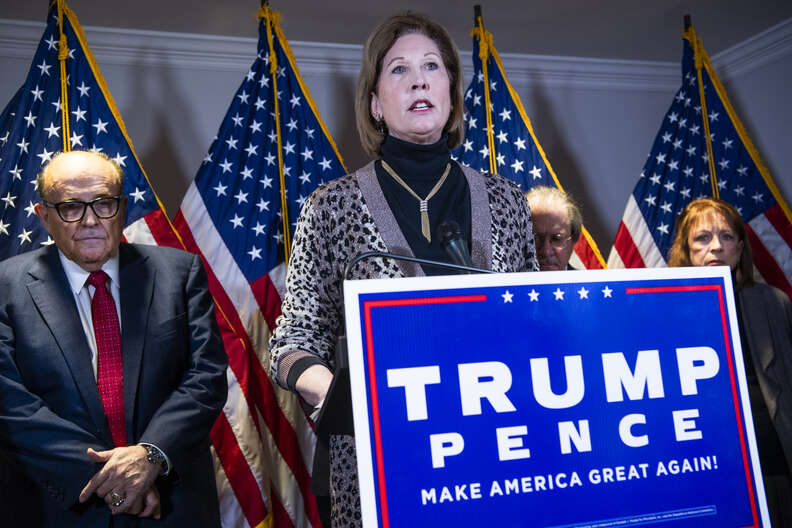 Sidney Powell, a pro-Trump lawyer who defended the former president's baseless voter fraud claims, is arguing in a new court filing that "reasonable people" wouldn't take her comments about the election as fact — and that a defamation lawsuit against her should be dismissed.
Dominion Voting Systems, a voting technology company, sued Powell in January for $1.3 billion in damages over her false claims that former President Donald Trump won the 2020 election. Powell is a right-wing lawyer and worked with other members of Trump's legal defense team, including his personal lawyer Rudy Giuliani, to promote conspiracy theories in the wake of President Joe Biden's win. Dominion is also suing Giuliani for $1.3 billion over voter fraud claims.
Powell and Giuliani frequently accused Dominion, without evidence, of rigging election tech to "flip" votes from Trump to Biden, count ballots multiple times, and fabricate votes. The two made the same accusations against SmartMatic, another electronic voting company, which has also sued them.
Dominion has claimed that Powell knew her allegations were fraudulent and therefore "false and hurtful to the company," CNN reported, and causing "irreparable harm" to its reputation.
As part of a motion to dismiss filed Monday, Powell's attorneys argued that the baseless nature of her claims should exonerate her, according to the filing published by The Wall Street Journal. Powell's defense team is asking that the suit against her be dismissed — while also admitting that "she believed the allegations then and she believes them now."
"Plaintiffs themselves characterize the statement at issue as 'wild accusations' and 'outlandish claims,'" Powell's defense team wrote. "They are repeatedly labelled 'inherently improbable' and even 'impossible.' Such characterizations of the allegedly defamatory statements further support Defendants' position that reasonable people would not accept such statements as fact but view them only as claims that await testing by the courts through the adversary process."
Trump and GOP lawyers filed and lost more than 60 post-election lawsuits to try and overturn the legitimate results.
Powell's defense team called her statements about Dominion tech "opinion[s]" and said the public could reach "their own conclusions" about the veracity of the claims.
CNN reported that the January lawsuit from Dominion "outlined Powell's TV appearances and online posts in extraordinary detail, including when she repeated her unfounded beliefs that Dominion was linked to communist Venezuela and Georgia officials were in on election fraud.
In addition to Powell and Giuliani, Dominion has also filed a defamation suit against MyPillow CEO Mike Lindell, another Trump ally who promoted conspiracy theories about election fraud. Dominion CEO John Poulos told CNBC in February that the $1.3 billion lawsuit against each of the accusers is "definitely not the last."
"It's difficult to put a hard number to it, but the reputational damage alone has been devastating to us," Poulos said.
Though Trump is out of office, he has continued to use his platform to falsely claim that he won the election. Republicans across the country are using the bogus claims of voter fraud to try and pass new voting restrictions. According to a February 19 report from the Brennan Center for Justice, a liberal nonpartisan law and policy group, 253 bills to restrict voting access have been introduced in 43 states already in 2021. The Brennan Center says the influx of anti-voting rights bills come in direct backlash to historic voter turnout seen in the 2020 elections, and is "well over four times the number of bills to restrict voting access as compared to roughly this time last year."
There is no evidence to back up claims of mass fraud — election experts and state officials point out that fraud is very rare. In Texas, where the state GOP has launched an "avalanche of bills to curtail voting," according to NBC News, the Republican Attorney General's office spent 22,000 hours looking for voter fraud. They uncovered just 16 cases of false addresses on registration forms, The Houston Chronicle reported — out of nearly 17 million registered voters in Texas.
Pro-democracy organizers are calling on Congress to protect voting rights by making the For The People Act, or HR 1, law. The House of Representatives passed the legislation on March 3, and it faces GOP obstructionism in the Senate.
Passing the For The People Act in the Senate will likely require Democrats abolishing the filibuster, which progressives and pro-democracy advocates have also repeatedly called for. With a 50-50 split (and Vice President Kamala Harris' tie-breaking vote that gives Dems a simple majority), abolishing the filibuster would expedite the voting rights agenda. Current Senate filibuster rules require 60 votes to move a bill forward, which Republicans often use to stall Democratic legislation despite being in the minority.