Reddit Has Purged Subreddits Including A Pro-Trump Page, Citing Hate Speech Policies
r/The_Donald was known for its often racist rhetoric and promotion of conspiracy theories. Users had largely already abandoned the platform for alternative social media.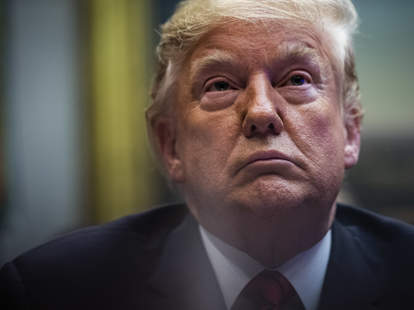 Reddit announced on Monday that it banned the fervently pro-Trump community, r/The_Donald, along with 2,000 other mostly inactive subreddits. 
CEO Steve Huffman said the company banned r/The_Donald because it repeatedly failed to "abide by [Reddit's] content policy in good faith."
"The community has consistently hosted and upvoted more rule-breaking content than average (Rule 1), antagonized us and other communities (Rules 2 and 8), and its [moderators] have refused to meet our most basic expectations," Huffman said.
r/The_Donald was known for its often racist, anti-Semitic, and misogynistic rhetoric and support for conspiracy theories such as Pizzagate.
Reddit has previously taken a series of actions against the subreddit short of banning it. In June 2019, the company "quarantined" the page after users made posts threatening public officials and law enforcement in Oregon. Under that form of punishment, users had to explicitly opt in to view the subreddit's posts, which also wouldn't appear in search or generate revenue.
r/The_Donald, which has no official ties to the President, was launched in June 2015, a week after Trump announced his plan to run for office. The subreddit grew to more than 100,000 users by April 2016, when Trump took a significant lead in the Republican primary, and then to 270,000 users by November 2016.
By the time it was banned, r/TheDonald had nearly 800,000 users, but the page was mostly inactive. Only one new post appeared on r/The_Donald in the last 100 days, NBC News reported. Many users have flocked to a different website that replicates Reddit's aesthetic and functionality and reportedly promised less content moderation.
Of the 2,000 banned subreddits, only 200 have 10 or more active users, according to the company. These include r/ChapoTrapHouse, the leftist community based on the podcast of the same name, and r/DarkHumorAndMemes, which was responsible for an attack on LGBTQ+ subreddits that NowThis reported on in May. 
The purge is part of Reddit's attempt to stem hate speech on the platform. In addition to the bans, the company announced a revamped content policy that more explicitly bans speech that "promotes hate based on identity or vulnerability." According to the company, violations of this rule include creating a subreddit "dedicated to mocking people with physical disabilities" or a post that asserts a racial minority "is inferior to the racial majority." 
Reddit is one of many social media companies facing renewed scrutiny over the content on its platform. Former CEO Ellen Pao called Huffman out on Twitter after he wrote a blog post in support of the Black Lives Matter movement. (Pao resigned in 2015 following the controversial firing of a former executive and pressure from users. She has gone on to speak publicly about sexism in Silicon Valley.) 
"I am obligated to call you out: You should have shut down the_donald instead of amplifying it and its hate, racism, and violence," Pao wrote on June 2. "So much of what is happening now lies at your feet. You don't get to say BLM when reddit nurtures and monetizes white supremacy and hate all day long."
On the same day as Reddit's announcement, Twitch, the live streaming platform, said it would suspend President Trump's account for "hateful conduct." 
In recent weeks, Twitter fact-checked two of Trump's tweets for the first time and labeled other subsequent, incendiary tweets more aggressively. Most recently, the social media company flagged as abusive a tweet in which President Trump threatened "serious force" against any protesters who tried to set up an autonomous zone in Washington, D.C. Protesters who set up such a zone in Seattle garnered the president's attention earlier this month. 
Facebook reportedly removed 88 Trump-campaign ads that featured a symbol used by Nazi Germany in World War II. But the company and CEO Mark Zuckerberg have been under mounting scrutiny for taking no action on President's Trump's posts. Unilever, Coca-Cola, and Verizon, among other big-name companies, have announced they will temporarily or indefinitely pause advertisements on Facebook.