Fellow Democrat Accuses Sen. Joe Manchin Of Stopping Democracy, Calls Him "The New Mitch McConnell"
Manchin wrote in an op-ed published Sunday that he would oppose the For the People Act, which he called "partisan election reform."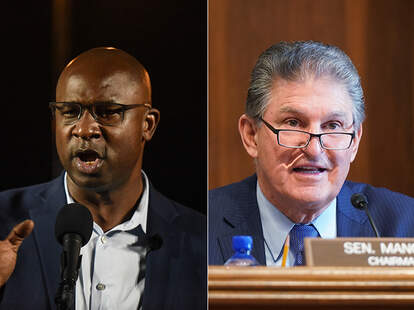 Rep. Jamaal Bowman (D-NY) on Monday called his Democratic colleague Sen. Joe Manchin (D-WV) "the new Mitch McConnell," saying that Manchin is "doing everything in his power to stop democracy."
"Mitch McConnell during Obama's presidency said he would do everything in his power to stop Obama," Bowman said on CNN's New Day. "He's also repeated that now during the Biden presidency by saying he would do everything in his power to stop President Biden, and now Joe Manchin is doing everything in his power to stop democracy and to stop our work for the people, the work that the people sent us here to do."
He went on to say: "Manchin is not pushing us closer to bipartisanship. He is doing the work of the Republican Party by being an obstructionist just like they've been since the beginning of Biden's presidency."
The comments came after Manchin, a moderate Democrat who represents a red state, said he would oppose an election and campaign finance reform bill called The For the People Act.
"I believe that partisan voting legislation will destroy the already weakening binds of our democracy, and for that reason, I will vote against the For the People Act," Manchin wrote in an op-ed published Sunday.
The For the People Act passed the House in March mostly along partisan lines. The proposed legislation takes a wide-ranging approach to expanding voting rights. It would mandate a 15 consecutive-day period of early voting in federal elections, create automatic voter registration, and create independent commissions to oversee redistricting.
Every Democrat in the Senate supports the bill except Manchin, and his opposition to the bill all but ensures its failure when it comes up in the Senate at the end of June.
Instead of The For the People Act, Manchin threw his support behind the John Lewis Voting Rights Advancement Act. The bill would restore a rule under the Voting Rights Act that was eliminated by the Supreme Court in 2013 known as "preclearance."
"The John Lewis Voting Rights Advancement Act would update the formula states and localities must use to ensure proposed voting laws do not restrict the rights of any particular group or population," Manchin wrote.
Had Manchin supported The For the People Act, the bill would have still faced an uphill battle in the Senate, where 60 votes are needed to end debate on a bill and stop a filibuster. Without those votes, the Senate can't move on to a final vote on a bill.
The Senate now is split evenly between Democrats and Republicans, but Democrats have an upper hand with Vice President Kamala Harris able to cast a tie-breaking vote.
Progressives have pushed to eliminate the filibuster to make way for Democrat-supported legislation, like The For the People Act and Affordable Care Act expansion. But Manchin is a staunch advocate of keeping the rule in place, a position he reaffirmed in Sunday's op-ed.
"For as long as I have the privilege of being your U.S. senator, I will fight to represent the people of West Virginia, to seek bipartisan compromise no matter how difficult and to develop the political bonds that end divisions and help unite the country we love," he wrote.
When asked about Manchin's op-ed, White House press secretary Jen Psaki said President Joe Biden believes the country should "move forward" with both the John Lewis Voting Rights Act as well as The For the People Act.
"The president knows he was elected to deliver for the American people, and his view is that that includes making voting more accessible across the country — making it easier and not harder to vote," Psaki said.
She added: "He's made clear that there's a real need for federal legislation to protect the sacred right to vote."