"Cancel Culture": Republicans Diss NBA & WNBA Players Who Support Black Lives Matter
The GOP continues to attack players in the nation's basketball leagues, which are largely made up of Black athletes.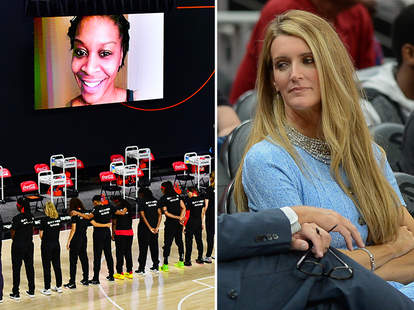 Republicans who are up for reelection are ramping up their culture war defensive to openly defy the Black Lives Matter movement, targeting both NBA and WNBA players who are calling for racial justice.
On Wednesday night, LeBron James said the basketball community won't miss President Trump's viewership after the president told Fox News he stopped watching NBA games as hundreds of players have been taking a knee during the national anthem.
"I really don't think the basketball community [is] sad about losing his viewership, him viewing the game," James said during a post-game interview after the Lakers' 105-86 loss to the Oklahoma City Thunder. "And that's all I got to say."
James' latest comments came after WNBA players from teams including the Atlanta Dream this week wore "Vote Warnock" shirts in opposition to Sen. Kelly Loeffler (R-GA), who co-owns the Dream and has openly objected to the league's endorsement of the Black Lives Matter movement. Rev. Raphael Warnock (D) is one of several candidates to run against Loeffler, who was appointed to her seat and faces a special election in November.

The growing rivalries between America's sports teams and elected leaders are reaching an inflection point during an election season in which incumbent President Trump has escalated his racist commentary and deployed federal agents to suppress protesters in U.S. cities. It also comes as Americans' support for the Black Lives Matter movement has reached an all-time high.
During his post-game comments, James expressed hesitance to beef with the president, who has repeatedly bragged that he has "done more for the Black community than any president" besides perhaps Abraham Lincoln. The president, who has a history of opposing athletes' peaceful protests especially during Colin Kaepernick's 2017-2018 kneeling demonstrations in the NFL, called NBA players "disgraceful" in a Fox News interview on Wednesday. Trump also recently refused to acknowledge the late Rep. John Lewis' civil rights legacy during an interview with Axios.
RELATED: WNBA Players Walk Off Court During National Anthem, Dedicate Season To Breonna Taylor
James has recently started a new voting rights organization and urged Americans to show up to the polls in November.
"And I hope everyone, no matter the race, no matter the color, no matter the size, will see what leadership that we have at the top in our country and understand that November is right around the corner and it's a big moment for us as Americans. If we continue to talk about, 'We want better, we want change,' we have an opportunity to do that. But the game will go on without [Trump's] eyes on it. I can sit here and speak for all of us that love the game of basketball: We could [not] care less."
After the WNBA demonstration on Tuesday, Loeffler called the T-shirts, worn by teams including the Dream, Seattle Storm, Los Angeles Sparks, an example of "cancel culture." Loeffler was notably embroiled in a scandal earlier this year in which she and other members of Congress sold stocks collectively worth millions of dollars curiously right before the coronavirus pandemic.
Sue Bird of the Seattle Storm has been credited with initiating the pro-Warnock demonstration.

In an interview with Signal Boost this week, Warnock commended the demonstrations.
"I am so proud of them for standing up," Warnock said. "They stood up saying 'you may own the team, but you don't own our voices.'"