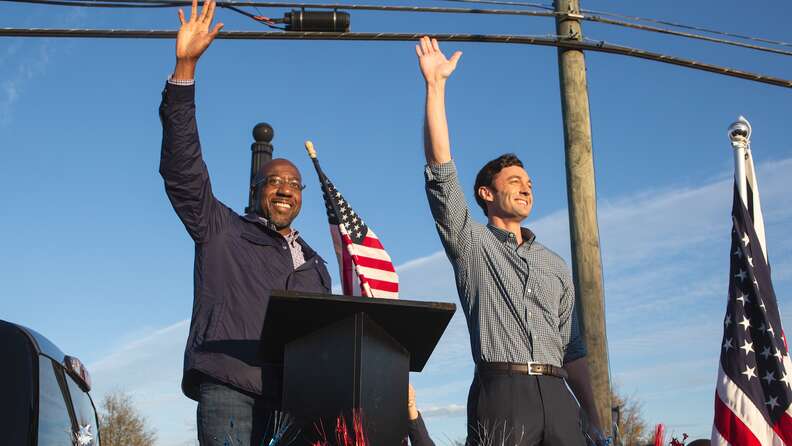 Rev. Raphael Warnock and Jon Ossoff have won their runoff elections in Georgia, effectively giving Democrats control of the Senate and putting an end to the reign of obstructionism led by current Majority Leader Mitch McConnell (R-KY).
Ossoff and Warnock's wins mean Democrats have 50 seats in the Senate, and an effective majority as Vice President-elect Kamala Harris can cast tie-breaking votes per the Constitution. Ossoff was projected to win his Senate race Wednesday afternoon as President-elect Joe Biden addressed the nation and a pro-Trump mob took over the Capitol. Warnock defeated Republican incumbent Sen. Kelly Loeffler, while Ossoff defeated Republican incumbent Sen. David Perdue.
A top election official in Georgia, Gabriel Sterling (R), said on CNN Tuesday night that the Republican losses "fall squarely on the shoulders" of President Donald Trump — who has spent the last few months pushing baseless conspiracies of voter fraud, which many of his supporters believe, likely depressing GOP turnout in the special election.
Warnock is the first Black man to be elected U.S. senator from the state. He told CNN he plans to "return to the pulpit and preach on Sunday morning."
Ossoff, an investigative journalist, supports strengthening the Affordable Care Act, raising the minimum wage to $15, legalizing weed, protecting women's reproductive rights, overhauling the criminal justice system, and giving more financial relief to Americans hit hardest by COVID-19.
On Wednesday morning, before the race was officially called for Ossoff, he posted a video on Twitter thanking his supporters and promising to "rush economic relief to people who need it right now," adding that he "will give everything I've got to ensure Georgia's interests are represented in the U.S. Senate."
Warnock addressed voters after midnight Tuesday, thanking organizers and volunteers for their work. He said that he "will work for all Georgians, whether you voted for me or not." At the end of his remarks, he quoted Martin Luther King Jr., who preached at the same historic Black Atlanta church where Warnock is pastor: "All men are caught in an inescapable network of mutuality, tied in a single garment of destiny. Whatever affects one directly, affects all indirectly." Warnock campaigned on providing $2,000 stimulus relief checks to Americans during the pandemic, as well as expanding the Affordable Care Act and restoring the Voting Rights Act.
On the Republican side, both Loeffler and Perdue have been accused of corruption for insider trading related to briefings they received on the coronavirus pandemic. Former President Barack Obama, who campaigned with both Democratic candidates during the runoff period, described Loeffler and Perdue as "Batman and Robin gone bad...the dynamic duo of doing wrong." On Monday, Ossoff called them "the Bonnie and Clyde of corruption in American politics."
Loeffler, who was appointed to her seat by Republican Gov. Brian Kemp but never elected, once said Black Lives Matter is a "very divisive...Marxist" group responsible for a lot of "violence and destruction" in America. In the final days of the race, she was criticized heavily for a photo in which she posed with a Ku Klux Klan leader at a campaign event.
Warnock is senior pastor at Atlanta's Ebenezer Baptist Church, the "spiritual home" of MLK, who also once preached there. Former President Barack Obama, who campaigned for both Democratic candidates in Georgia, said of Warnock: "He's a man of great moral integrity, a leader in the truest sense of the word. You don't find a lot of people in Washington like Rev. Warnock, and that's exactly why we've got to get him there."
The pastor additionally campaigned on ending mass incarceration in the United States, combating the climate crisis, and investing in American education.
Watch a NowThis interview with Rev. Warnock from November, where he talks about his faith and how it shaped and informed his progressive politics:
Record voter turnout in Georgia
Georgia voters broke records in what was the most closely-watched Senate special election in modern times. State officials said more than 3 million people voted early, and organizers said Black voters turned out to vote early in higher numbers than they did in November's general election. Regarding Tuesday's runoff numbers, political analyst Dave Wasserman said Black voter turnout overall looked "frankly, phenomenal." The Georgia secretary of state's office said Tuesday evening that 1.244 million votes were cast that day, bringing turnout to roughly 4.6 million voters overall.
Stacey Abrams, the Georgia politician who has been fighting voter suppression and working to turn out more Democratic voters in the state for several years, received a lot of credit when Georgia was finally called for Biden in the presidential election. Her work with Fair Fight Action, as well as the work of several other leaders and organizations like LaTosha Brown and Black Voters Matter, was likely also the deciding factor in the runoff races.
Latinx organizers from the group Con Mijente said before election day that they had contacted "every Latino voter in Georgia in just 8 weeks." Anna Bahr tweeted that it was "the biggest Latino voter turnout operation" in the state's history.
South Asian organizers and celebrities also held high-profile virtual events and produced campaign videos in the two months since the November election. Current turnout numbers suggest that a multiracial coalition was key to Warnock's win, a strategy adopted and supported by much of the Democratic Party, particularly progressives.
Allan Piper and Christina Cocca contributed to this report.