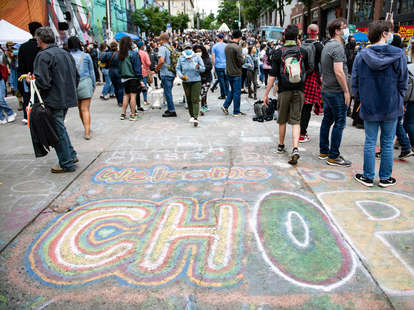 Street art welcoming people inside the âCapitol Hill Organized Protestâ formerly known as the âCapitol Hill Autonomous Zoneâ in Seattle, Washington on June 14, 2020.

| Getty Images
Street art welcoming people inside the âCapitol Hill Organized Protestâ formerly known as the âCapitol Hill Autonomous Zoneâ in Seattle, Washington on June 14, 2020.

| Getty Images
Seattle mayor Jenny Durkan announced Monday that police will return to an "autonomous" stretch of the city that protesters have claimed in recent weeks. The announcement came after shootings in and near the area over the weekend left one 19-year-old man dead and two others injured.
Durkan and Seattle Police Chief Carmen Best said during a press conference that police will return to a precinct that they vacated earlier this month — in an area that's since been dubbed "CHOP," or the Capitol Hill Organized Protest area.
Durkan didn't provide an exact timeline for the cops' return, but said it will happen "peacefully and in the near future."
The Washington Post reported that dozens protesters linked arms outside the police station on Monday night and placed a sign on the precinct that outlines their demands: "Defund [police] by 50% now. Fund Black communities. Free all protesters."

Police responded to the shootings over the weekend, but were "met with a hostile crowd," Chief Best said. On Saturday, Horace Lorenzo Anderson, who was Black, was shot and killed near the protest area; another person was critically injured, according to police. While police said the shooting was inside the CHOP zone, the Seattle Times described it as occurring "at the edge of" it.
Another shooting near the area occurred on Sunday, leaving one person injured with a gunshot wound, Best said. Both shootings are under investigation. Police said Tuesday that they're investigating a third shooting at CHOP that left one person injured overnight.
On Monday, Durkan said that the city is trying to respond to the community's needs with "community-based solutions" and hopes that protesters voluntarily leave the area, adding that she is working with Black-led organizations including Not This TIme and Community Passageways.
Andre Taylor, a leader at Not This Time, which is a grassroots group that works for police accountability, reportedly met with CHOP leaders after the shootings and acknowledged the nighttime violence is a problem, according to local outlet KUOW.
"Are you willing to die?" Taylor said he told CHOP leaders. "And not only are you willing to die, are you willing to take the responsibility of someone who dies on your watch?"
He added: "Don't minimize the idea of CHOP — don't make it be a place. I think it's bigger than a place."
A Twitter account @ChopVoices posted an open letter on Sunday from "activists and volunteers at CHOP" proposing changes to the community, like suggested hours for the zone of 8 a.m. to 8 p.m. local time, communicating off social media, and safe use of drugs and alcohol on the site.
"We want to keep fighting and stand our ground," the letter said.
Durkan said Monday that nighttime gun violence is "undermining and distracting from the message of change" that protesters have demanded since George Floyd was killed by police in Minneapolis.
"The cumulative impacts of the gatherings and protests and the night-time atmosphere and violence has led to increasingly difficult circumstances for our businesses and residents," she said.
Best said the debate over policing in the area "was about life or death."
"This is not about politics, and I'm not a politician," Best said. "We need a plan… I cannot stand by, not another second and watch another Back man, or anyone really, die in our streets while people aggressively thwart the efforts of police and other first responders from rescuing them."
The New York Times has described CHOP as "part-commune, part-street festival." The scene has been reminiscent of the 2011 Occupy protest, the Seattle Times reported.
In early June, the protests in Seattle attracted President Trump's attention, and he clashed on Twitter with Durkan and Washington Gov. Jay Inslee after he demanded they intervene. Durkan replied: "Make us all safe. Go back to your bunker."
Durkan's response references a report that Trump had spent nearly an hour in an emergency bunker at the White House during the first week of protests against systemic racism and police brutality.