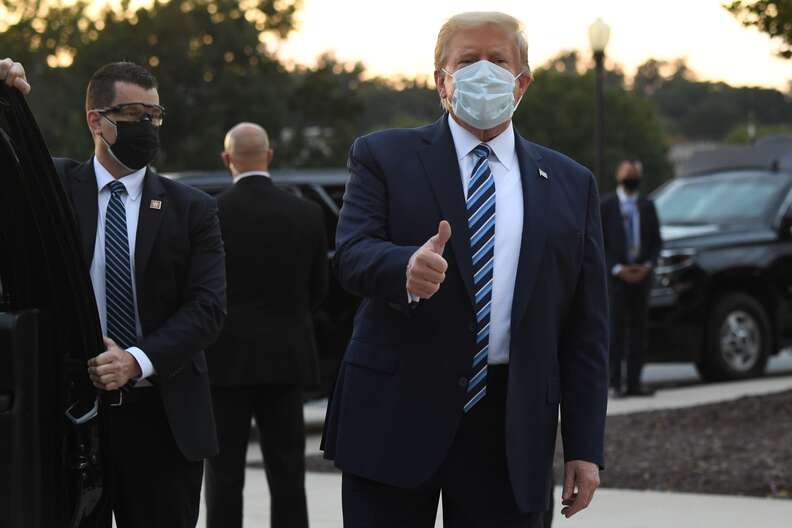 The second presidential debate, which was slated for October 15, has officially been canceled.
The Commission on Presidential Debates announced the news on Friday evening after days of back and forth from President Trump and his campaign about how he would participate in the debate — or if he'd even participate at all. The Commission and the Biden campaign wanted the debate to be virtual, given the president's COVID-19 infection and subsequent days-long hospitalization.
In a statement, the CPD said: "It is now apparent there will be no debate on Oct. 15, and the CPD will turn its attention to preparations for the final presidential debate scheduled for Oct. 22." They added that the third debate would happen "subject to health security considerations, and in accordance with all required testing, masking, social distancing and other protocols."
Both candidates were supposed to get "required testing" before the first debate — but it turned out that Trump either did not get tested or did not disclose his test results.
The White House has repeatedly refused to state the date of the president's most recent negative coronavirus test result. Trump disclosed his diagnosis two nights after the first debate, after Bloomberg broke the news that close aide Hope Hicks had the virus.
White House officials believe that the president contracted the virus at a September 26 Rose Garden event for Supreme Court Justice nominee Amy Coney Barrett—along with several other aides, senators, and attendees. Dr. Anthony Fauci of the National Institutes of Health said on Friday that it was "a super-spreader event."

If that timeline is correct, Trump would have indeed had the virus during the September 29 debate, but did not inform Biden or anyone else. During that debate, which was described as "a hot mess, inside a dumpster fire, inside a train wreck," Trump mocked Biden for wearing a mask in public.
The Commission had announced Thursday that the October 15 debate between Trump and Biden would "take the form of a town meeting," with the two candidates participating remotely. In a phone interview with Fox Business on Thursday morning, Trump said he'd decline to participate virtually.
"I'm not gonna do a virtual debate," Trump said. "I'm not going to waste my time on a virtual debate, that's not what debating is all about. You sit behind a computer and do a debate, it's ridiculous."
"And then they cut you off whenever they want," Trump continued.
Trump campaign manager Bill Stepien initially said in a statement that the president will "do a rally instead," but the campaign later called for two in-person debates, one as originally scheduled on October 22 and an additional one October 29.
Biden spokesman Andrew Bates said after the cancellation, "It's shameful that Donald Trump ducked the only debate in which the voters get to ask the questions — but it's no surprise. Everyone knows that Donald Trump likes to bully reporters, but obviously he doesn't have the guts to answer for his record to voters at the same time as Vice President Biden."
Biden has committed to attending an ABC News town hall in Philadelphia the evening of October 15.