Steve Bannon, Ex-Trump Aide, Arrested For Alleged "We Build The Wall" Fraud Scheme
The crowdfunding campaign's leader, Brian Kolfage, allegedly used $350,000 in donors' money for personal uses such as "home renovations, payments toward a boat, a luxury SUV, a golf cart, jewelry, [and] cosmetic surgery."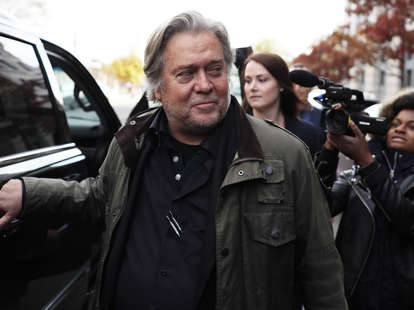 Steve Bannon, a former top adviser to President Trump, and three of his associates have been indicted for allegedly defrauding hundreds of thousands of donors who contributed to the crowdfunding scheme "We Build the Wall," federal prosecutors said Thursday.
Bannon, campaign founder and Iraq War veteran Brian Kolfage, Timothy Shea, and Andrew Badolato were each charged with conspiracy to commit wire fraud and money laundering. All four defendants allegedly profited from the crowdfunding scheme.
The four men have been arrested and were expected to appear in court on Thursday, prosecutors said. If convicted, they could face up to 20 years in prison for each charge.
The group of conservatives allegedly "raised more than $25 million to build a wall along the southern border of the United States," according to a press release from the U.S. Attorney's Office for the U.S. Southern District of New York. The United States Postal Inspection Service, which is the law enforcement arm of the U.S. Postal Service, assisted in the investigation.
USPS agents arrested Bannon on a luxury yacht off the coast of Connecticut, according to multiple reports. During his court appearance, he pleaded not guilty.
"The defendants defrauded hundreds of thousands of donors, capitalizing on their interest in funding a border wall to raise millions of dollars, under the false pretense that all of that money would be spent on construction," Acting U.S. Attorney Audrey Strauss said in a statement. "While repeatedly assuring donors that Brian Kolfage, the founder and public face of We Build the Wall, would not be paid a cent, the defendants secretly schemed to pass hundreds of thousands of dollars to Kolfage, which he used to fund his lavish lifestyle."
According to court documents, the defendants used Bannon's nonprofit, along with a shell company and fake invoices, to allegedly architect the fraud. Kolfage allegedly sent text messages that the arrangement should remain "confidential" and "kept on a 'need to know'" basis. Kolfage used $350,000 in donors' money for personal uses, including "home renovations, payments toward a boat, a luxury SUV, a golf cart, jewelry, cosmetic surgery, personal tax payments, and credit card debt," investigators allege.
Kolfage, who has triple amputations, launched the crowdfunding campaign in 2018 as President Trump appeared to abandon threats to shut down the government unless Congress provided $5 billion toward building a wall across the U.S. border, The New York Times reported. Bannon, a controversial fixture of the alt-right who ran the conservative website Breitbart during Trump's 2016 campaign, left the White House in 2017.
"This case should serve as a warning to other fraudsters that no one is above the law, not even a disabled war veteran or a millionaire political strategist," Philip R. Bartlett, inspector-in-charge of the Postal Inspection Service, said in a statement.
This is a developing story.