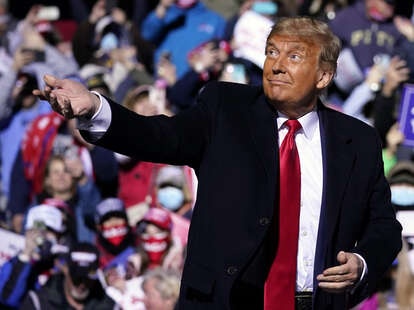 After President Trump emotionally beckoned women to support him during a campaign rally in Pennsylvania, viewers online had responses of their own.
The president made a plea to suburban women on Tuesday during a visit to western Pennsylvania. The message was consistent with Trump's ongoing appeals to mostly white suburban voters — which some elected officials and voters have condemned as racist — as his poll numbers with women have consistently slid behind Democratic presidential nominee Joe Biden.
Politico reported that suburban women voters in three key states — Pennsylvania, Wisconsin, and Michigan — are abandoning the president, only weeks before the election is over.
"Do me a favor, suburban women, would you please like me?" the president said. "I saved your damn neighborhood, okay?"
The president in recent months has touted a message of "law and order" in an attempt to secure a base of white women who were essential to his 2016 victory, as Americans' support for the Black Lives Matter movement had reached an all-time high.
Earlier at the Tuesday rally, Trump said: "Suburban women, they should like me more than anybody here tonight because I ended the regulation that destroyed your neighborhood. I ended the regulation that brought crime to the suburbs, and you're going to live the American dream."
What's more, his attempts to cast urban areas as hotbeds for crime could inadvertently push suburban voters away.
"I really failed my fellow American citizens," Claudia Luckenbach-Boman, a former Trump supporter, told The Guardian this summer. "I'm extremely disappointed in myself, and sometimes I am really afraid to talk about it.
The Washington Post reported this week that some Catholic women voters who would have ordinarily voted for Trump are satisfied with the likelihood that conservative Judge Amy Coney Barrett will be confirmed to the Supreme Court — and may instead vote for Biden.