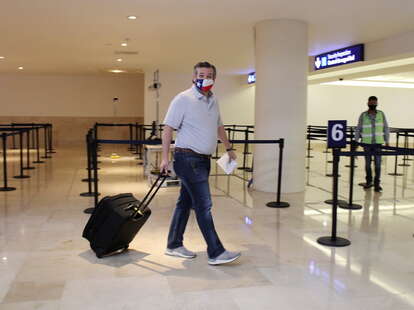 It's a tale as old as America, practically: a wealthy politician who builds a career trashing elites gets caught doing something decadent and ill-advised in the middle of a catastrophe affecting their constituents.
This time, that politician is Sen. Ted Cruz (R-TX), a staunch conservative and Trump loyalist, who was photographed on a plane headed to Cancun, Mexico while millions in his state have experienced freezing weather without power and heat for days, during a severe winter storm. Residents and hospitals are also reportedly facing water shortages, and millions of Texans are under a boil water advisory. At least 24 people have died across the South as a result of the extreme weather, according to multiple outlets.
A photo of Cruz at the Houston airport went viral late Wednesday, and multiple outlets including Fox News, MSNBC, CNN, the Associated Press, and The Dallas Morning News have since confirmed that it was, in fact, the senator traveling on a flight to Mexico. Fox reported that a Republican source said, "The photos speak for themselves."
Cruz said in a statement Thursday that "wanting to be a good dad," he flew with his daughters who "asked to take a trip with friends." He added that his family "lost heat and power too."
"My staff and I are in constant communication with state and local leaders to get to the bottom of what happened in Texas," Cruz continued. "We want our power back, our water on, and our homes warm. My team and I will continue using all our resources to keep Texans informed and safe."
The trip was "long-planned," according to the AP, and Cruz "was expected to return immediately," as he faces heated criticism on social media.
Texas Democrats have been calling on Cruz to resign.
Former Rep. Beto O'Rourke, a one-time Democratic presidential contender and candidate who narrowly lost to Cruz in the 2018 primary, has been helping organize aid for senior residents and tweeting resources for people in dire crisis.
Current guidance from the Centers for Disease Control and Prevention says U.S. residents should "avoid all travel to Mexico" due to COVID-19. Travelers entering the U.S. from Mexico are supposed to test negatively before flying and carry a copy of their test results.
Cruz has also previously had presidential ambitions and been considered as a possible returning GOP candidate in the 2024 race. He has been facing blowback for objecting to the Electoral College results in Congress deeming President Joe Biden the winner, even after the deadly U.S. Capitol riot.