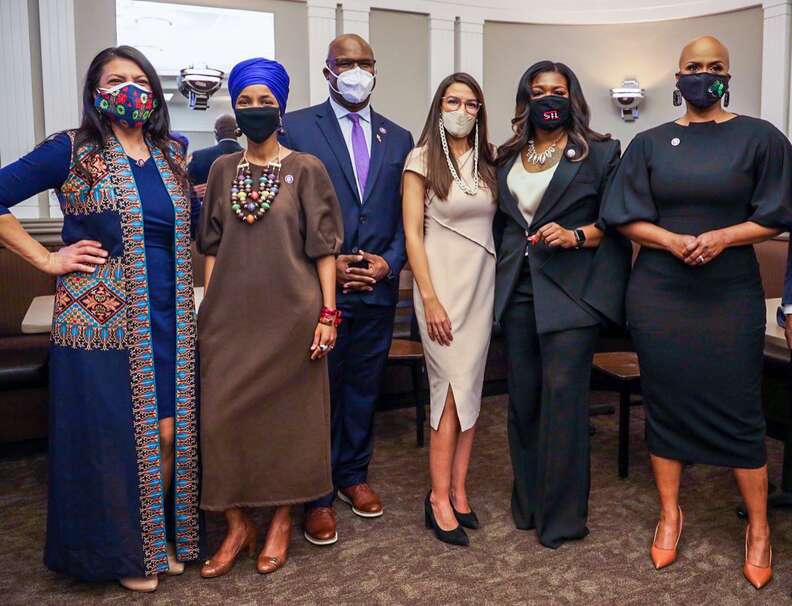 The new Squad in the House for the 2021-2022 term, from left to right: Democratic Reps. Rashida Tlaib, Ilhan Omar, Jamaal Bowman, Alexandria Ocasio-Cortez, Cori Bush, and Ayanna Pressley.

| Twitter/@coribush
The new Squad in the House for the 2021-2022 term, from left to right: Democratic Reps. Rashida Tlaib, Ilhan Omar, Jamaal Bowman, Alexandria Ocasio-Cortez, Cori Bush, and Ayanna Pressley.

| Twitter/@coribush
As President-elect Joe Biden's administration prepares to take office, a new Congress has already taken shape—and it's the most diverse one yet in U.S. history.
The 117th U.S. Congress was sworn into office on January 3. A handful of seats remain open due to special and runoff elections or races yet to be called, but the Democrats retain a current majority of 222 representatives in the House. The January 5 Georgia runoff elections will determine which party controls the Senate.
The House now includes 118 women, which is the highest number yet. The previous record was set by the 116th Congress, when 106 women served in the House. Of the 118 women who have been sworn into the House for the 2021-2022 term, 89 are Democrats and 29 are Republicans.
Rep. Mondaire Jones (D-NY) is the first out gay Black man to serve in Congress, and Rep. Ritchie Torres (D-NY) is the first out gay Afro-Latino member of Congress.
Other demographic firsts are bipartisan: Republican Rep. Stephanie Bice of Oklahoma is the first Iranian-American to serve in Congress, and Reps. Young Kim (R-CA), Michelle Steel (R-CA), and Marilyn Strickland (D-WA) are the first Korean-American women to serve.
25-year-old Rep. Madison Cawthorn (R-NC) is now the youngest person to serve in Congress since 1797. Rep. Alexandria Ocasio-Cortez (D-NY) previously set the record for youngest person elected to the House since then, when she was sworn in in 2019 as a 29-year-old.
AOC won her re-election race and is now serving a second term, along with all the other members of The Squad: Reps. Ayanna Pressley (D-MA), Ilhan Omar (D-MN), and Rashida Tlaib (D-MI). The Squad has also now officially expanded, with the election of first-term Reps. Jamaal Bowman (D-NY) and Cori Bush (D-MO). Bowman is a former middle school teacher from the Bronx who ran on a progressive agenda, and Bush is a Black Lives Matter activist and organizer from St. Louis.
Rep. Nancy Pelosi (D-CA) was re-elected Speaker of the House after Congress was seated Sunday. She is the first and only woman to have served in the position. At 80 years old, Pelosi has led House Democrats since 2003. This is expected to be her last two-year term as Speaker.
"We accept a responsibility as daunting and demanding as any that previous generations of leadership have faced," Pelosi said Sunday. To a standing ovation, she continued, "Our most urgent priority will continue to be defeating the coronavirus. And defeat it, we will." She acknowledged the more than 350,000 Americans who have died from COVID-19, something Trump and Republican leaders have never done.
Supporters of the controversial QAnon conspiracy theory have also been elected to Congress: Reps. Marjorie Taylor Greene (R-GA) and Lauren Boebert (R-CO). The sizable movement, which the FBI has determined to be a domestic terrorism threat, originated in 2017 on online board 4chan after an anonymous poster wrote cryptic messages involving multiple presidents and government officials and signed off as "Q." The most prominent QAnon conspiracy theory is that celebrities, politicians, and other high-profile individuals are part of a child sex trafficking ring, and President Trump will one day bring them to justice. Vox reported that the conspiracy "has been linked to multiple real-world acts of violence, including at least one murder."
Rep. Greene also caused problems immediately on the House floor when she refused to put a mask on despite chamber rules, which floor staff asked them to follow.
Despite that initial drama, the House Democratic majority is focused on pushing forward more economic relief for Americans during the pandemic, as well as the expansion and further protection of voting rights and other democratic reforms with the re-introduction of the For The People Act.