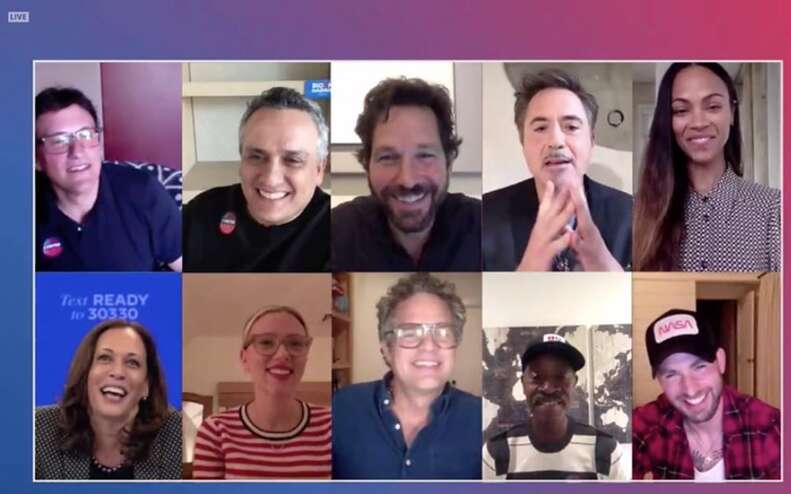 The Avengers assembled (virtually) on Tuesday for what they see as the biggest battle right now: the 2020 election.
"Avengers" and "Captain America" directors Joe and Anthony Russo brought the superstar cast together for a virtual "grassroots fundraiser" for the Biden campaign—people could donate any amount of money in order to join and watch the reunion. According to the campaign, thousands of supporters donated to the event.
Chris Evans (Captain America), Mark Ruffalo (The Hulk), Paul Rudd (Ant-Man), Scarlett Johansson (Black Widow), Don Cheadle (War Machine), and Zoe Saldana (Gamora) were billed as the main guests for the fundraiser, with the Russo brothers as the hosts. The event took place on MCU superfan and vice presidential candidate Sen. Kamala Harris's birthday—who Anthony Russo called an "incredible woman"—and she joined about halfway through to talk with the Marvel actors and even play some Avengers trivia.
"Shockingly, it feels like the fate of the universe is once again on the line," Anthony said in his introduction, emphasizing why the group was coming together. He referenced their dad, who was "active in local Democratic politics," and said they learned from him that elected officials are "first and foremost" supposed "to serve the public."
"Like all of you, I look forward to electing a president whose moral and ethical code includes putting the interests of the American people ahead of his own—kind of like Captain America," Anthony said.
The Russos also brought in two major surprise guests: Robert Downey, Jr. (Iron Man) and Harris's husband, Doug Emhoff, who wished his wife a happy birthday.
The Russos started off the event by asking each Avenger how they've been dealing with the pandemic and if they've already voted. Rudd, in his typical straightforward, dry manner, responded that his quarantine has "been pretty good, considering it's awful everywhere."
"I've been with my family, and that's been really nice," Rudd said. "I've been building shelves and things like that. What else? I bought a popcorn machine."
Later, when Saldana tried to lead the others in singing "Happy Birthday" to Harris after she joined (a struggle with the virtual setup), Rudd said, "That was the saddest rendition of 'Happy Birthday' anybody's ever sung."
Rudd and Johansson, who are both in New York state, said they plan to vote early when in-person early voting starts on October 24. Johansson says she plans to take her 6-year-old daughter. Ruffalo, Cheadle, Evans, and Saldana also said they've voted by mail.
Ruffalo emphasized the importance of voters following "all the directions" on ballot envelopes and sending them off "as soon as possible," while Cheadle said he and his wife made sure they didn't drop their ballots off in a "fake mailbox" in Los Angeles County. (The California GOP was recently caught illegally putting out their own unauthorized ballot drop boxes; state officials ordered their removal.)
President Trump's name was not mentioned during the fundraiser, though he was referenced, with the most pointed Avenger criticism coming from Captain America himself.
"What I see happening right now is that we're just such a divided country, and not to throw bombs this early in this thing, but you know, I think the fish rots from the head down. And we certainly have someone who is actively trying to divide us," Evans said. He added: "I think a lot of people are turning off [politics] because it is such a vitriolic, divisive landscape right now, so the task I've kind of dedicated myself to is return to a place of civil discourse and finding commonality as opposed to finding where we disagree, just to make government work the way it's supposed to work, and that happens with engagement."
Evans recently launched a bipartisan politics site called A Starting Point, which focuses on civic education via interviews with lawmakers and partnerships with schools.
When Harris joined shortly after, she told Evans, "I couldn't agree with you more about the fish, by the way."
Her husband Emhoff went straight to the supervillain references, telling the cast, "One of the last times we saw you all together, Thanos tried to snap his fingers and kill half the universe, but thanks to science we solved the problem." (For those who didn't see "Avengers: Endgame," the crew relied on some complicated quantum mechanics in order to travel in time and defeat Thanos.)
Emhoff added: "But the threat we face now isn't entirely different. A global pandemic, a climate crisis, and a president who is making it all worse. He is a villain fit for the Marvel Cinematic Universe—except he tweets more. And he's an active superspreader."
Harris herself noted the important role science plays in the MCU and how it can model a better world when she spoke about one of her favorite characters, T'Challa's younger sister Shuri, who is a tech genius to rival Tony Stark.
The senator also paid tribute to her "dear friend" Chadwick Boseman, the actor who played the iconic Black Panther and who died after complications from cancer in August.
"You know, actually where I am now, the studio from my DC headquarters is at Howard University," Harris said. "Chadwick and I actually both attended Howard University and I think about him all the time, there are monuments and memorials set up on campus to him and he was a very dear friend." She spoke of how he and other superheroes embody the "courage and honor" needed in politics right now, also seen in the "people standing in lines right now waiting to vote in the rain, waiting to vote in spite of state legislatures or state officials who are trying to make it difficult and confusing for people to vote."
"That, I think is the true sign of patriotism, Captain America—it's about knowing we love our country and we are willing to fight for its integrity and fight for the values we hold dear," Harris said. "I think that people deserve an equal commitment from their president when it comes to that kind of fight and that willingness to suit up, and I think that's what you're going to get from Joe Biden."