The Disturbing Capitol Riot Video Played At Trump's Impeachment Trial Is A Must-Watch
House impeachment managers played a 13-minute video account of the deadly Jan. 6 Capitol riot. It is essential viewing for understanding the charge levied against Trump in his Senate trial for incitement of insurrection.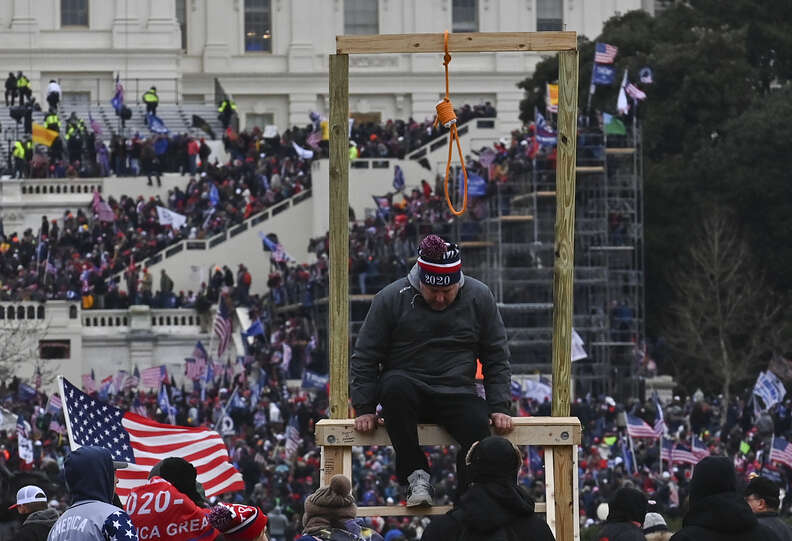 A man climbs down after being photographed with a noose during at the Capitol riot on January 6 in Washington, D.C.

| Getty Images
A man climbs down after being photographed with a noose during at the Capitol riot on January 6 in Washington, D.C.

| Getty Images
"We will stop the steal. … We won it by a landslide, this was not a close election. And after this, we're going to walk down, and I'll be there with you — we're going to walk down to the Capitol."
Those were the words of former President Donald Trump on January 6, played by House impeachment managers in a detailed 13-minute video account at the beginning of Trump's trial on Tuesday. What followed was a timeline of the pro-Trump rally in Washington D.C. and the deadly riot that followed that is essential viewing for understanding the charges levied against him by the House of Representatives.
"You ask what a high crime and misdemeanor is under our Constitution — that's a high crime and misdemeanor," said Rep. Jamie Raskin (D-MD) after the video concluded, addressing the senators who serve as jurors in Trump's trial. "If that's not an impeachable offense, then there is no such thing."
The video shows Trump supporters beginning to march to the U.S. Capitol from the rally — where Trump repeated his baseless claims about voter fraud — once the former president directed them to, and then cuts back and forth, showing what was happening inside the congressional chambers as the violent mob broke in from outside. Trump was impeached on January 13 by the House for "incitement of insurrection," and now faces a Senate trial that will decide whether he is convicted or acquitted, and if he can be barred from running for future federal office again. Trump is the only president in U.S. history to have been impeached twice and to have his trial take place after leaving office.
The evidence presented by House impeachment managers, led by Raskin, includes:
The pro-Trump mob yelling at cops face-to-face, calling them slurs

The mob assaulting cops (while someone in the crowd holds a "Police Lives Matter" flag)

Capitol police officer Eugene Goodman leading an angry mob away from senators

Minority Leader Mitch McConnell (R-KY) speaking out against "sweeping conspiracy theories" on the Senate floor while Congress moved to certify the Electoral College results

Trump baselessly claiming "tens of thousands of votes" rigged the election. "They came in in duffel bags. Where the hell did they come from?" he said at the rally.

At least one man in the crowd building a gallows outside the Capitol

The crowd chanting "Traitor Pence!" while Trump speaks and tweets about him (the video did not include

footage of a crowd

chanting "Hang Mike Pence")

An insurgent shouting at a police officer inside the Capitol, "You're outnumbered — there's a f**king million of us out there. And we are listening to Trump, your boss."
The impeachment managers' case is built on the fact that Trump told the crowd to march on the Capitol, to refuse to accept the election results ("stop the steal"), and that rioters invoked his name as having directed their actions.
The House Democrats believe that evidence should be sufficient for the Senate to convict Trump of "wilfully [inciting] violent insurrection" against the government. If he is convicted, the Senate can then vote to bar him from running for future office — as the video evidence also showed that Trump continued to claim the election was "fraudulent" and "stolen" even after the riot where five people died. His supporters were also shown talking about storming state Capitols and coming back to Washington, D.C. with "30,000 guns."
Convicting Trump would take two-thirds of the Senate, or 17 Republicans joining all 50 Democrats. Barring him from running for office takes a simple 51-majority vote after conviction.
On the first day of the trial, in a 56-44 vote, six Republicans joined the Democratic majority to confirm that the impeachment trial of Trump is, in fact, constitutional. Both conservative and liberal legal scholars believe that to be true, despite Trump's defense team arguing otherwise.
That means that 44 Republican senators still voted to stop the trial, including McConnell, who has said Trump bears some responsibility for the insurrection. Those 44 senators seem unlikely to convict in a final vote, but arguments from both sides will unfold over multiple days, followed by a Q&A session with senators.
Multiple polls in the last two weeks have shown that a majority of Americans support convicting Trump.
When Rep. Raskin played the video, members of Congress, journalists, and others tweeted immediate reactions:
Reporters in attendance at the trial tweeted the reactions of some senators inside the chamber:
Not all Republican senators followed along. The Washington Post reported that while footage played of the mob marching on the Capitol, Sen. Rand Paul (R-KY) "looked down at the pad of lined paper in his lap, where he had already begun doodling with a pencil," while Sen. Rick Scott (R-FL) "studied papers in his lap, taking only the tiniest glimpses at the screen to his right."
The Post also reported that Sen. Tom Cotton (R-AR) "focused most of his attention on papers in front of him instead of on the images depicting the insurrection at the Capitol" and that Sen. Marco Rubio (R-FL) "did the same."
Meanwhile, Capitol police officer Eugene Goodman, widely credited as a hero for leading the angry mob away from senators, attended the trial Tuesday to watch the proceedings.
Some Democratic senators are hoping the factual evidence can persuade their colleagues to convict. Sen. Bill Cassidy (R-LA) flipped from an earlier procedural vote to instead affirm the constitutionality of Trump's trial on Tuesday, after calling Trump's defense team arguments "disorganized."
Sen. Amy Klobuchar (D-MN) said on MSNBC, "What I hope my colleagues listen to as we move forward in this trial are the facts. And the facts are on full, ugly, horrific display in that video."
Trump lawyers tried to downplay the 13-minute video as overly edited and a "Hollywood style" production, rather than refuting any of the substance in or evidence from the video. Trump is reportedly "enraged" with his defense team.